NVIDIA SHIELD Android TV Review
By
NVIDIA SHIELD Android TV – The 4K Ultra HD Revolution
Today is May 28th and that means the Google's I/O 2015 Conference is underway. At last years conference Google talked about how Android would be everywhere, all the time and in January 2015 a number of companies were showing off Android TV devices at CES 2015 that showcased that Android would be a force to be reckoned with in the living room. NVIDIA announcing a device the day Google I/O 2015 kicks off is no coincidence as NVIDIA wants the software developer community to know that they have one of the premier devices for Android TV.
Android TV for those that don't know is an operating system designed by Google for the living room. Android TV has a focus on digital TV content, apps and games, tied together by recommendations and voice search capabilities on dedicated remote controls. The Android TV enabled device that we are talking about would be the NVIDIA SHIELD Android TV or you might know it by the name NVIDIA SHIELD console as many sites have been calling it that for months. NVIDIA has had several information slips in recent weeks that let most of the details be known about this Android TV device, but luckily there is still more to tell you about.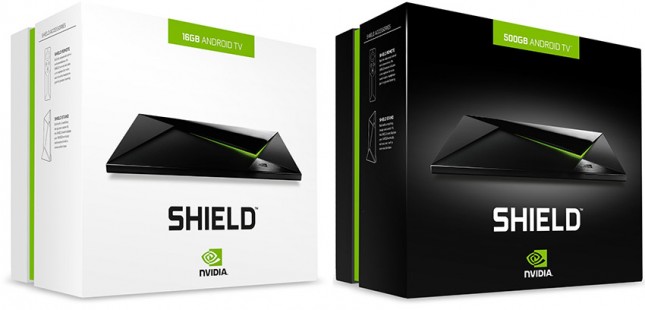 There is a large battle taking place for how TV watchers get their content. Netflix now has over 62 million customers worldwide and they are creating original shows that are drawing new viewers and subscribers. The big problem for traditional cable companies is that 40% of households with TVs in America have Netflix and they like the service more than TV. Twitch.tv also had 100 million monthly unique visitors in 2014, so millenials and others are not subscribing to traditional pay TV service like generations before. This shift hasn't gone unnoticed to the cable makers as they are well aware of the shift that is taking place the living room. Charter Communications buying Time Warner Cable and Bright House Networks for a combined total of $78.7 billion dollars this week is a very recent example of how the cable companies are bulking up for the coming changes. If the buyout arrangement goes through it would give Charter a customer base of roughly 24 million subscribers, which is slightly smaller than the 27 million subscribers that Comcast has. Not too shabby, but keep in mind that the end result is that these two companies now would have over half of America's landline high-speed broadband internet connections. You also have the AT&T bid to buy DirectTV in order to help AT&T become a force to be reckoned with in the digital content distribution business. It is clear that we are moving into an Internet-TV future where on-demand content is where it is going to be. We won't be replacing cable boxes, Blu-Ray players, DVR's, game consoles and other streaming devices overnight, but it appears that apps run from a single device could stand to replace all of those items in the not so distant future.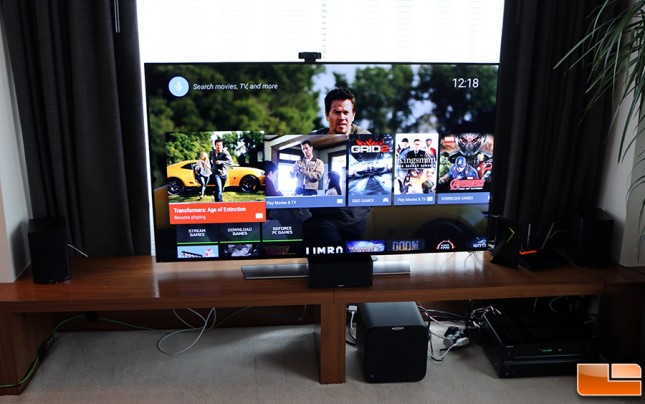 With digital distribution through digital pay-per-view and a la carte subscription models looking like it will be the way of the future it is not a big surprise that some of the companies in the PC industry are getting in on the action. NVIDIA is the market leader when it comes to high-end discrete graphics, so it shouldn't come as a surprise to any of our readers that they are looking to get ahead of the curve by developing a console for the living room that is more powerful and robust than anything before it. The NVIDIA SHIELD Console is a Set Top Box (STB) powered by Android TV and is said to be the one device that will let you watch 4K movies and TV shows, run all your favorite Android Apps on Google Play, tap into the NVIDIA GRID Game Streaming service to play games and more. All of a sudden that Google Chromecast that you bought for $35 back in 2013 is starting to show signs of aging. The NVIDIA SHIELD Console supports all the Chromecast features though as that is part of the Android TV specification, so you can do away with the Chromecast if you purchase this new device as you won't lose any features. In fact no other streaming device is capable of doing so much!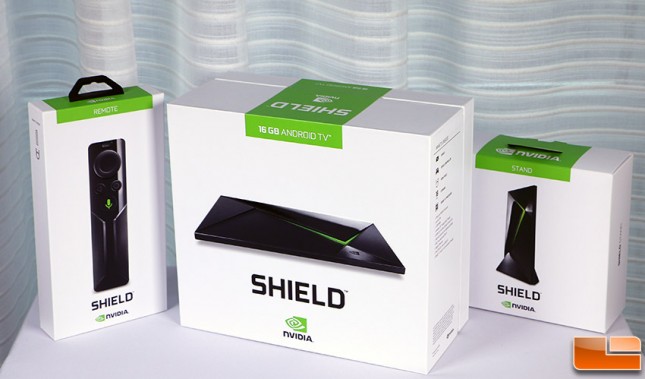 NVIDIA will have two versions of the NVIDIA SHIELD Console that are being made available to purchase on May 28th. You'll have the basic NVIDIA SHIELD 16GB Android TV for $199.99 and then the NVIDIA SHIELD Pro 500GB Android TV that runs $299.99. Both versions of the Android TV device will come with a gaming remote controller and an HDMI 2.0 cable. The main difference is the amount of storage space, but keep in mind that both versions have a microSD card slot that can expand storage by 128GB if you wanted to purchase a microSD card to do so. The NVIDIA SHIELD Pro also comes with Borderlands: The Pre-Sequel! (Borderlands: The Pre-Sequel! is planned to be released on SHIELD on July 1st, 2015, but the release date is dependent on the game publisher). NVIDIA has partnered with Google and will be giving early adopters a $30 Google Play gift card, along with a free 90-day subscription to Google Play Music when you purchase either the SHIELD or SHIELD Pro. This is a limited time offer that has a $60 value from Google according to NVIDIA! It should be noted that the NVIDIA SHIELD Android TV is coming out today in the US and Canada only. European customers will have to wait into Q4 2015 to be able to purchase the SHIELD.
NVIDIA SHIELD Key Specifications:
Processor: NVIDIA Tegra X1 64-bit Mobile Processor w/256-core NVIDIA Maxwell GPU
Memory: 3GB of RAM
Storage: 16GB internal (portion used for OS and system software) w/ microSD Expansion
Wireless: 802.11ac 2×2 MIMO 2.4GHz and 5GHz
Wired: 1x Gigabit Ethernet
OS: Android TV, Google Cast Ready
Power: 40W power Adapter (5-10W typical power consumption)
Video Features: 4K playback at 60 FPS (VP9, H265, H264) and 4K capture at 30 FPS (H264, H265)
NVIDIA also has two accessories that you can purchase if you'd like to customize your setup. Those accessories would be the NVIDIA SHIELD Remote at $49.99 and the NVIDIA SHIELD Stand at $29.99. We were given the opportunity to try out the the base NVIDIA SHIELD 16GB Android TV with the optional remote and stand in advance of the official product release in order to bring you this review. You can also purchase additional NVIDIA SHIELD Controllers for $59 each as you can pair multiple SHIELD controllers for muti-player games, such as BombSquad, Beach Buggy Racing and others.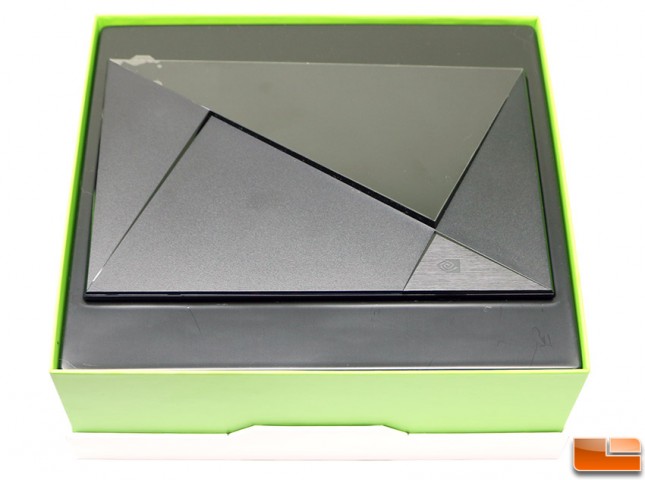 NVIDIA has been making consumer products for decades and the retail packaging, product build quality and instructions are all exceptional. The NVIDIA SHIELD Console unboxing experience is nice as everything is perfect as we have come to expect from all NVIDIA products.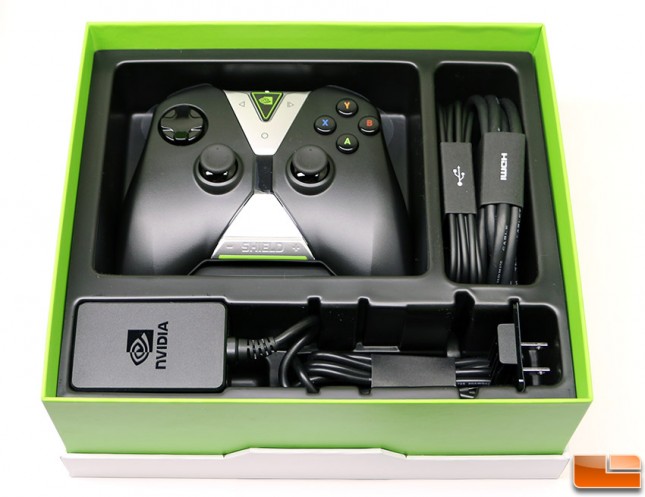 Under the SHIELD Android TV you'll find the gaming controller, wall power adapter, HDMI cable and a USB cable that is needed to recharge the wireless controller. The NVIDIA SHIELD wireless controller was designed for both Andorid and PC gaming and uses a Wi-Fi direct connection for the lowest possible latencies. The wireless controller has a stereo headset jack for the private listening of your game, music, movies or online content. There is also a microphone built-in for Android TV services like voice search or you can use it for in-game chat needs. To activate voice search on the controller you just hit the green SHIELD button. NVIDIA says that the SHEILD wireless controller should last for up to 40 hours on the battery and will work with the SHIELD, SHIELD Tablet and the SHIELD Portable.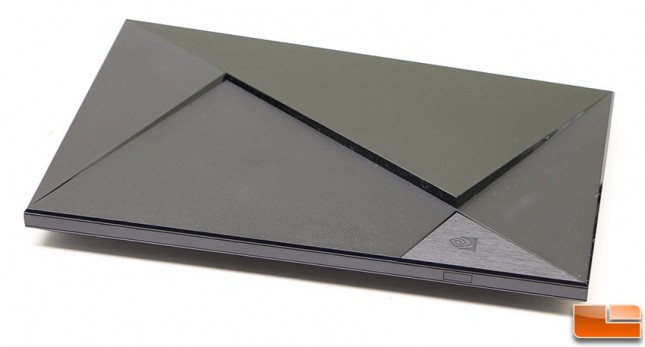 The front of the SHIELD has a capacitive touch power button that is located on the metal that has the NVIDIA logo on it. Once the power button is hit there is a green LED light that comes on to show that the SHIELD is powered up. Just below the NVIDIA logo on the capacitive power button area you can make out where the IR receiver is located for those that would like to use Logitech Harmony Universal remotes or anything else that uses IR. The NVIDIA SHIELD also supports 802.11ac, 2×2 single-user MIMO (multiple input, multiple output) Wireless and Bluetooth 4.1 /BLE for speakers, keyboards, mice, headsets and more.

Spinning the NVIDIA SHIELD Android TV around you can see the hot air exhaust port, microSD slot, micro-USB 2.0 port, two standard sized SuperSpeed USB 3.0 ports, Gigabit Ethernet Port, HDMI 2.0 port (HDCP 2.2) and custom power connector. The USB 3.0 ports and Gigabit LAN will make it easy to play high bit rate Bluray movies from your home NAS device or from an external storage drive. NVIDIA says that the microSD slot supports SDXC cards up to 2TB in capacity, which is insane! The largest microSDXC USH-I card that you can buy today would be the SanDisk Ultra 200GB MicroSD card and that will set you back a cool $249.99 shipped.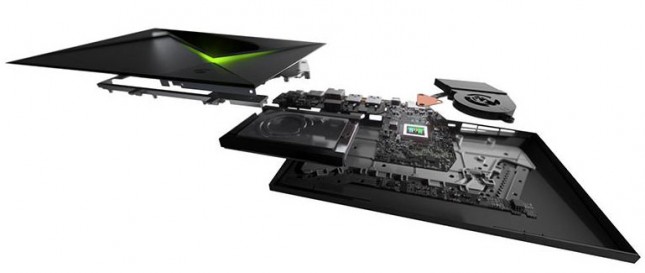 Here is a look at an exploded diagram to show off the inside of the NVIDIA SHIELD Android TV. You'll see a notebook style cooler for the Tegra X1 processor, so no this is not a fanless passively cooled device as it does have a cooling fan inside that is very quiet. You can also make out the 2.5-inch storage drive that is used on the SHIELD Pro 500GB Android TV models. NVIDIA said that you won't be able to buy a SHIELD 16GB Android TV and add your own storage drive, but did not elaborate as to why you couldn't.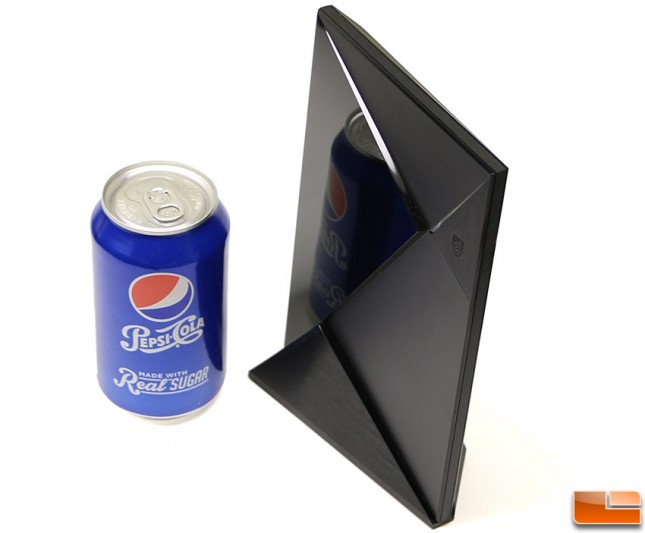 The NVIDIA SHIELD console measures in at 210mm x 130mm x 25mm (LxWxD) and has a total weight of 23 ounces.
Let's take a look at actual use of the NVIDIA SHIELD Android TV