ASUS Zenfone 2 Review – Intel Atom Powered Smartphone!
By
Earlier this week ASUS launched the Zenfone 2 and we were able to get our hands on this brand new smartphone that costs less than $300 outright. Yes, we are talking $299.00 unlocked smartphone here that doesn't require a contract that will work on the AT&T and T-Mobile carrier networks here in the United States (Sprint and Verizon are not supported). While the price tag on this device might be less than half of the price of a Samsung Galaxy S6 Edge and Apple iPhone 6 Plus, the specifications of Zenfone 2 look pretty damn good!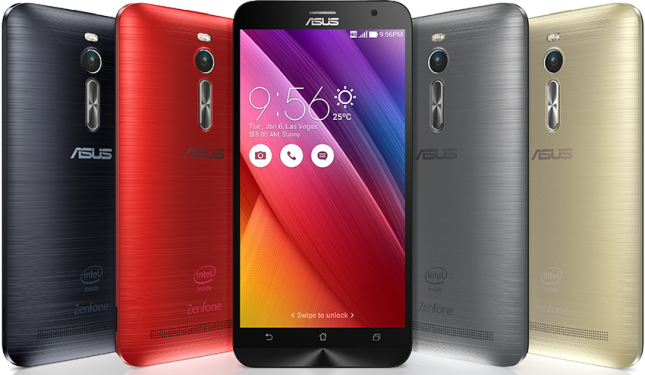 When it comes to general features you are looking at a large 5.5-inch 1920 x 1080 Full HD IPS LTPS display, 2.33 GHz Intel Atom Z3580 'Moorefield' quad-core 64-bit processor, 64GB of storage and 4GB of LPDDR3 RAM running Android 5.0. The specifications on this phone are pretty impressive and it should be competitive with many of the big name premium phones on the market today. Having 4GB of memory on a smartphone is pretty crazy as there are millions of desktop PCs and laptops that are running with that amount of memory or less right now.
The ASUS Zenfone 2 will also have a $199 version that has lesser hardware inside. On that model ASUS went with the 1.83GHz Intel Atom 3560 64-bit quad-core processor, 16GB of storage and 2GB of LPDDR3 RAM. The lower cost model also doesn't feature the 9V / 2A QuickCharger with BoostMaster technology that promises to charge this phones 3000mAh battery from dead to a 60% charge in under 40 minutes. For a $100 difference in price it looks like the higher-end sku is well worth the additional price as you are getting a faster processor, quadruple the storage space, double the RAM and a wall charger that will charge your phone quicker. Both are still arguably stupid cheap for what you are getting though!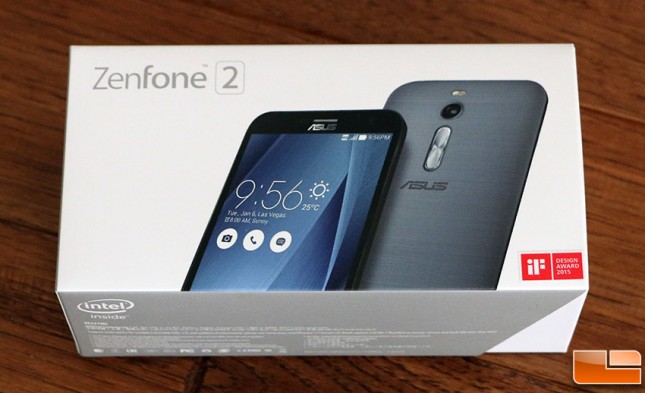 ASUS let us try out the ZenFone 2 ZE551ML in gray, but you have a choice between Osmium black, Glamour red, Sheer gold and Glacier gray when you go to buy one. The version we are trying out is of course the high-end $299 premium model that has all of the bells and whistles.
The ASUS Zenfone 2 comes with the USB wall charger, required USB cable for charging and backup purposes and a small user guide that will help you get going. One thing that we noticed right away when using the Zenfone 2 is that it was mentioned on the packaging that this is a "64-bit Super Quad Core Processor" powered device running Android 5.0. The thing is that the OS is still only 32-bit and that despite the fact that our phone has 4GB of memory it shows up as having 3.8GB of addressable memory space.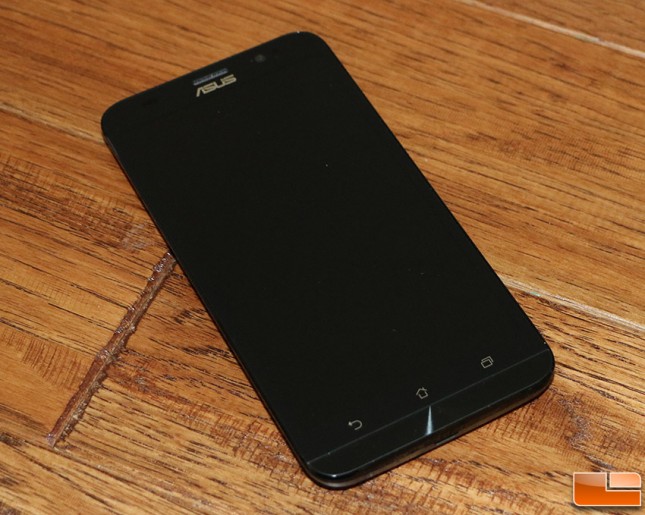 With a 5.5-inch display you'll quickly find that the Zenfone 2 is a fairly large phone at 152.5 x 77.2 x 10.9 mm thick. That is similar in size to the LG G4 and the iPhone 6 Plus! The Zenfone 2 also has a heavy feel to it since it weighs in at 170g, but for some reason the construction feels a bit cheap. On the bottom you have three capacitive buttons for back, home and recent along the bottom of the Gorilla Glass 3 display. Up top you have a front-facing OmniVision 5-megapixel camera that takes 2560×1920 pictures as well as 1080P 30FPS video.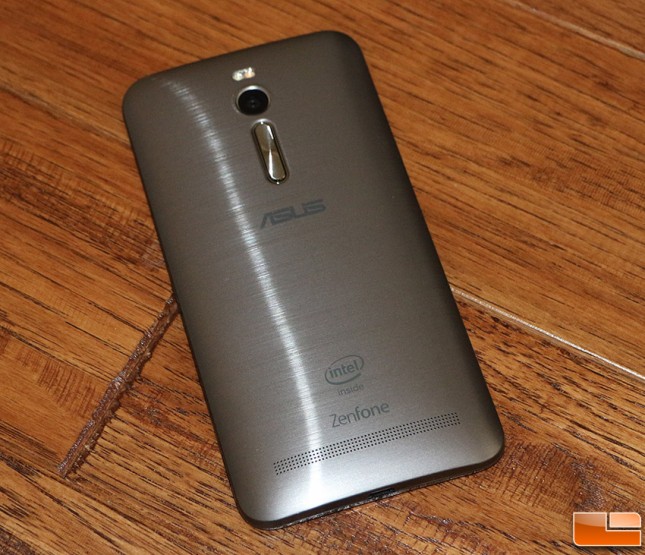 The back of the Zenphone 2 has the single 0.7W speaker located at the bottom. ASUS went with the Realtek ALC5647 Audio DAC for their audio solution and the phone has two microphones for active noise cancellation technology. Up top you have a Toshiba 13-megapixel rear-facing camera with flash. This camera has a f/2.0 aperture that has a maximum picture resolution of 4096×3072 and video resolution of 1920×1080 at 30 frames per second with video stabilization. You also have the volume rocker located on the back of the phone directly below the camera lens. After using the Zenfone 2 for a number of days the cheap feel might be because the curved brushed aluminum back cover isn't firm since it isn't really metal and has a hollow sound when you tap on the plastic.
The camera itself works pretty well indoors in poorly or oddly lit areas like the image we took in a hotel lobby of a flower setting that they had. The next two images shows a wine glass in a bar with dim lighting in auto mode with the flash disabled and then in low light mode. The ASUS PixelMaster 13MP camera has 16 different built-in camera modes so you'll be able to get the shot you need right. The included modes are are auto, manual, HDR, panorama, effect, low light (2M), selfie panorama (140 degree selfies to fit everyone), beautification, time rewind, miniature, depth of field, smart remove, all smiles, gif animation, night and time lapse.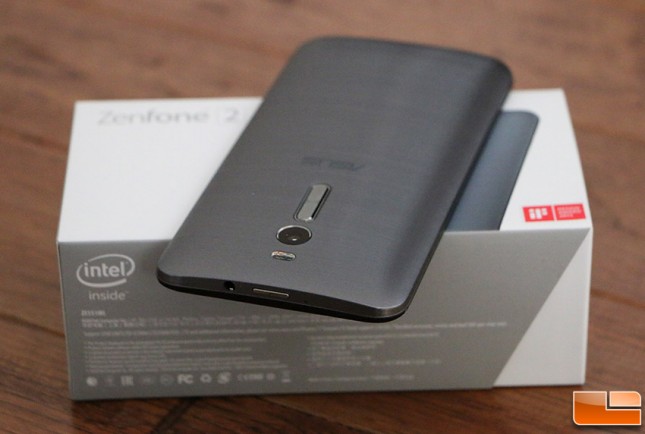 The power button for the Zenphone 2 is located at the the phone as is the 3.5mm audio jack. This location might feel awkward for some, but all phones have a learning curve when it comes to key placement. The button feel isn't that crisp as the button is built into the phone case and is therefore removable. Most phones have a power button that has a crisp tactile feel to it and that is not the case with the Zenfone 2.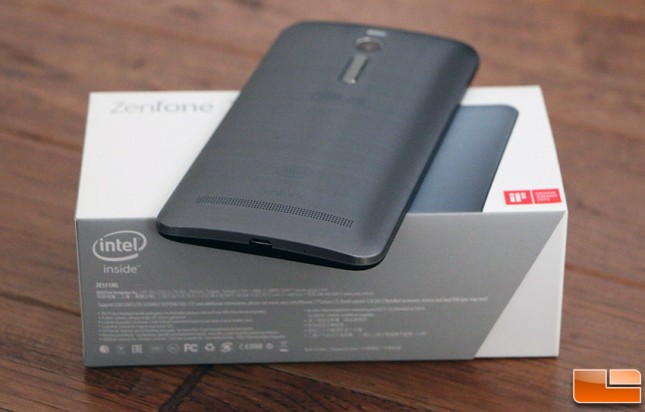 If you were hoping to see a USB 3.0 port on the bottom of the Zenfone 2 you'll be disappointed as ASUS went with the traditional and more cost effective micro USB 2.0 port for handling data transfers and battery charging duties. The good news is that ASUS included an 802.11ac wireless solution inside that is capable of 233 Mbps speeds (29MB/s) and the controller also supports Bluetooth 4.0 LE.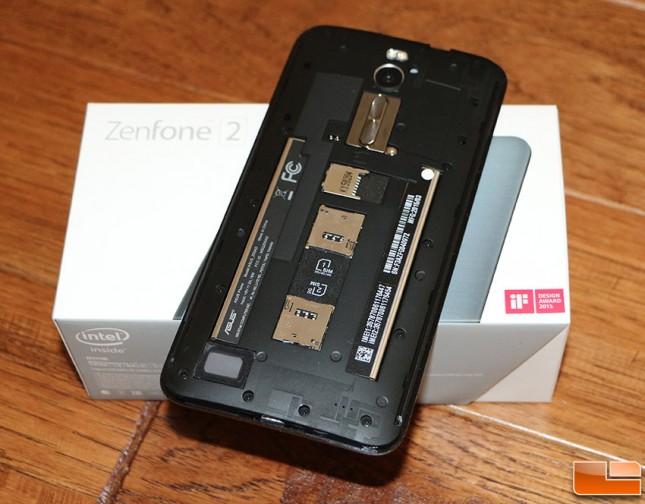 With the battery cover removed you'll see a battery that will take some disassembly to get out, dual active micro-SIM slots and a microSD card slot. This means that you can use two separate SIM cards with different phone numbers and voice plans at the same time. You can even put a call on hold to answer a call from the other SIM, so there is no need to carry around two phones unless you want to! The primary SIM card slot supports LTE/4G/3G data while the secondary SIM card slot is limited to 2G/texting/voice only. ASUS went with the Intel XMM7260 LTE-Advanced modem in the Zenphone 2, which is rated for 150Mbps download speeds and 50Mbps upload speeds on LTE Cat 4 (LTE Adcanced) networks.
The MicroSD card slot supports SDXC cards up to 128GB in capacity. You can also see the single speaker that is hidden by the back cover in the lower left hand corner. The rear facing audio solution isn't stellar, but it works good enough in most situations. ASUS says that the internal 64GB EMMC storage is rated at 165MB/s read and 95MB/s write when it comes to sequential data transfers. The non-swappable 3,000mAh battery easily lasted a day for us with normal use, but battery life greatly varies on how you use the phone.
We also got a chance to try out the optional ASUS ZenFone 2 View FlipCover Deluxe that allows up to 7 apps to be shown through the cover as well as adding a bit of extra protection from scrapes and scratches. Pricing is unknown for the Deluxe case, but we expect it to be made available for purchase in the weeks ahead.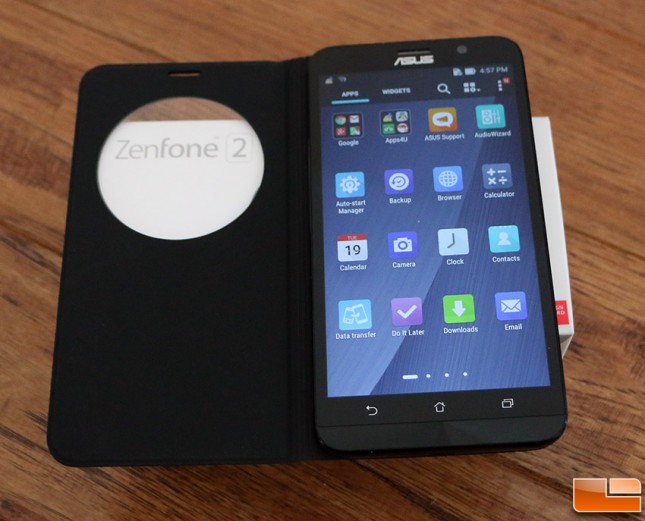 The Zenfone 2 was found to be very responsive and it wasn't sluggish during any time in our testing. Since the is an ASUS phone you'll find proprietary apps like ZenCircle and MyASUS and a fair number of third-party applications like Amazon Kindle, Clean Master, Omlet Chat, Party Link, Dr. Safety, Jawbone Up, TripAdvisor and so on. We don't like to see any bloatware, but unfortunately the Zenfone 2 comes with a fair bit of it. When we used the phone for the very first time we got pop up notices from Clean Master saying that we had apps at idle. This doesn't make for a good user experience as I don't want to see any messages coming up on a brand new phone that isn't really relevant. The good news is that you can remove most all of it! ASUS likely gets a kick back from having these apps installed, so hopefully they are passing along some of that money to consumers by lowering the sale price.
The Android 5.0 'Lollipop' OS with the ASUS ZenUI should be familiar to familiar to most. The responsiveness when swiping through menus and apps was excellent. This phone doesn't feel sluggish at all. The icons are a bit large though and the drop down menu has nearly 20 options on it.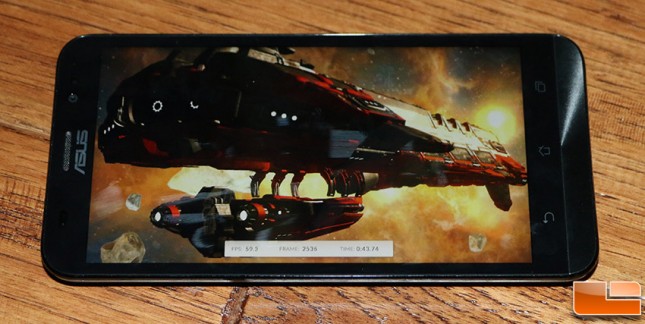 Gaming and benchmarking on the Intel Quad Core 64-bit Atom Z3580 2.3GHz processor and PowerVR Series G6430 GPU with OpenGL 3.0 support was an overall good experience. The 5.5″ screen with the 1920×1080 resolution looked good. The pixel density of this display is 403 PPI and it has a first touch response of 60ms. The Corning Gorilla Glass 3 has an anti-fingerprint coating on it, but we still saw the usual smudges and fingerprint marks on the display as you can even see some in the picture above right in the middle of the display. The display has a brightness of 400nits, so it is a little dimmer than some of the other phones we have been using lately. The iPhone 6 is rated at over 600nits and the Samsung Galaxy S6 have around 550nits.
Benchmark performance on the ASUS Zenfone 2 was pretty mix with scores all over the place. We ran Geekbench 3, Vellamo, GFXBench 3.1, AnTuTu v5.7, Lightmark and 3DMark Ice Storm Unlimited. Benchmarks like 3DMark Ice Storm Unlimited are run using OpenGL ES 2.0 at a 720p resolution and the Zenfone 2 scored 20013 points and averaged 104FPS in game test 1 and 74FPS in game test 2. Pretty solid benchmark scores! On other benchmarks like Lightmark showed we averaged just 7.42FPS on the normal 1080p benchmark. The SunSpider 1.0.2 JavaScript benchmark has the ZenFone 2 coming in at 632ms, which is a solid middle of the road score. You can check out all the scores in the gallery above and these are all free benchmarks that you can do at home on your current smartphone to see how much faster the Zenfone 2 is than your current device.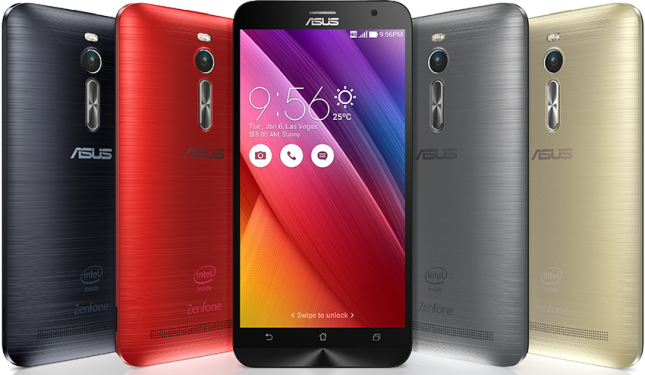 ASUS Zenfone 2 Final Thoughts and Conclusions:
If you are looking for an affordable unlocked phone with near-flagship hardware specifications running on Android 5.0 it is hard to ignore the ASUS ZenFone 2. The Zenfone 2 has the large 5.5-inch display that is craved by many these days and the user experience was found to be overall positive. For the price there aren't glaring issues that we would consider deal breakers. After using the Zenfone 2 for about a week we can nit pick things like the screen brightness isn't on par with flagship phones, how ASUS installed too much bloatware or that the faux metal case back should have been made from real metal, but that is about it.
When it comes to pricing the premium $299.00 shipped sku would be the one we reviewed today that has an Intel Atom Z3580 (2.3GHz) processor, 4GB of RAM, 64GB of internal storage and the 9V / 2A QuickCharger. The other open would be the $199 shipped version that features an Intel Atom Z3560 (1.86GHz) processor, 2GB of RAM and 16GB of internal storage. We were left satisfied be the performance
Keep in mind that this Intel-powered unlocked smartphone is compatible with AT&T, T-Mobile, MetroPCS, Cricket Wirless, Brightspot, Net10, H2O Wireless, Straight Talk, Giv and other GSM cellular carriers. It is not compatible with Sprint, US Cellular and Verizon!
Legit Bottom Line: For the $299 price point you'd be hard pressed to find a phone that has the overall features and performance of the ASUS Zenphone 2!