Netgear Nighthawk R7000 AC1900 Wireless Router Review
By
Netgear Nighthawk R7000 Setting New Standards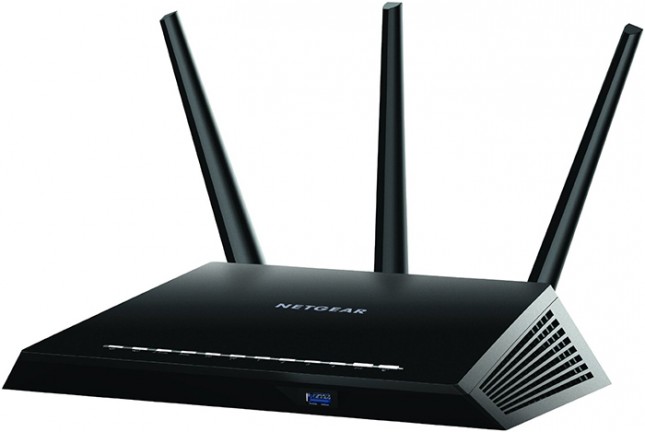 Today we look at Netgears flagship dual-band router, the Nighthawk R7000. Legit Reviews has been evaluating Wireless-AC devices for a number of years and has put off upgrading from what we think is currently the best overall router, the Netgear R6300. While not the absolute fastest, nor the most customizable, the Netgear R6300 has been a rock-solid device that has never let us down with wireless drops or general reliability. While we absolutely love the R6300, the Nighthawk R7000 looks to make a huge step forward in performance and thus out interest in evaluating the device today.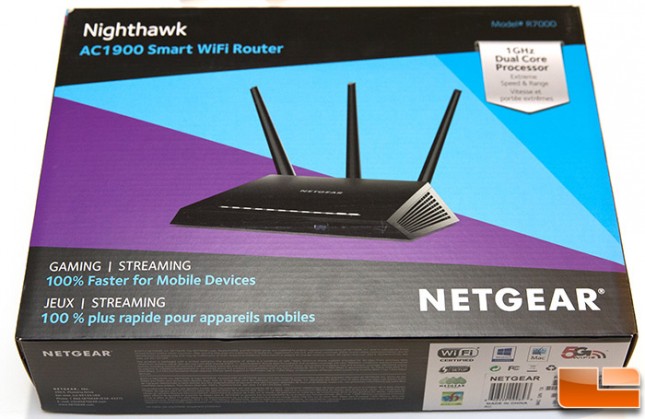 Two of the biggest changes that Netgear has implemented with the Nighthawk R7000 is the move to AC1900 from AC1750, and the inclusion of external antennas to the main body of the router. For those who are unfamiliar with the wireless industrys marketing, the AC1900, or AC1750, N900, N750, etc, describes the absolute maximum speeds that the wireless device can achieve. When talking about Dual-Band Wireless Routers like the Nighthawk we see that its speed is designated by AC1900 where AC is the best band in this case 802.11ac or Wireless-AC. The 1900 is the speed designation where the Nighthawk can achieve 600 + 1300 Mbps.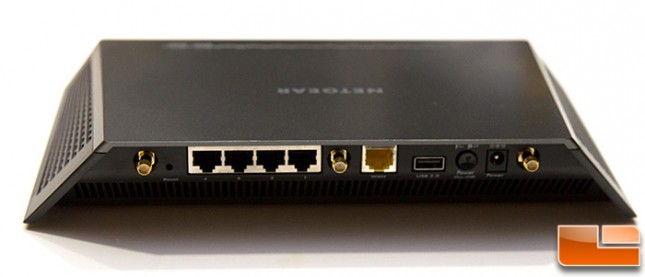 There are some other significant upgrades that the Nighthawk has over the older R6300 such as the use of an updated processor and more RAM (1GHz Dual-Core Broadcom BCM4709A CPU) and 256 MB RAM with 128 MB of Flash memory. This upgrade gives the Netgear Nighthawk one of the fastest CPUs found in any consumer wireless networking device. It is clearly a step up from the R6300s single-core 800MHz CPU (or 600MHz CPU for V1).
One thing that we noticed was that the price point of the Nighthawk was very competitive. The MSRP of the R7000 is $199, but you can typically find Netgears flagship for sell for a little less which is than other manufacturers flagship routers. A quick check on Amazon showed that we can grab this router for around $195 shipped. To us this was a bit unusual for a flagship device we have typically seen the top-of-the-line routers selling at their MSRP and only devices with less features selling at a bargain cost.
R7000 Specifications:
WiFi Technology

802.11ac Dual Band Gigabit

WiFi Performance

AC1900 WiFi (600 + 1300 Mbps)

WiFi Range
WiFi Band

Simultaneous dual band 2.4 & 5GHz

Beamforming

Beamforming+ For improved range and performance

Number of Ethernet Ports

Five (5) 10/100/1000 Mbps(1 WAN & 4 LAN) Gigabit Ethernet ports

Number of USB Ports

Two (2) USB portsone (1) USB 3.0 & one (1) USB 2.0 port

Key Features

AC1900 WiFi600+1300 Mbps speeds
1GHz Dual Core Processor
Advanced features for lag-free gaming
Prioritized bandwidth for streaming videos or music
100% faster for mobile devices
Beamforming+ For improved range and performance
High powered amplifiers & antennas to extend your WiFi coverage
Upstream & downstream QoS for best gaming & video streaming experience
Free automatic backup software for Windows PC & Time Machine compatible for Macs
Customized free URL to set up personal FTP server

Security

Wi-Fi Protected Access (WPA/WPA2PSK) and WEP
VPN supportsecure remote access
Guest network accessseparate & secure
WiFi Protected Access (WPA/WPA2PSK)
Double firewall protection (SPI and NAT)
Denial-of-service (DoS) attack prevention

Processor
Memory

128 MB flash and 256 MB RAM

Physical Specifications

Dimensions: 11.22 x 7.26 x 1.97 in (285 x 184.5 x 50 mm)
Weight: 1.65 lbs (750 g)

Package Contents

Nighthawk AC1900 Smart WiFi Router
Three (3) detachable antennas
Ethernet cable
Quick install guide
Power adapter

Standards

Two (2) USB portsone (1) USB 3.0 & one (1) USB 2.0 port
IEEE 802.11 b/g/n 2.4GHz + 256 QAM support
IEEE 802.11 a/n/ac 5.0GHz
Five (5) 10/100/1000 Mbps(1 WAN & 4 LAN) Gigabit Ethernet ports

System Requirements

Microsoft Windows 7, 8, 8.1, Vista, XP, 2000, Mac OS, UNIX, or Linux
Microsoft Internet Explorer 5.0, Firefox 2.0, Safari 1.4, or Google Chrome 11.0 browsers or higher

24/7 Technical Support

24/7 basic technical support provided for 90 days from purchase date, when purchased from a NETGEAR authorized reseller*

Warranty

NETGEAR 1-year limited, Warranty valid only when purchased from a NETGEAR authorized reseller.
Besides having an impressive list of features, we are expecting Netgear to maintain or improve on is graphics user interface (GUI). On the next page, we take a look at setting up the router for use in a typical home network environment.