Microsoft Surface 3 Laptop Battle – AMD Ryzen 7 or Intel Core i7?
By
Final Thoughts and Conclusions
Now, that we've spent some time with both the consumer and business version of the 15-inch Surface Laptop 3 the winner seems pretty clear. We expected things to be rather close on the performance front, but the Intel powered business version of the 15-inch Surface Laptop 3 dominated most all of the performance tests. You can go back and look the 20 tests that we ran, but for those that like to skip around we made a couple relative performance charts for both AC and DC power modes with a dozen of the benchmark results.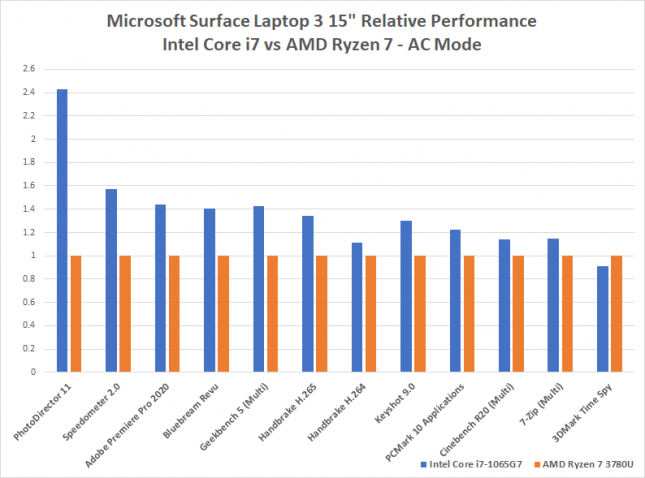 As you can the Intel Core i7 powered Microsoft Surface Laptop 3 is consistently outperforming the AMD Ryzen 7 powered version. If you average these 12 tests out, you are looking at around a 36% performance lead for Intel.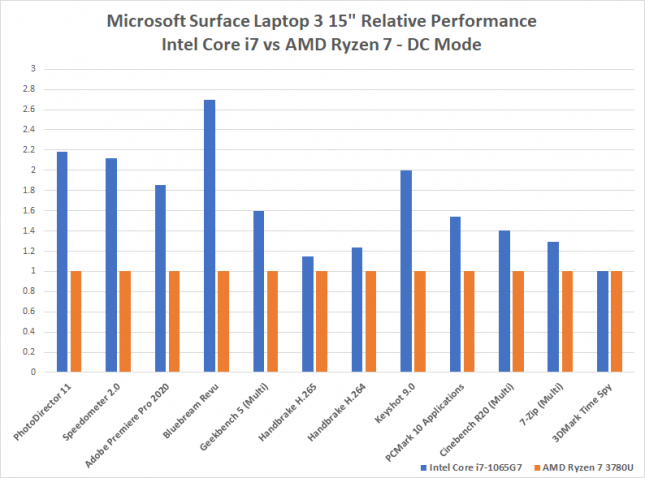 When looking at performance of the laptops running on battery power (DC mode) the Intel platform is comparatively better once again. In fact, it appears that Intel enjoys an ever larger performance lead when running on the batter in balanced power mode as the average performance lead was 66% here.
The Miceosoft Surface Laptop 3 15-inch model for Business that we used also happened to be the least costly of the two systems that we were comparing since the Intel system came with a smaller SSD. It would have been nice to have two 512GB systems to compare against, but we were able to compare the two flagship processors from Intel and AMD for the Surface Laptop 3 with the systems we had.

If you want the best 15-inch Surface Laptop 3, you'll need to look for the business model, and buy that one. You won't get fancy retail packaging, but you'll end up with an Intel 'Ice Lake' powered system with better overall performance and longer battery life than the rival AMD powered machine. You'll also get Windows 10 Pro and Wi-Fi 6 to boot. You are looking at about a $100 price premium for the Intel powered Surface Laptop 3, but depending on the configuration it might actually be less expensive as it was in our case. You can find the Surface Laptop 3 for business with pricing starting at $1,099 shipped for the 13.5-inch model or $1,299 for the 15-inch model. The Microsoft Surface Laptop 3 for Business that we tested today runs $1,599 shipped as it has the double the RAM and SSD size over the base model and may be worth the extra cash as 16GB of RAM and a 256GB SSD seems a must on premium devices as we enter 2020.
Legit Bottom Line: AMD got a huge design win with the consumer version of the Surface Laptop 3, but the Intel powered Surface Laptop 3 is the superior system.