Microsoft Surface 3 Laptop Battle – AMD Ryzen 7 or Intel Core i7?
By
HandBrake, PhotoDirector, Premier Pro, Bluebeam, KeyShot
For the next set of benchmarks, we ran the Microsoft Surface Laptop 3 models through a gamut of tests on both AC mode (plugged into wall power) and DC mode (run on battery power.) The user experience varies depending on the power mode, so this sort of testing will give us a better feel for how they perform in the real world.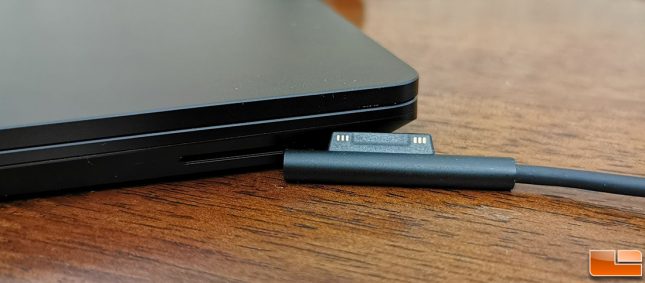 HandBrake v1.3.0 – link
HandBrake is an open-source, GPL-licensed, multiplatform, multithreaded video transcoder, available for MacOS X, Linux and Windows. It is popular today as it allows you to transcode multiple input video formats to h.264 output format and is highly multithreaded. For our benchmark scenario we used a standard 2D 4K (3840×2160) 60 FPS clip and converted it into a smaller 1080P MKV file using Handbrake version 1.3.0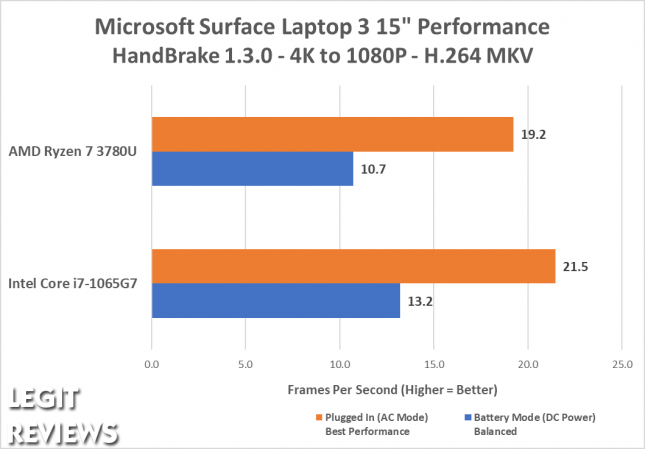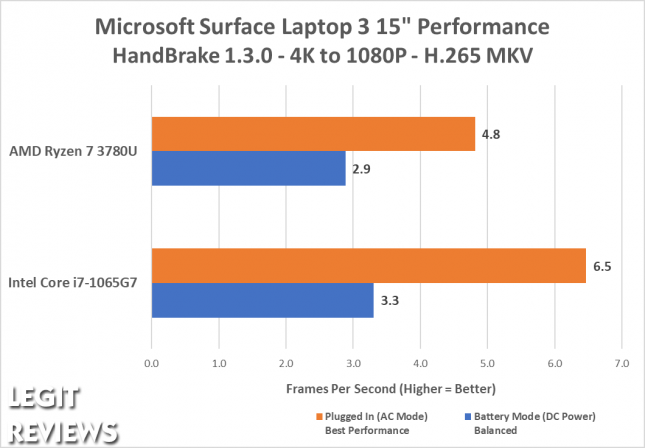 CyberLink PhotoDirector 11: link
PhotoDirector 11 is just like having Photoshop, and Lightroom all rolled into one. Its software for the professional photographer, yet without the steep learning curve. We apply an image deblur to a photo and time the length of time for the task to be completed.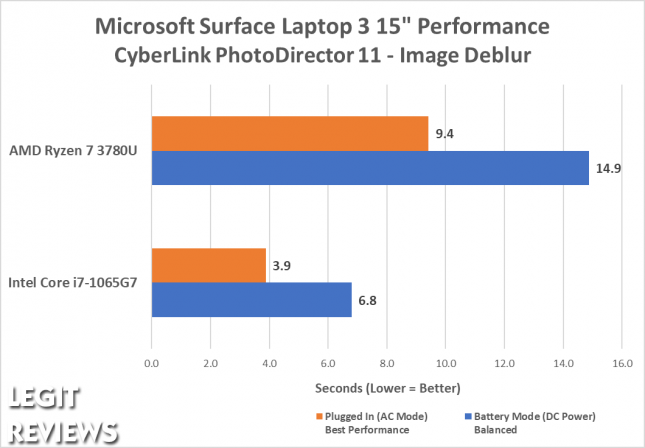 Adobe Premiere Pro 2020: link
Adobe Premiere Pro is the industry-leading video editing software for film, TV, and the web. Creative tools, integration with other apps and services, and the power of Adobe Sensei help you craft footage into polished films and videos. With Premiere Rush you can create and edit new projects from any device.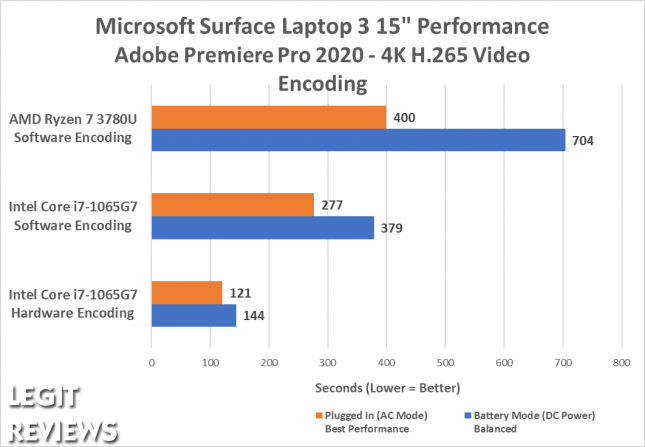 Bluebeam Revu 2019: link
Bluebeam Revu speeds up design reviews by allowing project partners to mark up and collaborate on the same documents in real time, or any time. Bluebeam Revu keeps teams on the same page through the design process, helps move the project forward during construction, and preserves important project data through completion and beyond. It is widely used in the construction industry and our workload came from a company that was looking to improve page load times. We loaded their 100+ page PDF full of markups and switched from one page to another and timed how long it took for that to complete.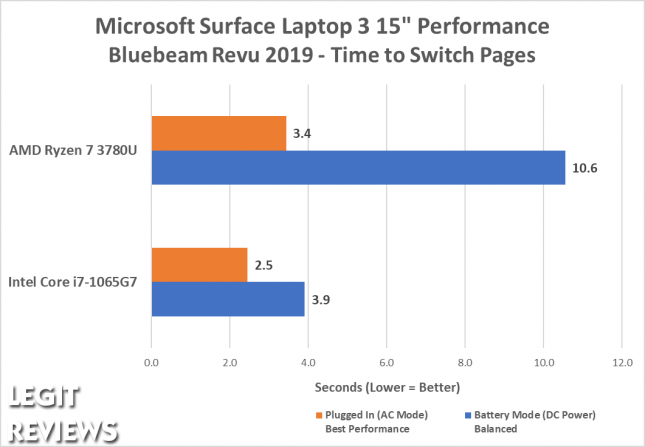 KeyShot 9.0.289 – 3D Rendering and Animation: link
KeyShot 3D rendering and animation software is one of the fastest, easiest way to create amazing, photographic visuals of your 3D data. We installed KeyShot 9.0 to do some benchmarking and real-world stress testing using the camera_benchmark.bip scene that is included with the application. This benchmark tests an 800×554 pixel image with a continuous sample rate and shows the Frames Per Second (FPS) that the scene is being rendered from. This scene has nearly 42,000 triangles and does a good job at using all available cores to render the scene.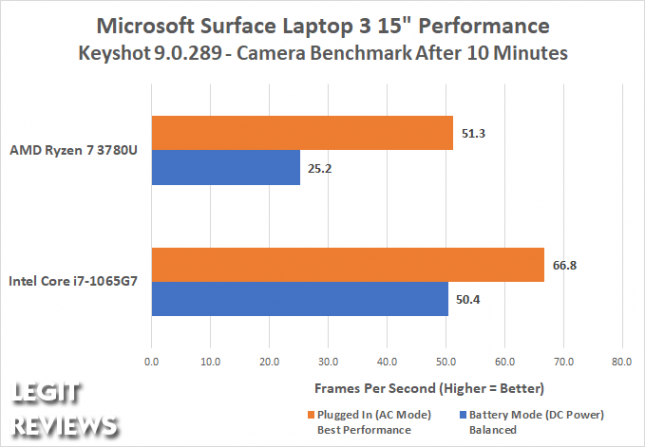 Benchmark Thoughts: When it comes to these five real-world benchmarks the Microsoft Surface Laptop 3 appears to do better with the Intel Core i7-1065G7 processor rather than the AMD Ryzen 7 3780U processor on both AC and DC power.