Microsoft Surface 3 Laptop Battle – AMD Ryzen 7 or Intel Core i7?
By
Memory and SSD Storage Testing
FinalWire AIDA64: link
AIDA64 is a system information, diagnostics, and auditing application developed by FinalWire Ltd that runs on Windows, Android, iOS, Windows Phone, Tizen, Chrome OS and Sailfish OS operating systems. We used the AIDA64 Cache & Memory Benchmark to look at the memory performance on the Microsoft Surface Laptop 3.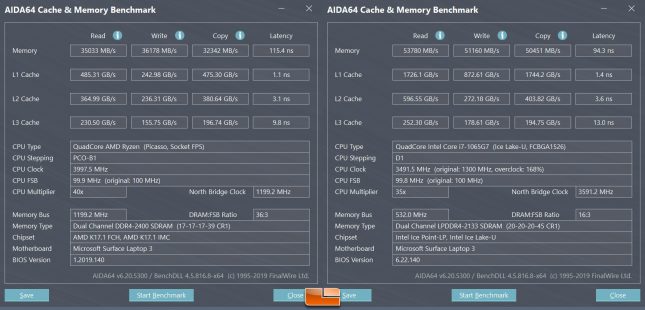 The Microsoft Surface Laptop 3 with the Intel Core i7-1065G7 processor came with 16GB of LPDDR4 memory running at 3733MHz with CL20 timings. The Microsoft Surface Laptop 3 with the AMD Ryzen 7 processor came with 16GB of DDR4 2400MHz memory with CL17 timings. AIDA64 Copy test results show that the Ryzen 7 powered system was getting 32GB/s speeds on AMD and the Core i7 system was getting 50 GB/s. So, we are getting over 56% higher performance results in this popular system memory test.
CrystalDiskMark 7.0.0f x64: link
CrystalDiskMark is a small benchmark utility for storage drives that allows for rapid measurement of sequential and random read/write speeds. Note that CDM only supports Native Command Queuing (NCQ) with a queue depth of 32 (as noted) and shows the highest score of five runs.

When it comes to SSD testing the AMD Ryzen 7 platform came with a 512GB NVMe SSD (SK Hynix HFM512GDGTNG). the Microsoft Surface Laptop 3 with the Intel Core i7-1065G7 processor came with a 256GB NVMe SSD (Toshiba BG4 KBG40ZNS256G). The performance difference on the two drives was night and day. In CrystalDiskMark we were hitting only 497 MB/s read and 752 MB/s write on the AMD laptop and 2321 MB/s read and 1584 MB/s write on the Intel powered laptop. the Random 4K performance was also heavily in Intel's favor. We didn't plan on running more than just CrystalDiskMark, but we need to investigate this a bit more since Microsoft is dual-sourcing its SSDs from Toshiba and SK Hynix.
Anvil's Storage Utilities 1.1.0: link
Anvil's Storage Utilities is a powerful tool that was designed in order to provide a simple means of assessing the read and writer performance of your Solid-State Drive or Hard Disk Drive. The benchmark tool helps you monitor and check the response time of your drive as well as view the system information collected using Windows Management Instrumentation (WMI).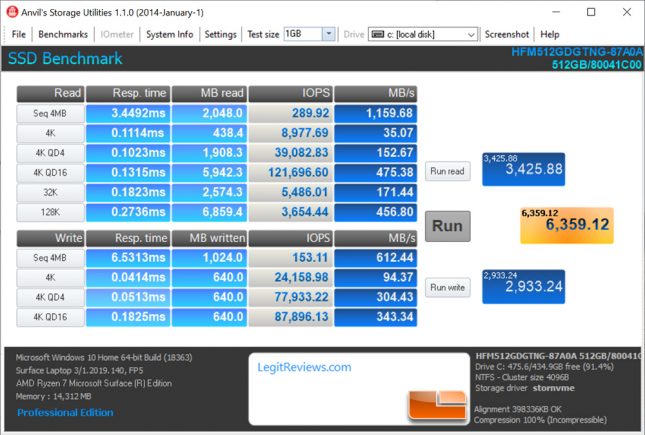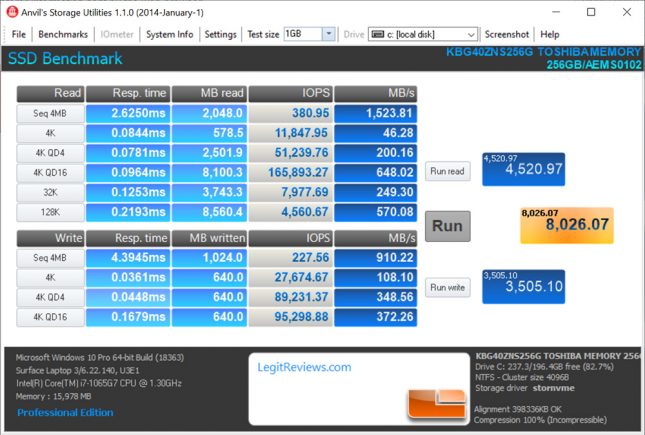 Anvil's Storage Utilities benchmark paints a better picture for the AMD Ryzen 7 powered Surface 3 Laptop as it manages to hit 1159 MB/s read and 612 MB/s write speeds. Despite the better-looking performance numbers, the SSD on the AMD Ryzen 7 platform does not appear to be of the same caliber as the one used on our Intel Core i7 platform.
Running synthetic benchmarks is fun, but we also noticed a pretty big difference on these two systems when moving around files. We wanted to how these results, so we moved a file from our Portable NVMe SSD (ASUS U32 – USB 3.2 2×2) over the internal NVMe drive on each respective Surface Laptop 3.

The AMD Ryzen 7 system on the left topped out at around 33 MB/s whereas the Intel Core i7 system topped out at over 110 MB/s. There is most certainly a difference in SSD performance between these two laptops!