Koolance VID-NX580 GeForce GTX 580/570 Water Block Review
By
Overclocking using the VID-NX580
Based on the last page we can see the Koolance VID-NX580 has some pretty awesome cooling power but what does that mean for overclocking. Ideally running significantly cooler should allow us to crank up the volts and clocks allowing us to extract all the performance out of this card on a daily basis.
Since this is a Classified version from EVGA this comes from the factory with a decent overclock applied over the reference GeForce GTX 570 design. The reference GTX 570 from NVIDIA is 732MHz clock, 1464MHz shader, and memory clock of 950MHz.
EVGA GeForce GTX 570 Classified Factory Overclock
<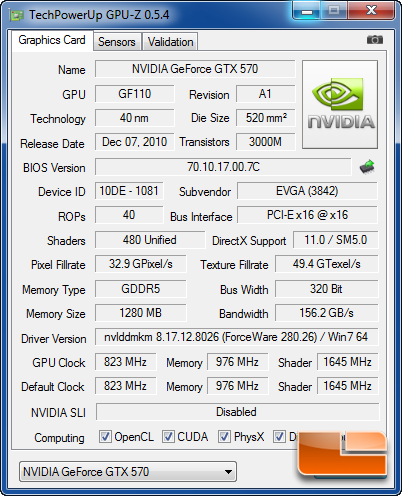 EVGA pushes this card almost 100MHz over stock on the GPU clock, just under 200MHz on the shader clock, and a little 26MHz bump on the memory clock. Not a bad little 12% overclock but EVGA was big about touting all the extra voltage features of this Classified board to allow for extreme overclocking..

Overclock on Air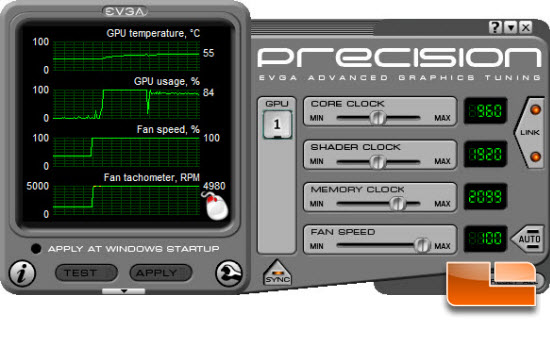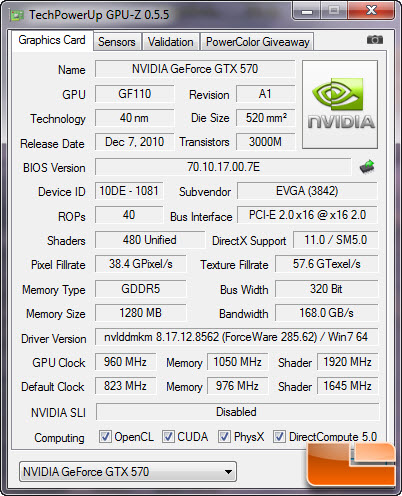 If you read our original review of the EVGA GeForce GTX 570 Classified you probably saw what we were able to with Air. By manually turning up the fan to 100% we were able to push this card to 960MHz on the core clock for an additional 17% overclock over what comes from the factory and 31% over the reference GTX 570's performance. Impressive but very noisy.
Overclock on Water using the Koolance VID-NX580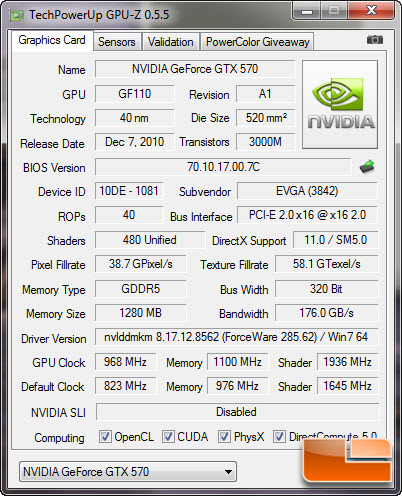 Well we have to say we are a bit disappointed that we could only squeeze out 8 more MHz of core clock and 16MHz more shader by dropping the Koolance VID-NX580 on this card. However we were able to push the memory up by another 50MHz which is a nice little bump.
If you read our recent review of the ASUS GTX 570 DirectCU II we are sure you were as surprised as we were that we hit 1006MHz on the core clock just running on Air with that amazing DirectCU cooler. Too bad that PCB is no where near reference or we would have dropped this water block on that bad boy. Why were we able to drive the overclock on that card so much higher than this card? The answer is really simple, BIOS voltage limitation. On the ASUS card we could dial in 1.250v giving us the juice to break the 1GHz barrier but EVGA limits this card to 1.1v unless you do some crazy BIOS hacking. Kind of sad really since they put the 275 Chip on a 375 board with the extra capacitors and phases but limit how hard you can push. Not that 968MHz would be considered bad by any means, it is just frustrating to hit artificial walls when overclocking. The real benefit is our ears as the radiator fans were never above 1200 RPM for a very silent experience even at 100% load. If we get another GTX 570 or even a GTX 580 that gives us a bit more room in the voltage department and uses a reference PCB design, we will quickly move this awesome Koolance block that card. The VID-NX580 performed flawlessly it was simply the choice of card that is holding us back.