Koolance VID-NX580 GeForce GTX 580/570 Water Block Review
By
Block Installation and Test System
To test this beautiful full cover water block we needed something to mount it too. We checked a few of the GTX 570 and GTX 580's we still had in the lab but none of them were even close to a reference design except one. A few months back we tested the EVGA GTX 570 Classified card and had noticed in the review that it appeared to be a NVIDIA GTX 580 reference design PCB with two less memory chips and the 275 GPU instead of the 580's 375 GPU model. So in theory it might support a water cooling block assuming none of the caps were in a weird spot and the block would clear the unique double stack DVI-D ports.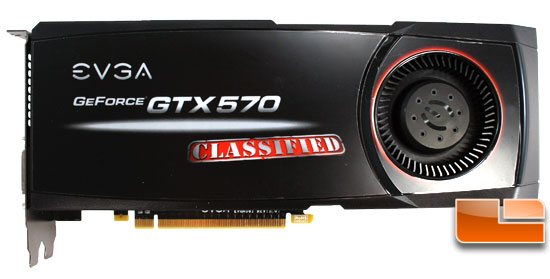 Hmmm… Only one way to know for sure, nurse hand me the screwdriver!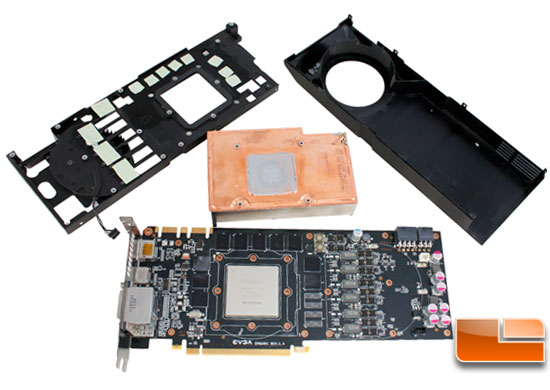 After a few dozen screws we had the cooler off and a grin starting to build on our face. It looks exactly like a GTX 580 reference board.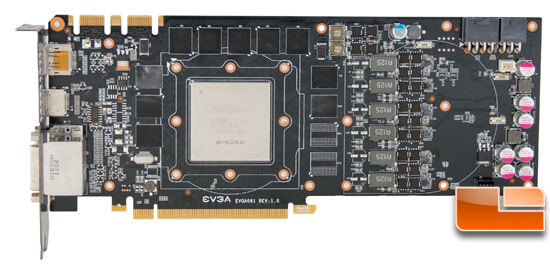 Cooler off and chips cleaned up we verified it was a NVIDIA GeForce GTX 580 reference board just with the GTX 570's chip and the two fewer memory modules.
Koolance VID-NX580 on the EVGA GeForce GTX 570 Classified graphics card.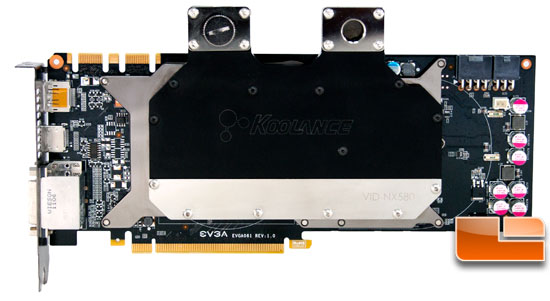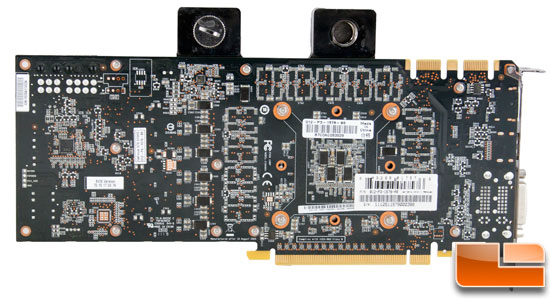 You saw it here first, Yes the Koolance VID-NX580 full cover water block does fit perfectly on the EVGA GeForce GTX 570 Classified graphics card.
The next step was to add it to our custom water cooling loop inside our work horse system and start testing. This is our daily use machine so we hope this card and block perform well since it will have a home here for awhile.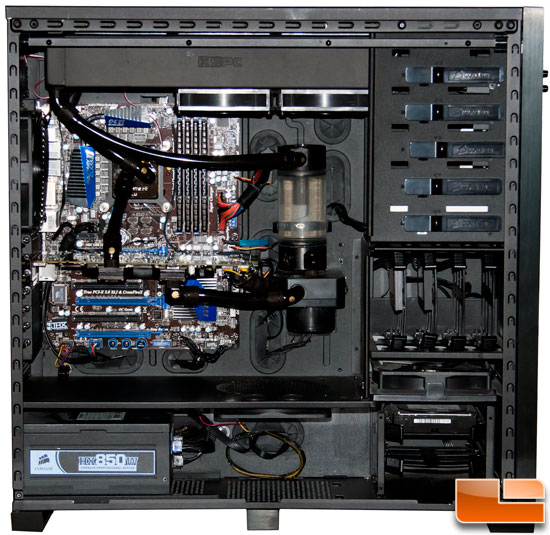 The Koolance VID-NX580 Test System Components
System
Corsair 700D case
MSI Z68A-GD80 Motherboard
Intel i7 2600k CPU
EVGA GeForce GTX 570 Classified GPU
16GB 1600MHz Corsair Vengeance Memory Kit
Patriot Pyro 120GB SSD
PQI 256GB SSD
Western Digital Carvair Black 2TB HDD
Corsair HX850 PSU
Cooling – Single Loop
XSPC RX360 Radiator
MCP-655B Pump with EK v2 top
EK Multi-Option Reservoir
EK HF Supreme Nickel CPU Block
Koolance VID-NX580 GPU Block
Gentle Typhoon AP-15 fans in push / pull
Bitspower Matte Black compression fittings
Black Primochill 7/16 x 5/8 tube