KLEVV NEO DDR3 8GB 2400MHz Memory Kit Review
By
Final Thoughts and Conclusions
Sometimes a new company can surprise you, when I was first offered memory by a new company I was curious but cautious. Poor quality memory can cause many issues. Essencore was founded just over a year ago, and KLEVV is their computer memory division focusing on computer memory, USB flash drives and Micro SD cards. The KLEVV NEO is their budget oriented DDR3 memory kit and is available in 16 different kits ranging in capacity and speed. KLEVV sent Legit Reviews the 8GB (2x4GB) 2400MHz kit, which is available online as part number KM3N4GX2Y-2400-11-13-13-31-0 with a lifetime warranty.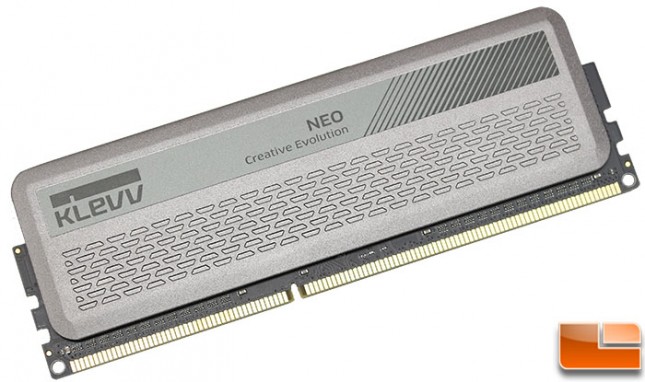 When taking a look at the various benchmarks, one thing to keep in mind is that the Kingston HyperX Genesis 1866MHz memory is slower than the KLEVV NEO 2400MHz memory. The timings between the two kits are different as well, the Kingston memory has tighter timings than the KLEVV memory. The Kingston 1866MHz memory was the only memory on hand to compare with the KLEVV NEO memory. With that in mind, the KLEVV NEO, with the faster speed, performed rather well for budget oriented memory.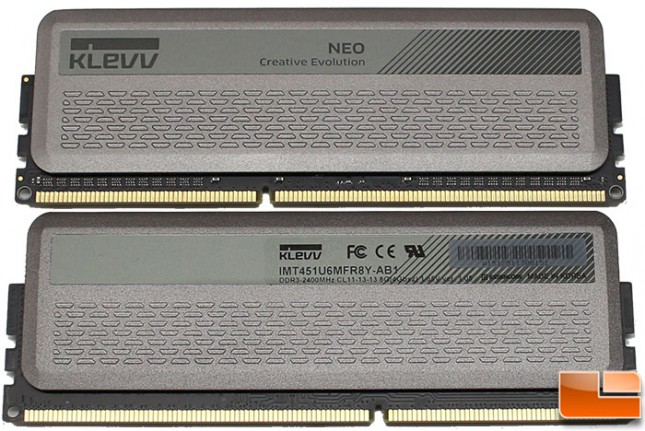 KLEVV makes the NEO memory kit in multiple sizes and speeds. Taking a look at the options for their 8GB (2x4GB) kit, we find that it is available in 1600MHz, 1866MHz, 2133MHz and 2400MHz speeds. Currently, Newegg is the only place to order KLEVV memory and they are listing the KLEVV NEO 8GB 2400MHz, part number KM3N4GX2Y-2400-11-13-13-31-0, kit at $74.39 shipped, placing it in the middle of the pack when it comes to pricing for 8GB (2x4GB) 2400MHz DDR3 memory kits.
Part Number
Density
Speed
Latency
Voltage
Bandwidth
Price
Dual Channel Kits
KM3N4GX2C-1600-09-09-09-24-0
8GB (2x4GB)
1600
9-9-9
1.5V
PC3-12800
$49.99
KM3N4GX2C-1866-09-10-09-27-0
8GB (2x4GB)
1866
9-10-9
1.5V
PC3-14900
$86.99
KM3N4GX2Y-2133-10-12-12-30-0
8GB (2x4GB)
2133
10-12-12
1.6V
PC3-17000
$90.99
KM3N4GX2Y-2400-11-13-13-31-0
8GB (2x4GB)
2400
11-13-13
1.65V
PC3-19200
$92.99
Of course if 8GB is not enough memory, the "budget" NEO is available in kits up to 32GB (4x8GB) at the same speeds as the 8GB kit. The larger capacity kits are also available at Newegg.
KLEVV is a new brand of memory manufacturer that we will continue to watch. If the performance of the NEO is any indicator of the quality that KLEVV is planning on providing, it would be interesting to see how some of their performance oriented memory stacks up against the better known companies. When we look at the pricing of the NEO, I hope the pricing at Newegg isn't final. A new company that prices its budget memory above its competitors performance oriented memory might have a problem breaking into a tough market. If the pricing of the 2133MHz and 2400MHz kits was more in line with budget oriented memory, I would have no problems recommending people check out the KLEVV NEO kit. I look forward to seeing what else KLEVV has to offer in the future as they will most likely be getting the best ICs and DRAM manufactured by their parent company, SK Hynix.
Legit Bottom Line: The NEO is the first memory kit by KLEVV that we had the opportunity to check out, it worked flawlessly over the course of testing. It received good scores at the default speeds, and could be overclocked to 2666MHz with an increase in voltage.