KLEVV NEO DDR3 8GB 2400MHz Memory Kit Review
By
KLEVV NEO DDR3 Review
When you think of computer memory, the first companies that come to mind are usually the top manufacturers such as Kingston, Corsair, Crucial, Patriot, G.Skill and several others. When choosing memory, most of us immediately go for these companies as they are well known and have proven themselves capable of manufacturing top quality memory. With already so many great companies manufacturing memory, it can be difficult for a new company to enter this competitive market.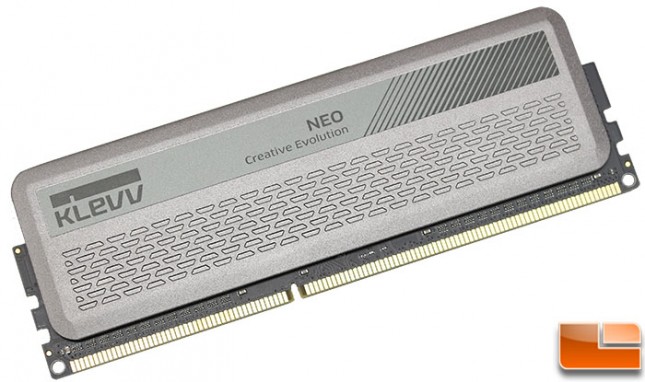 Founded in 2014, KLEVV is Essencore's house brand for memory; Essencore is a division of SK Group, which owns SK Hynix; so in a long way around, KLEVV is part of SK Hynix. The main goal of KLEVV is to provide the highest quality products in memory, USB Flash Drives, and Flash Memory using SK Hynix's IC and DRAM modules. In January 2015, they announced their first memory modules to be released; Cras (DDR4), Genuine (top of the line DDR3), Urbane (mid-line DDR3), and Neo (budget oriented DDR3).
KLEVV recently sent Legit Reviews a set of their budget oriented Neo DDR3 8GB kits. This 2x4GB kit has a latency of 11-13-13-31 at 2400Mhz. It can be found online under part number KM3N4GX2Y-2400-11-13-13-31-0 for $92.99 (Currently there is a 20% off Newegg promo code that ends on May 6th that drops the price down to $74.39 shipped). Right now it is a little hard to find as it is only available at select etailers right now. This kit is also available in slower speeds for slightly less. Likewise, if you want more than 8GB, KLEVV has you covered there as well with the biggest kit being 32GB (4x8GB) for $299.99. All of KLEVV's memory comes with a lifetime warranty, which is fairly common on memory modules.
Part Number
Density
Speed
Latency
Voltage
Bandwidth
Price
Dual Channel Kits
KM3N4GX2C-1600-09-09-09-24-0
8GB (2x4GB)
1600
9-9-9
1.5V
PC3-12800
$49.99
KM3N4GX2C-1866-09-10-09-27-0
8GB (2x4GB)
1866
9-10-9
1.5V
PC3-14900
$86.99
KM3N4GX2Y-2133-10-12-12-30-0
8GB (2x4GB)
2133
10-12-12
1.6V
PC3-17000
$90.99
KM3N4GX2Y-2400-11-13-13-31-0
8GB (2x4GB)
2400
11-13-13
1.65V
PC3-19200
$92.99
Packaging for memory is usually pretty basic, KLEVV keeps with that by packaging the NEO in a plain white box, with minimal information. Makes sense to keep the packaging design to a minimum as this is currently only available through online etailers. While it become available in a retail outlet, some additional information on the packaging would be helpful to the unknowledgeable consumer.
Opening the box, KLEVV has packaged the two modules in separate plastic packs which is commonly used by most manufacturers, because it works. Memory usually arrives safely at its final destination with this type of packaging. As there are two modules in this kit, they are packaged in their own pack, nestled in a some foam padding. Thankfully KLEVV has packaged this in a zero-fustration snap together packaging.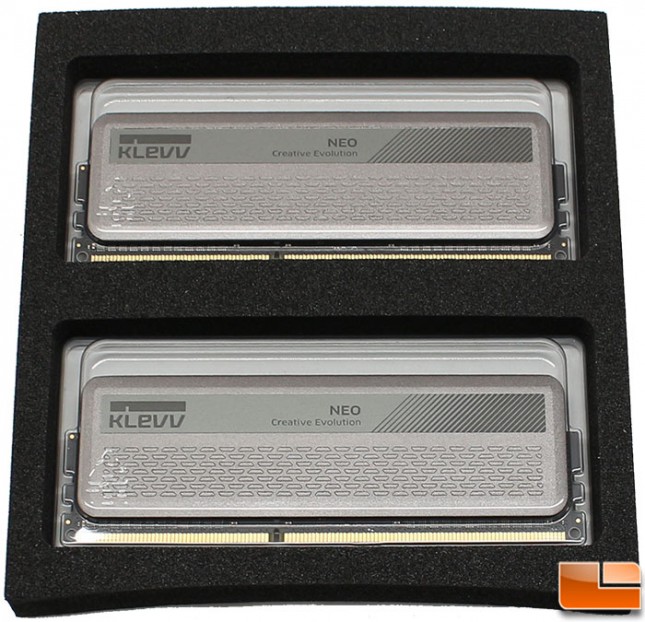 Being aimed at budget consumers, the Neo memory kit comes with a nice basic heat spreader. Having a grey heat spreader on black PCB, it should look good in most systems. One side is pretty plain featuring the make and model, while the other side includes the typical sub-model information, serial number and regulatory marks.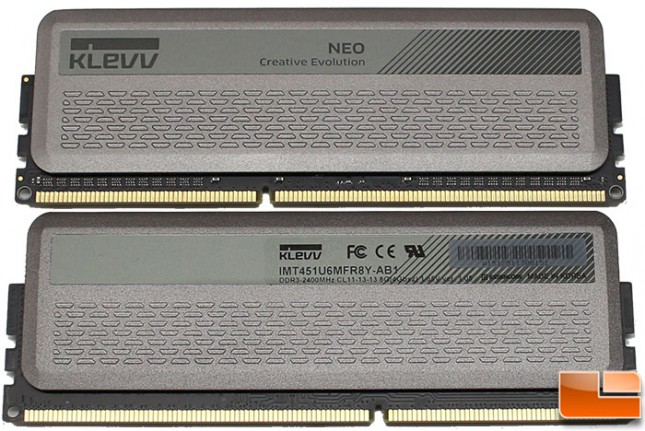 The top of the heat spreader is vented to allow heat to escape, it also provides a nice look to the top edge rather than being solid or open.

The heat spreader is pretty basic, however it was a nice surprise to see it extended above the PCB, providing more surface area for heat distribution; even though we know that it is generally meant more for looks than cooling. The tall heat spreader extends .5in above the PCB, which could be a potential issue for large air coolers.