Kingston Digital KC1000 960GB PCIe NVMe SSD Review
By
Final Thoughts & Conclusions
The Kingston KC1000 series has solid performance and we were shocked to see that we greatly exceeded the rated speeds on the 960GB model that we tested. Kingston says that the KC1000 960GB drive has up to 2700 MB/s sequential read and 1600 MB/s sequential write speeds. In ATTO Disk Benchmark we scored 3064 MB/s read and 2,325 MB/s write! Kingston rated this drives random 4K performance at up to 290,000 IOPS Read and 160,000 IOPS Write. In AS SSD Benchmark we topped out at 225,000 Read and 198,000 Write, so we came up just short on 4K Random Read performance. Not bad four corner testing results!
The only big 'missing' feature that we like to see on flagship drives would be encryption. The Kingston KC1000 series does not allow your protect your data using drive encryption. It would be nice if it had AES encryption and be TCG/Opal compliant, but it does now. When the Phison PS5007-E7 was first shown off at Computex 2015 it was shown as supporting AES-256 bit encryption, but the firmware enabling it has been missing from most SSD makers that brought the controller to market.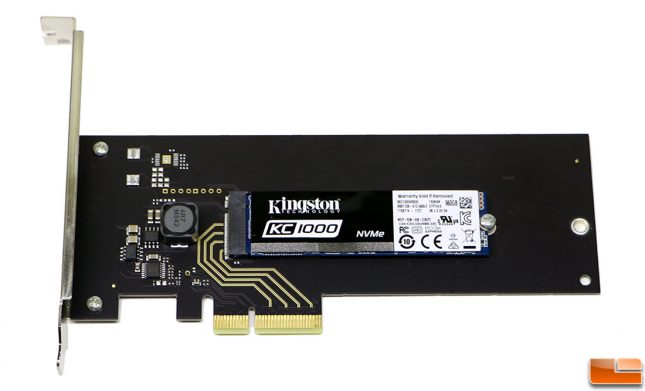 When it comes to pricing the Kingston KC1000 series is rather affordable considering this is the fastest drive available from Kingston Technology from either the Kingston Digital or HyperX brand lines.
After looking at the current pricing on Amazon.com we figured out that there is a $10 premium charged for the AIC model over the bare M.2 drive version. If you don't need the adapter and plan on putting this straight into a laptop or desktop motherboard, you'll want to save a few bucks and get the bare version. The Kingston KC1000 960GB model that we reviewed here today is available for $430 as tested. For a 1TB flagship drive that has competitive performance that isn't out of line. Kingston also has some of the best customer support around, so you'll have access to that along with a generous 5-year warranty and healthy endurance ratings. Kingston also releases firmware updates when needed, so should a firmware update be needed to fix a critical flaw you'll be able to get it.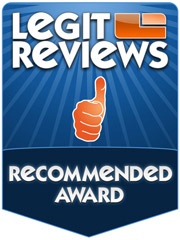 Legit Bottom Line: The Kingston KC1000 series offers impressive performance and healthy endurance specifications at very competitive price points!