Kingston Digital KC1000 960GB PCIe NVMe SSD Review
By
Linear Write and Real World File Transfer Testing
AIDA64 Disk Benchmark
We've had some people ask for AIDA64 linear write tests to be done, so we fired that utility up to see what would happen.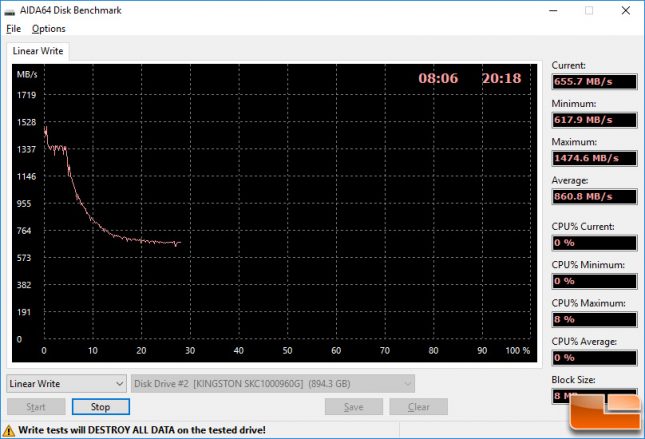 When you take a look at extended sustained write performance you'll see that the performance started out at around 1500 MB/s and then that dropped down to around 1337 MB/s for about 5% of the capacity of the drive (48GB). After this point the performance of the drive slowed down to around 620 MB/s where it started to level out after writing about 192 GB of data to the drive without any pauses or stops for the drive to recover.
Real World File Transfer
Before we wrap things up we wanted to see how real-world was when writing a movie folder containing seven 1080P movies over to the SSD. For this test, we are going to simply stress write performance by transferring over a 30.6GB folder of movies off of a PCIe NVMe SSD to the drive being tested to see how performance looks.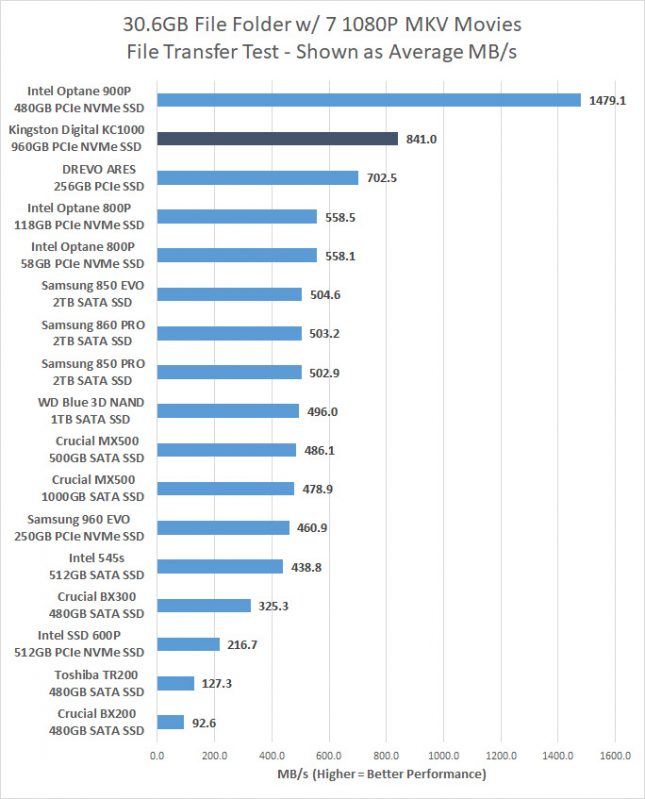 We were thinking we might be close to 1300 MB/s in this test after seeing the AIDA64 linear write results, but the Kingston KC1000 came in lower at 841 MB/s. This number is still very respectable and easily beats all the SATA III SSDs that we have tested as well as all of the PCIe NVMe drives.
We'll talk more about that in the conclusion on the next page.