Intel SSD DC P3608 1.6TB PCIe SSD Review
By
Intel SSD DC P3608 – Dual NVMe Controllers For Serious Performance
Those following Solid-State Drive market have been waiting months for Intel to finally release the Intel SSD DC P3608 and SSD DC P3520 Series drives as they are the latest and greatest NVMe drives coming to replace the already released Intel SSD DC P3700, P3600, and P3500 series drives that were Intel's first PCIe-based NVMe drives for the data center. The Intel SSD DC P3520 is the most interesting as it will be the first NVMe drive from Intel with the revolutionary new non-volatile 3D XPOINT memory developed by IMFT (Intel/Micron Flash Technologies). The Intel SSD DC P3520 isn't quite ready to come to market just yet, but the good news is that the Intel SSD DC P3608 is ready and the performance numbers are very impressive.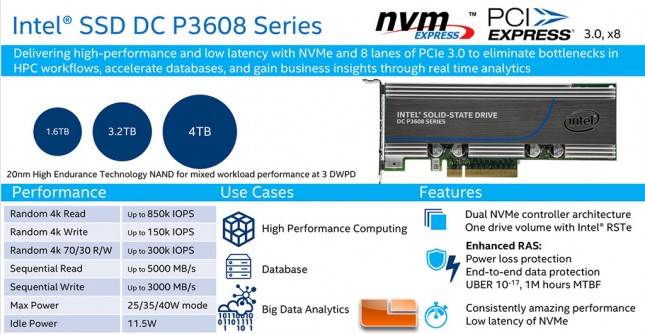 The Intel SSD DC P3608 Series has a dual NVMe controller design with Intel 20nm HET (High Endurance Technology) MLC NAND Flash on a board that utilizes the PCIe Gen 3.0 x8 interface to get up to 5,000 MB/s read and up to 3,000 MB/s write speeds for sequential data operations. The Random 4K Read and Write performance isn't lacking either as you are talking about up to 850,000 IOPS Read and 150,000 IOPS Write. Like the product name states, the Intel SSD DC P3608 is designed for the Data Center (DC) and will be made available in a low profile (up to 40W) PCIe 3.0 x8 add-in-card at capacities of 1.6TB, 3.2TB and 4TB.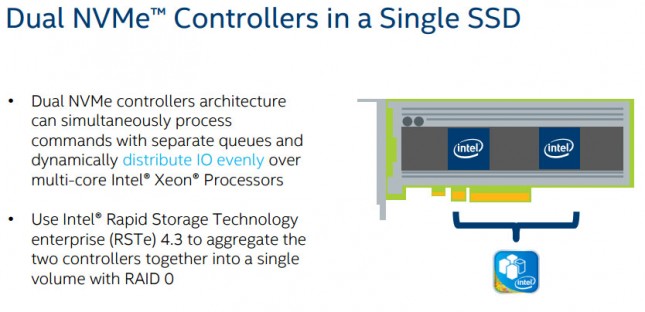 With regards to pricing you are looking at $3,509 for the 1.6TB drive, $7,009 for the 3.2TB drive and $8,759 for the 4TB drive. This means you are looking at right around $2.19 per GB, for this drive designed for the data center where they will be used to eliminate bottlenecks in HPC workflows, accelerate databases and other areas where drive performance and space is critical. The performance numbers and the endurance rating is different depending on the capacity of the Intel SSD DC P3608 Series card that you acwuire, so be sure to take a look at the table below to see how each capacity performs in a number of metrics that Intel uses.
| | | | |
| --- | --- | --- | --- |
| DC P3608 Performance | 1.6 TB | 3.2 TB | 4.0 TB |
| Sequential Read | 5,000 MB/s | 4,500 MB/s | 5,000 MB/s |
| Sequential Write | 2,000 MB/s | 2,600 MB/s | 3,000 MB/s |
| Random 4K Read | 850,000 IOPS | 850,000 IOPS | 850,000 IOPS |
| Random 4K Write | 150,000 IOPS | 80,000 IOPS | 50,000 IOPS |
| Random 8K Read | 500,000 IOPS | 500,000 IOPS | 500,000 IOPS |
| Random 8K Write | 60,000 IOPS | 36,000 IOPS | 28,000 IOPS |
| Random 4K 70/30 Read/Write | 300,000 IOPS | 165,000 IOPS | 150,000 IOPS |
| Random 8K 70/30 Read/Write | 160,000 IOPS | 80,000 IOPS | 75,000 IOPS |
| Endurance Rating | 8.76 PBW | 17.52 PBW | 21.90 PBW |
A few of you might be wondering how the DC P3608 gets such high performance numbers and that is because it has two Intel NVMe controllers and a PCIe 3.0 x8 connection. Doubling up the controllers and lanes available to them should effectively double the performance and that is exactly what is happening here as the SSD appears as two volumes to the host and then with Intel RSTe software you can choose to run them separately in RAID 0 or RAID 1. You can purchase multiple Intel SSD DC P3608 drives and setup other RAID implementations if you would like with Intel RST 4.3 software. For example, you could RAID 0 the two controllers together on one DC P3608 drive and then set up a RAID 1 array with another DC P3608 to provide some redundancy. To get the most from this drive you really should use it on high performance data-center applications that are multi-threaded and multi-queued, so it's not running just one queue depth to the two controllers. Intel noted that they needed four workers to get the rated performance numbers for this drive.
It should be noted that all Intel SSD DC P3608 drives are designed 3 drive writes per day using the JESD219 enterprise workload (whitepaper) and they are backed by a 5-year warranty.
| | | | |
| --- | --- | --- | --- |
| DC P3608 Power Consumption | 1.6 TB | 3.2 TB | 4.0 TB |
| Idle | 11.5 Watts | 11.5 Watts | 11.5 Watts |
| Active Read | 18 Watts | 18 Watts | 20 Watts |
| Active Write | 30 Watts | 35 Watts | 40 Watts |
Here is a quick look as at the power consumption for each capacity for those that are curious about how much power is drawn from each respective cards. The Intel SSD DC P3608 draws power from both the 5V and 12V power rails in the PCIe slot and has three active power modes. THe DC P3608 series defaults to up to 40W operation, but you can set that value to be 35W or 25W depending on your data center or systems power requirements.
Finally when it comes to operating system support the following are supported by the DC P3608.
Windows Server 2012, 2012 R2, 2008 R2, Windows 7, 8, 8.1 (32/64-bit)
RHEL 6.5, 6.6, 6.7, 7.0, 7.1
UEFI 2.3.1
SLES11SP4, SLES12
Citrix Xenserver 6.5, Cent OS 6.7
VMWare ESXI 5.5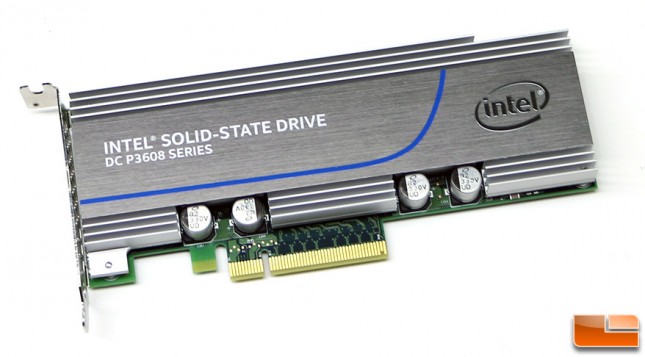 The Intel SSD DC P3608 Series drive looks very similar to past Data Center drives made by Intel from the outside.

The Intel SSD DC P3608 measures in at 167.7 mm in length with a height of 64.4 mm and a component thickness of 17.2mm, so it should easily fit in most servers, workstations and desktop PCs.

Since the Intel SSD DC P3608 Series can use up to 40 Watts of power during use there are airflow requirements that must be met for the add-in card to run properly despite the fact that the card has a heatsink. Intel has the airflow requirement set at 400 LFM at 55C with the airflow direction coming into the server towards the IO bracket.
Testing an enterprise SSDs is very different from a consumer model, but we tested this drive from the enthusiast perspective on an Intel X99 platform to see what kind of performance numbers you are looking at in benchmarks that gamers and enthusiasts are familiar with.