Intel SSD 600p Series 512GB NVMe SSD Review
By
Final Thoughts & Conclusions

So, is the Intel SSD 600p series just another budget priced TLC drive that enthusiasts will hate due to poor heavy workload performance? Unfortunately it most certainly is, but it does perform relatively well for how it is priced and you have to keep in mind that your typical consumer isn't going to be doing crazy workloads like that. If you are wanting a low-cost M.2 PCIe NVMe solution that performs decently with an above average 5-year warranty with a high TBW endurance rating this drive might be worth taking a closer look at. The Intel SSD 600p series isn't going to be the fastest drive around, but it really does offer a good value for mainstream desktops or laptop use. We just hope that Intel updated their toolbox to fully support the 600p as the drive has been out for months and the toolbox has been updated since, but some features are still not enabled for this series.
Intel SSD 600p Series Street Pricing:
With pricing starting at just $55.99 for a 128GB drive ($0.44 per GB) and topping out at $289.99 for the 1TB drive ($0.28 per GB), the Intel SSD 600p series is very affordable and some of these prices are likely holiday specials since we are posting this on Thanksgiving. If you've ever complained about how expensive NVMe produces are, you no longer have a case. Here we have a drive that performs slightly better than premium SATA III products and is more affordable. We see these being a popular drive for the Intel NUC series that now features a M.2 slot and doesn't come with a drive. You can get a budget friendly Intel NUC system and pop in an Intel SSD 600p Series drive to have a nice little system with some of the latest technologies around.
It's been some time since we've given out the value award, but at under $0.30 per GB for an M.2 PCIe NVMe the Intel SSD 600p series easily gets the award. You might not be jumping up and down about the drives performance, but this will help drive prices down and you will end up winning.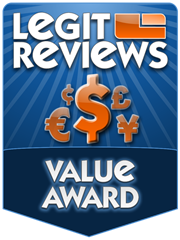 Legit Bottom Line: The Intel SSD 600p Series isn't for everyone, but is the first entry-level NVMe device and is a triple threat with decent performance, a long 5-year warranty and hefty endurance ratings.