Intel SSD 545s 512GB SATA SSD Review – 64-Layer TLC NAND
By
Final Thoughts & Conclusions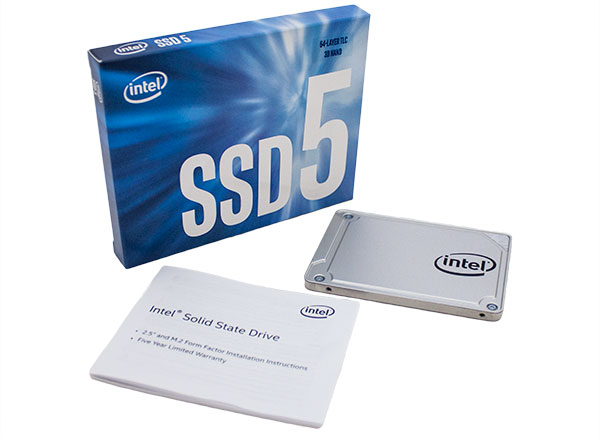 If you are looking to replace an aging hard drive (HDD) or are looking to build a new system and need a mainstream value priced SATA III SSD the Intel SSD 545s 512GB has solid performance. With sequential performance up to 550 MB/s Read and 500 MB/s you are looking at speeds that are about as good as one can get from the SATA III interface. Those coming from a hard drive will have dramatic performance improvement as soon as you are up and running. This drive won't be winning any performance benchmarks, but it also doesn't lose any and that is important. Intel designed this drive to appeal to the masses and they hit the nail on the head with this model. The bad thing is when you don't win or lose in the performance tests you often get lost in the mix. Hopefully the Intel SSD 545s doesn't have that happen to it as it really is a solid drive from our use of it thus far.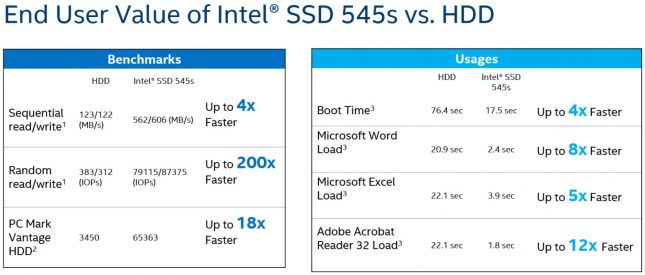 Intel shows the end user value of the Intel SSD 545s series versus a hard drive in the table above. Intel is seeing 4-12x speed improvements over a hard drive when it comes to common usages like system boot times and loading Adobe Acrobat Reader. These are major improvements and it is certainly worth upgrading to an SSD if it is something you can afford.
When it comes to pricing the Intel SSD 545s 512GB is the only model available today and it is priced at $179.99 (MSRP) or $0.35 per GB. That price isn't bad and you you can rest also assured that your data is being stored on a reliable drive with a 288 TBW endurance rating and a lengthy 5-year warranty. We expect that price to drop after its been on the retail market for some time, but for now that is the price. Intel is working with Newegg to release this drive and the Intel SSD 545s 512GB drive that we reviewed today is going to be only available there until the exclusivity agreement is over.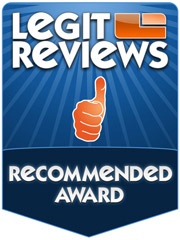 Legit Bottom Line: The Intel SSD 545s performs well for a SATA III and the new 64-layer TLC 3D NAND Flash looks great!