Intel SSD 545s 512GB SATA SSD Review – 64-Layer TLC NAND
By
Intel SSD 545s Series Arrives With 64-Layer TLC 3D NAND
Intel has a number of exciting storage products launching in 2017 and today just happens to be the day they launch the Intel SSD 545s series that will be added to the SATA III-based SSD product line. This is Intel's first client SSD featuring 64-layer Intel 3D NAND technology, which is what makes this products release really interesting. Other companies have announced 64-layer TLC production, but the Intel SSD 545s is available for purchase right now.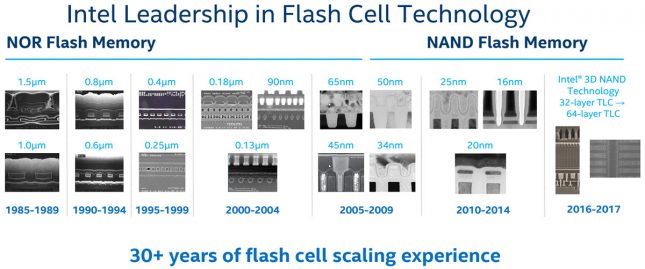 Intel has been developing Flash cell technology over 30 years ago and it began with NOR Flash memory and then recently changed over to NAND Flash memory about 7 years ago. The first 32-layer TLC 3D NAND Flash technology was introduced just over a year ago, so in about one year Intel was able to double the number of layers. This is a is another feather in the cap for Intel's 30+ years of flash cell scaling.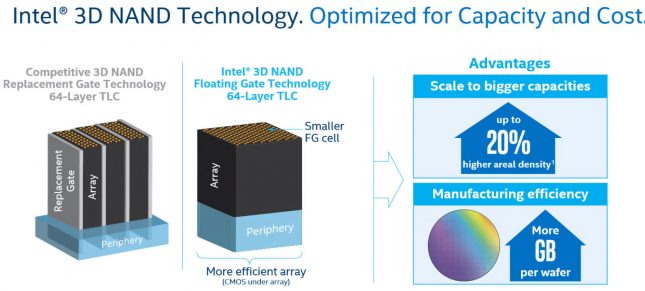 Intel is still sticking to the Floating Gate technology that they've used for a number of years rather than switching to a replacement gate technology like their competitors are using for 3D NAND. By staying with Floating Gate technology it allows Intel to have a smaller Floating Gate Cell and they are able to put the periphery (control logic, & I/O logic) under the array. A good analogy for this design is that Intel is building a sky scrapper where the parking lot is under the building versus having the parking lot around the building. This allows for a more efficient technology that has up up to 20% higher aerial density for bigger capacities. This also means that Intel has more GB in every wafer produced for improved manufacturing efficiency.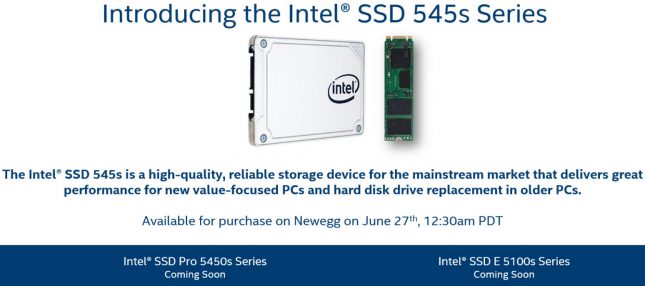 The first shipping product using this new Intel 3D NAND Technology, 64-layer, TLC is the Intel SSD 545s that Intel is aiming at the client space where someone is looking for a value drive for a new system or to replace an aging hard disk drive. A 512GB model for $179.99 is available today, but Intel will be releasing 128GB, 256GB, 1TB and 2TB drives in the SSD 545s product lineup in the near future. The Intel SSD 545s will be replacing the Intel SSD 540 series. The MSRP on the Intel SSD 540 512GB drive is $189, so we are seeing a $10 price cut in the MSRP thanks to the cost savings of moving to 64-layer TLC over the previous 32-layer TLC design that Intel was using on their 3D NAND. Not a huge cost savings, but it is still one. At $179 the cost per GB for the Intel SSD 545s 512GB is just under $0.35, which is fair for the drives MSRP. We expect street pricing to eventually be lower than this.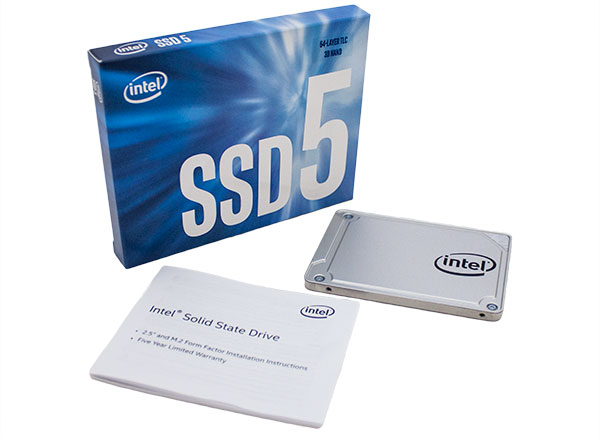 Intel SSD 545s Series Features:
Controller: SMI 2259
3D NAND: 64-layer, TLC, Intel 3D NAND Technology
Interface: SATA III 6Gbps
Form Factors: 2.5-inch and M.2
Capacities: 128GB, 256GB, 512GB, 1TB, 2TB
Data Protection: Hardware End to End (AES 256-bit self-encryption)
Sequential R/W (MB/s): 550/500
Random R/W (IOPS): 75k/90k
Sustained Sequential Performance R/W (MB/s): 500/475
Active Average Power: 4.5W
Typical Idle Power: <50mW
DevSleep Power: <2.5mW
Life Expectancy: 1.6 million hours MTBF
Endurance: 288TBW for the 512GB model (72W TBW per 128GB)
Warranty: 5-year
The model that we'll be taking a look at today is of course the Intel SSD 545s 512GB 2.5-inch model that is sold under part number SSDSC2KW512GB for $179.
Inside this 7mm thick drive, Intel is using adhesive thermal pads to help keep things cool for enhanced reliability. We won't be opening up this drive for photos as it will hurt the thermal performance as we plan on testing this drive on a new test suite down the road. Intel was able to tell use that there are four flash packages that each contain four 256Gbit (32GB) dies inside of the new Intel 64-layer TLC 3D NAND Flash memory. Intel went with a Silicon Motion 2259 controller and topped that off with custom Intel firmware to optimize performance for their new 3D NAND Flash technology.
Let's take a look at some benchmarks of this drive!