Intel NUC NUC5PGYH Review – Complete Mini PC w/ Windows 10
By
Intel NUC NUC5PGYH Mini PC Performance Testing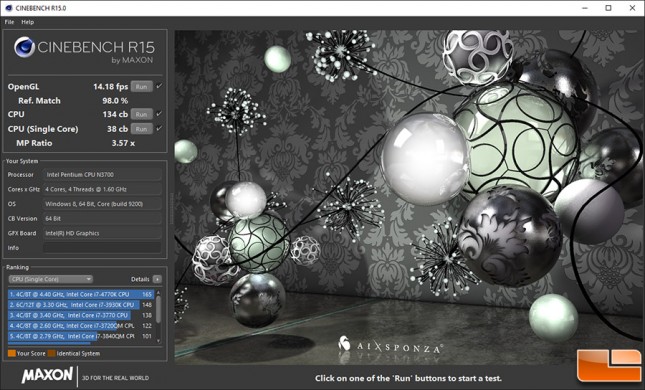 The Intel NUC NUC5PGYH with the Intel Pentium N3700 processor scored 14.18 FPS on the OpenGL benchmark, 134 points on the multi-core CPU test and 38 points on the single CPU test. These scores are pretty respectable for a PC that costs less than $250 for everything out the door. The ECS LIVA X2 that we reviewed last month scored slightly lower than this with a dual-core 14nm Braswell SoC, but that mini PC also costs about $35 less.
Intel NUC NUC5i5RYKwith the Intel core i5-5350U processor scored 31.80 FPS on the OpenGL benchmark, 259 points on the multi-core CPU test and 107 points on the single CPU test.
ECS LIVA X2 with the Intel Celeron N3050 processor scored 12.69 FPS on the OpenGL benchmark, 64 points on the multi-core CPU test and 34 points on the single CPU test.
ECS LIVA X with the Intel Celeron 2808 processor it scored 6.21 FPS on the OpenGL benchmark and then 66 points on the multi-core CPU test and 37 points on the single CPU test.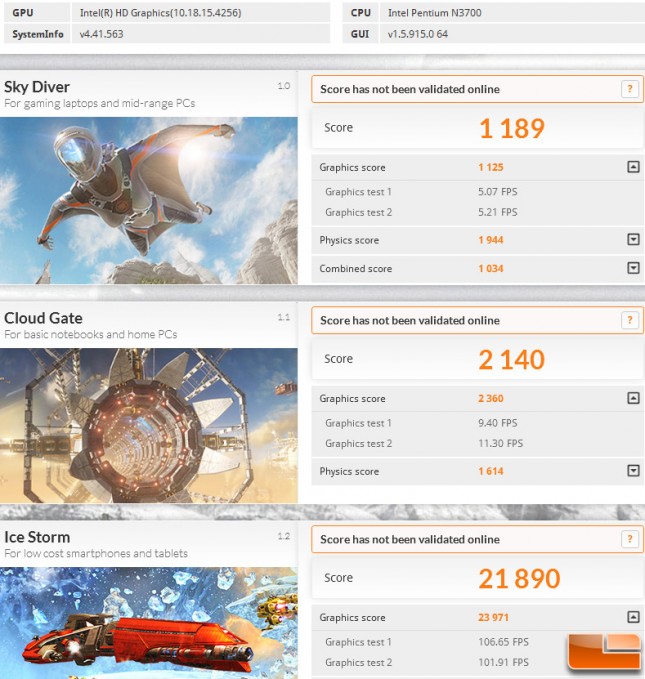 In 3DMark we scored 2,140 points in Cloud Gate, the benchmark for home PCs, specifically 9.4 FPS in Graphics Test 1 and 11.30 FPS in Graphics Test 2. Not the fastest of scores and it shows that the Intel NUC NUC5PGYH is only going to be cable of super basic game titles or browser based games at best.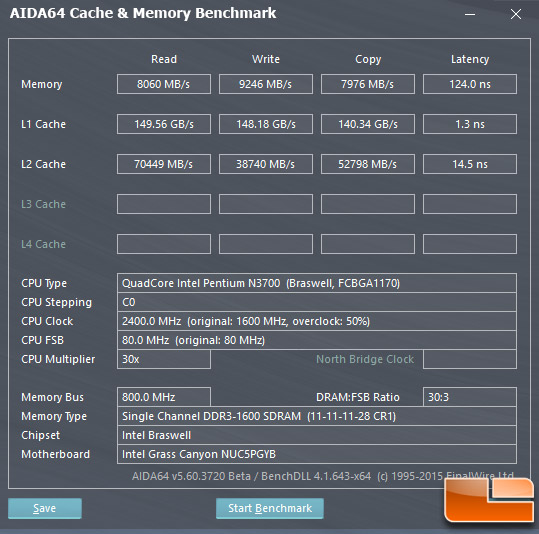 AIDA64 v5.60 beta showed that the single channel 1600MHz DDR3L memory had 11-11-11-28 1T timings and was capable of 8060MB/s read and 9246 MB/s write speeds with a latency of 124.0 ns.
A quick look at the memory performance in SiSoftware Sandra 2016 showed 6.28 GB/s of bandwidth on the single channel DDR3 memory solution running at 1600MHz with CL11 timings.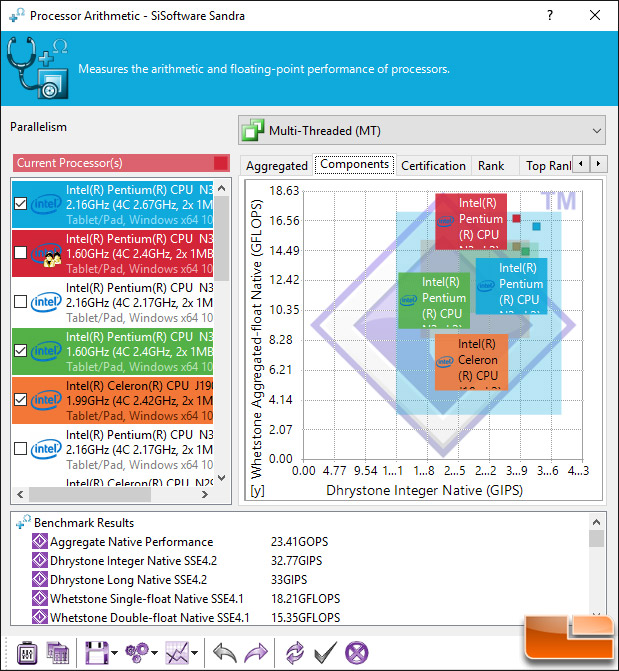 In Sandra Processor Arithmetic benchmark test the aggregate native performance score was 23.41 GOPS.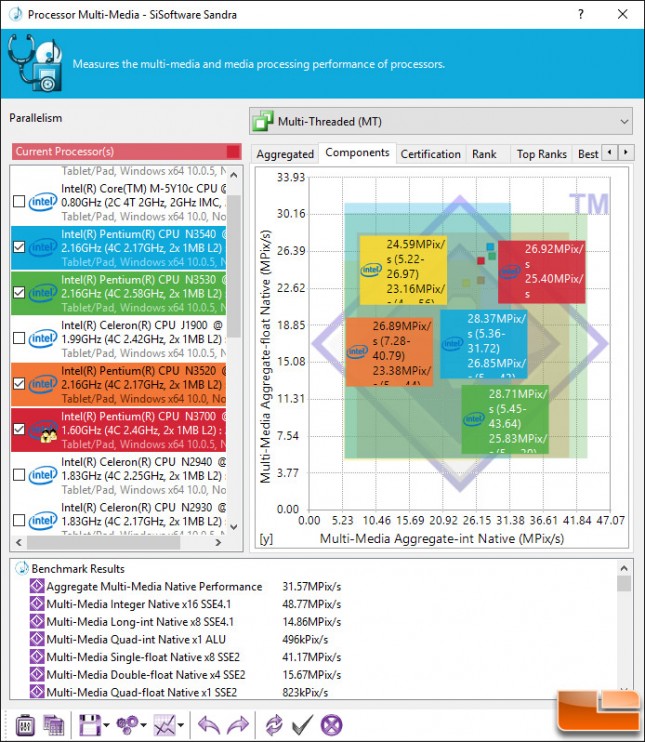 The Sandra Processor Multi-Media test aggregate performance score was 31.57 MPix/s.
We ran the JetStream JavaSctipt on Google Chrome 46 and found an overall score of 53.279. Not bad considering the ECS LIVA X2 scored 46 and in this benchmark larger numbers are better.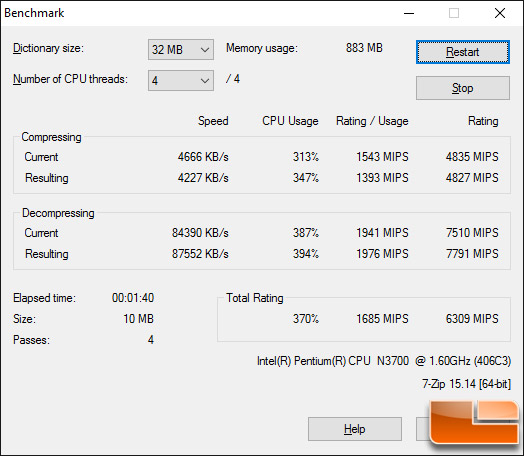 The 7-Zip 15.14 benchmark test showed that the Intel Pentium N3700 Processor on this system had a total rating of 6309 MIPS. Obviously this is not going to be that fastest system for compression, but it's not too bad either.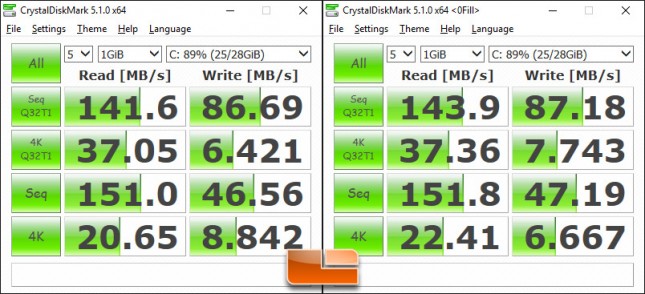 A quick run of CrystalDiskMark v5.1.0 showed the performance of the 32GB eMMC storage drive was on par with other eMMC solutions that we have seen in the past. Sequential read speed to be around 151-152 MB/s and the sequential write speed was right around 47 MB/s depending on the compression used for the test! The Random 4K read speed was 21-22 MB/s and the 4K random write speed was 7-9 MB/s.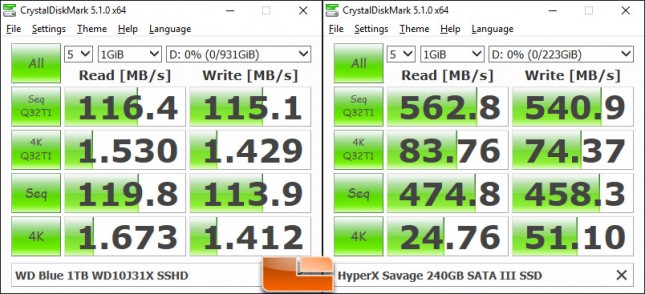 We also tested the internal SATA III header with a WD Blue 1TB SSHD and the HyperX Savage 240GB SSD and found that the header was operating at the advertised speeds with out SSD topping out at 563 MB/s read and 541 MB/s write when it came to sequential file transfer speeds.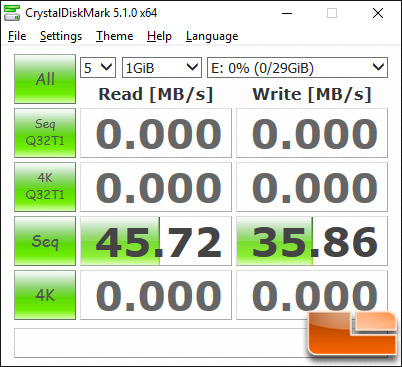 The side SDXC slot supports UHS-I cards and we speed tested it with a SanDisk Extreme Pro 32GB UHS-II memory card that is rated at up to 280MB/s read speeds. We weren't sure if the reader would work or not, but it did and we got 46MB/s read and 36MB/s write speeds.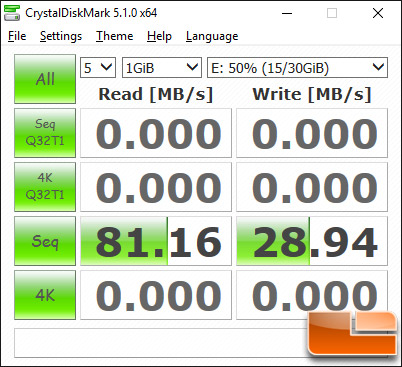 We also tested with an ADATA Premier Pro 32GB SDHC UHS-I card that is rated at 95MB/s read and 45MB/s write. CrystalDiskMark showed that we were able to get 81MB/s read and 29MB/s write with the built-in SDXC card reader, so this card reader is very quick and is not using the USB 2.0 interface that many are wired to!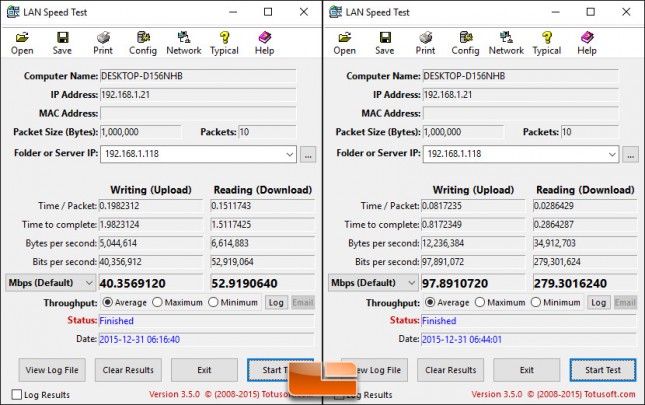 When it comes to wireless performance the we used LAN Speed Test to check the performance of the included the included Dual Band Wireless-AC 3165 802.11ac PCIe solution. This is a dual-band 1×1 802.11ac Wi-Fi card with a theoretical peak speed rating of 433 Mbps. We used a desktop with Gigabit Ethernet to run LAN Speed Server that was hard connected to the ASUS RT-AC68U 802.11AC wireless router with Firmware version 3.0.0.4.378.9313. We tested the 2.4GHz and 5GHz performance with the router placed 10-feet away from the Intel NUC NUC5PGYH and ran performance tests with 1MB packet sizes. The results showed that we were averaging 40-53 Mbps (Up to 6.6 MB/s) on the 2.4GHz band and 98-279 Mbps (Up to 34.9 MB/s) on the 5GHz band. It's clear that you'll want to be using the 5GHz band to get superior performance! We are disappointed that we couldn't get near the advertised 433 Mbps theoretical speeds, but we've certainly seen worse performance!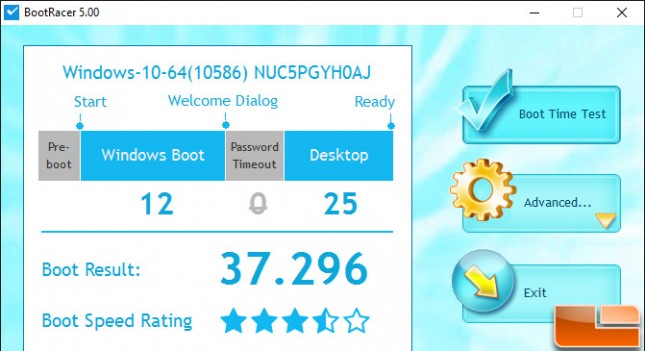 The last performance test that we wanted to run was Bootracer 5.0 to see how fast the system is able to boot Windows 1o Home 64-bit. We found that the Intel NUC NUC5PGYH takes 12 seconds to get to the logon screen and it took a total of 37.3 seconds to get up and running on the desktop when using the internal 32GB eMMC storage drive
Let's take a look at power consumption and CPU temperatures on the Intel NUC NUC5PGYH.