ADATA Premier Pro 32GB SDHC UHS-1 Memory Card Review
By
ADATA Premier Pro 32GB SDHC Memory Card
Chances are pretty good that you have numerous Flash memory cards floating around, but when was the last time you updated it? The Secure Digital (SD) memory card format is the most popular and while the physical size of the card has not changed, the standards most certainly have. You can get SDSC, SDHC, SDIO and SDXC versions of SD cards and then you have speed grades for each class. You might have seen cards labeled Class 4 before and that basically means that the card should be guaranteed to provide at least 4MB/s write speeds since it is a Class 4 card. The 'Class' system has worked well for many years, but recently the UHS-I (Ultra-High Speed) format became available for both SDHC and SDXC cards. UHS-I cards support much higher internal clock frequencies and right now the standard says that UHS-I cards can go up to 104MB/s read and write! UHS-II is also being developed and features speeds of up to 312MB/s! In case you are wondering a SDHC UHS-I memory card will work in any SDHC (Secure Digital High Capacity) compatible device at lower speeds, but to take advantage of the UHS-I speed, a UHS-I compatible device is essential. You'll also need memory card readers that use high-speed data interfaces like SuperSpeed USB 3.0 to be able to move data between the card and your PC at such fast speeds!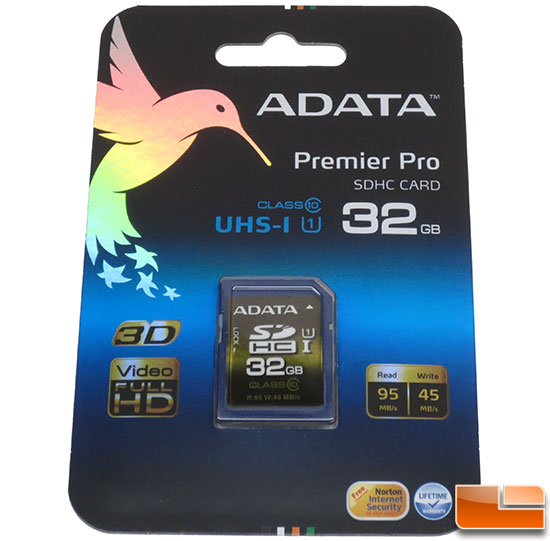 ADATA recently launched Premier Pro SDHC and SDXC memory cards that use the 'new' UHS-I specification, providing read/write speeds up to 95/45 MB per second for in 32GB and 64 GB capacity cards. Not bad speeds and something that will come in handy with newer high-end SLR cameras, high quality full HD cameras, and other devices. ADATA recently sent over the 32GB card with part number ASDH32GUI1CL10-R for review. The ADATA Premier Pro 32GB SDHC Card runs $42.90 shipped over at Amazon or $38.99 shipped on Newegg.
This card meets the latest SD 3.0 specifications for USH-I transfers and comes backed by a lifetime warranty. It also has a number data protection features including: X-ray, water, shock, and magnet proof construction. It also has the ability to handle extreme temperatures (-25C to 85C) and it even supports error correcting code (ECC) and write-switch protection functions. Not bad for a memory card!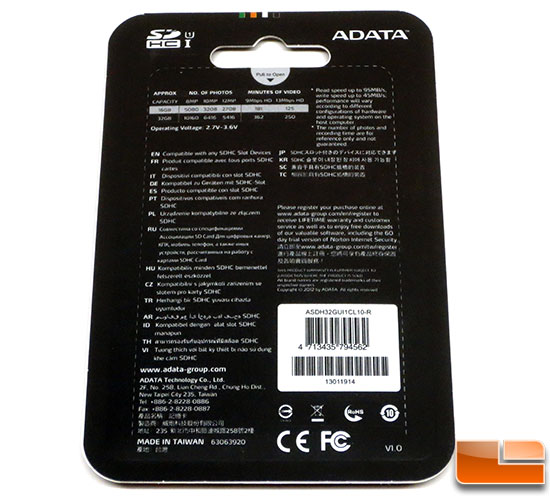 The retail packaging for the ADATA Premier Pro 32GB USH-I SDHC memory card is very nice looking and contains all the pertanant information that a shopper would be interested in knowing at a brick and mortar store.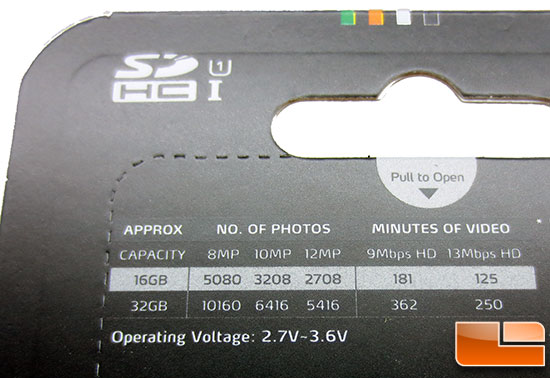 One interesting section that we noticed on the back of the packaging a table that listed how many minutes of video and images that the card would hold. The ADATA Premier Pro 32GB SHDC card should hold around 5,416 12MP photos or 250 minutes (4.2 hours) of 13Mbps HD video!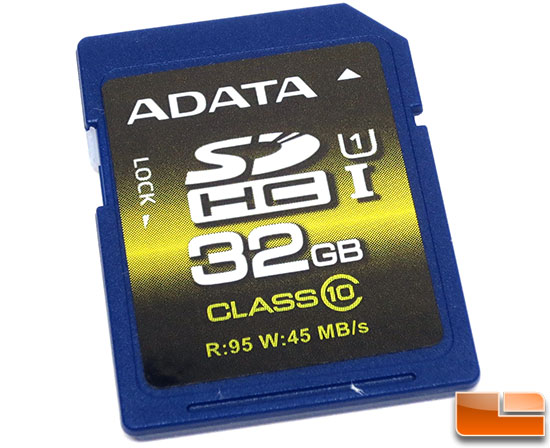 Here is a closer look at the actual memory card outside of the retail packaging. Nothing too shocking here as it looks like any other SDHC card due to the form factor requirements. We really like how ADATA put the read and write speeds on the label itself. Years down the road you'll be able to remember what the exact speeds of this card are without having to go online and look it up!
ADATA Premier Pro 32GB SDHC Memory Card Specifications:
Capacity
32GB
Standard
SDA 3.0
Dimensions (LxWxH)
24mm x 32mm x 2.1mm
Weight
2g
Operating Voltage
2.7~3.6 Volt
Performance
Seq Read/Write rate up to 95 / 45 (MB/s)
Random Read/Write: 1300 /100 (IOPs)
Warranty
Limited lifetime warranty
Compatibility
DSLR, Full HD Camcorder, Digital Camera
Certifications
FCC, CE, BSMI, VCCI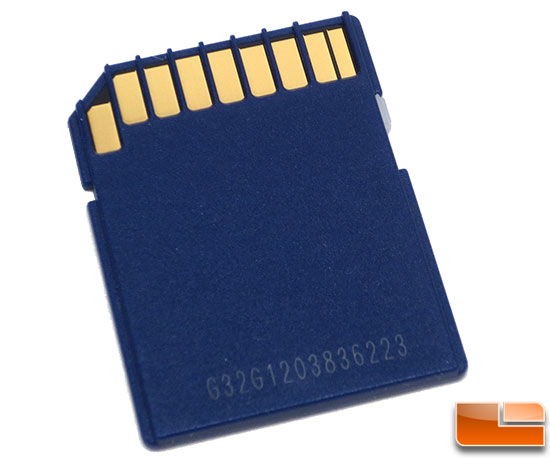 On the back of the card you can see the power and data pins along with serial number of this specific card. Since that pretty much covers all the information on this card we can go ahead and get to speed testing it!