Intel NUC NUC5PGYH Review – Complete Mini PC w/ Windows 10
By
Intel NUC NUC5PGYH – The First NUC That Comes With Windows!
The Intel Next Unit of Computing (NUC) mini PC debuted in 2012 as a barebone kit that consisted of just a mainboard with a 22nm Ivy Bridge Processor, CPU cooler, enclosure, VESA mounting bracket and an external power supply. Over the past several years Intel has expanded the product line and the tiny PC has gone through several generations of processors with great success. While desktop computers are still ideal for gamers and power users, most of the population just needs an affordable PC that offers decent performance and basic functionality. Intel recognized the fact that not everyone wanted a bare bone NUC kit that required other parts being purchased and then assembled only to need hours of someone sitting there installing the operating system of their choice along with all the appropriate drivers.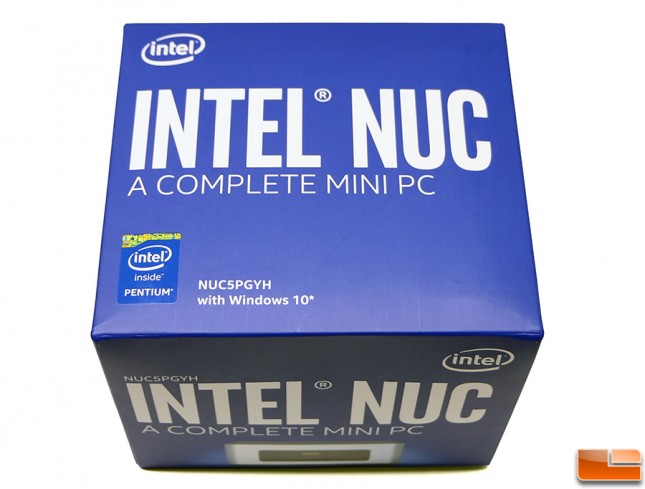 This is where the Intel 'Grass Canyon' NUC NUC5PGYH comes in to play as it is the first complete NUC Mini PC that comes with Windows 10 pre-installed! The Intel NUC NUC5PGYH model sports an Intel Pentium N3700 14nm Quad-Core processor, 2GB of DDR3L memory, 32GB of eMMC storage (you can add a 2.5-inch SATA III drive for expanded internal storage) and an Intel Wireless-AC 3165 M.2 802.11ac card for out of the box wireless use. Intel then tops off all that hardware with Windows 10 64-bit Home and it can be yours for for under $250 – $243.45 shipped at Amazon to be exact under under part number BOXNUC5PGYH0AJR.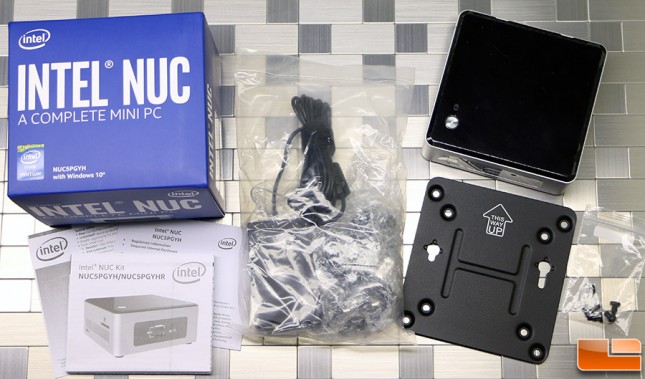 The Intel Grass Canyon NUC comes in a cube-shaped box that contains the power adapter, VESA mounting hardware, instructions and the NUC unit itself. The Intel NUC5CPYH measures only 115mm x 111mm x 56.5mm (approx. 4.5 x 4.4 x 2.2) and can easily be carried around if needed.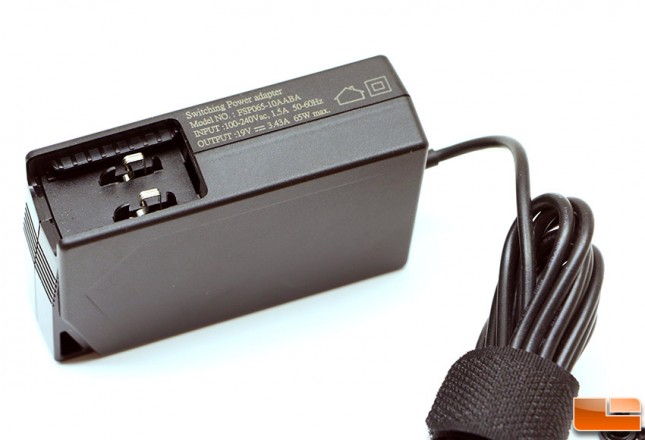 The 2-prong wall-mount AC Power Adapter is made by FSP Technology, INC. (FSP) and has the model number FSP065-10AABA. This AC to DC adapter operates at 90 to 264 Vac and outputs 19V / 3.43A power with an overall power rating of 65 Watts. You can change out the wall plug depending on your region and it comes with IEC world plug types A/C/G/I.
Intel NUC NUC5PGYH Features
Intel Celeron N3700 quad-core CPU, 1.60GHz base, 2.40 GHz burst, 6W TDP
Single DDR3L memory slot with 2GB installed (max memory is 8GB)
32GB eMMC storage drive w/ Windows 10 Home 64-bit pre-installed
Intel HD Graphics with 16 execution units
HDMI 1.4b and VGA connectors
7.1 surround audio (via HDMI)
4 USB 3.0 ports (fast charging on one of the front ports, max. 1.5A)
Consumer infrared receiver
Support for a single 2.5 SATA III 6Gbps drive
SDXC slot for a memory card (UHS-I support)
RealTek RTL8168 Gigabit Ethernet adapter
Intel Wireless-AC 3165 Wireless dual-band 1×1 adapter (802.11ac, rated for 433mbps, BlueTooth 4.2, Wireless Display)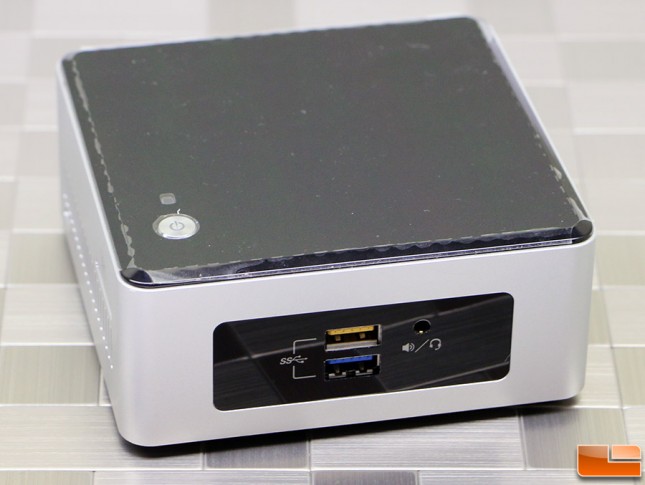 This chassis uses an aluminum center section that left its natural color with a black colored plastic top and a black steel bottom cover. The front panel of the Intel NUC NUC5PGYH has two USB 3.0 ports (the yellow one is charging capable), headphone/microphone jack and the consumer infrared sensor. Up top you have the power button and storage drive activity light.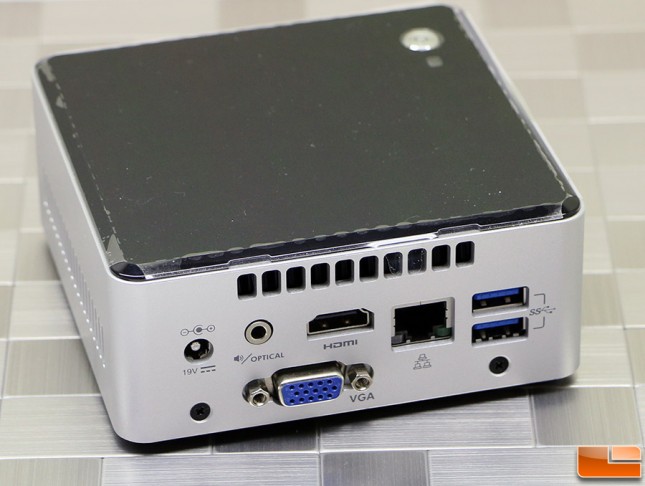 The Intel Pentium N3700 processor is a quad-core processor capable of 2.40 GHz burst frequency and has a TDP of 6 watts. The processor also an Intel HD graphics processor with 16 execution units, so it should be decently capable when it comes to graphics performance. The Pentium N3700 processor is actively cooled and the hot air from the CPU cooler is blown out of the back of the case above the rear I/O panel. Below the exhaust vents you'll find the DC power plug, headphone/TOSLINK jack, HDMI 1.4b video output, RealTek RTL8168 Gigabit Ethernet port, two USB 3.0 ports and the VGA (HDB15) video output.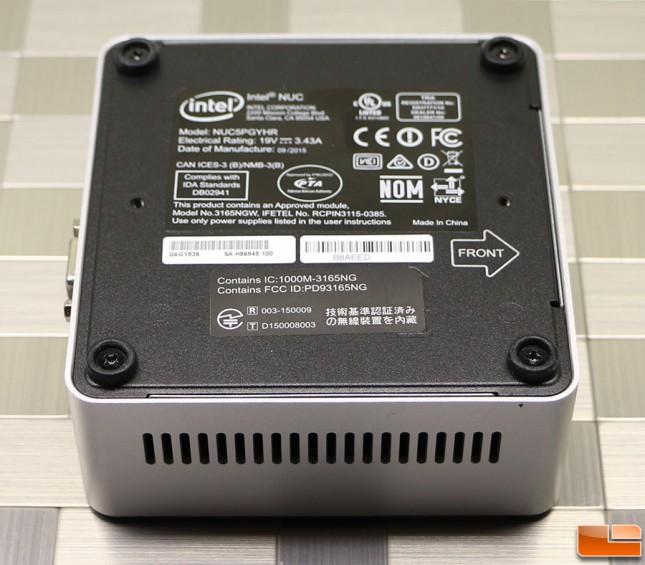 The bottom of the Intel NUC has four rubber feet that keep it from sliding around a desktop. Inside the rubber feet are Philips screws that can be removed to gain access to the Intel NUC5PGYB board.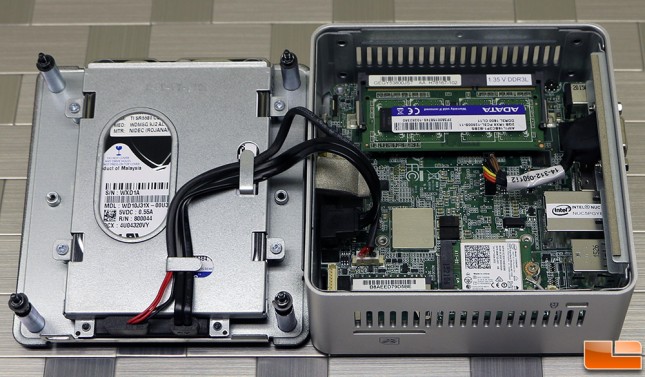 Here is a peek inside the Intel NUC NUC5PGYH with the bottom cover removed. We added a WD 1TB 2.5-inch notebook drive (actually an SSHD) on our own to aid in the Windows 10 update process as the 32GB internal storage drive wasn't big enough to install Windows 10 Threshold 2 that came out last month. The 2.5″ drive cage supports up to 9.5mm thick drives, so keep an eye on the z-height of the storage drive you are wanting to install.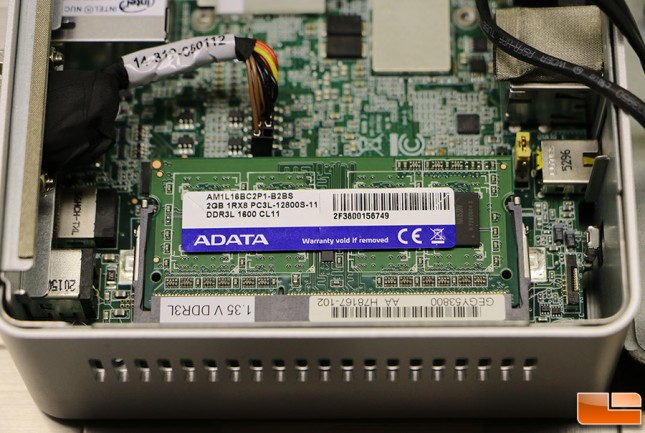 The Intel NUC NUC5PGYH has just one DDR3L (1.35V) memory slot on it and the NUC comes with a 2GB 1600MHz DDR3L memory module that featured CL11 timings. The module in our exact kit was made by ADATA, but yours might come with a different brand as it wouldn't be a shocker if that changes over time due to pricing and availability of DDR3L.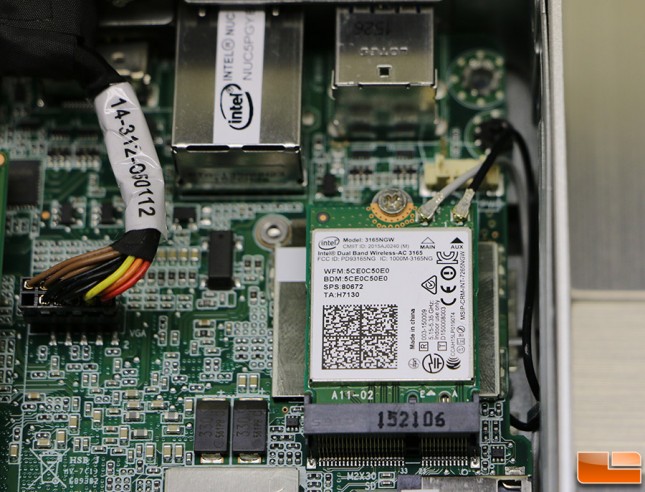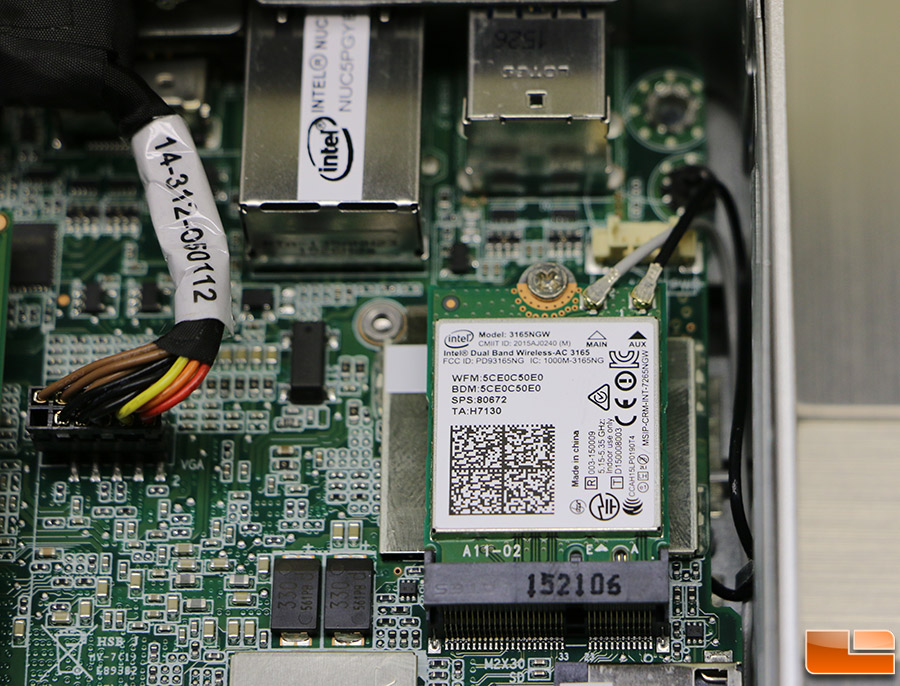 Intel also includes their Dual Band Wireless-AC 3165 card that fits into a M.2 2230 PCIe slot. This is Intel's 2nd Generation 802.11ac dual-band 1×1 card that also features Bluetooth 4.2! This model featured shared Wi-Fi and Bluetooth antennas for Wi-Fi speeds of up to 433 Mbps.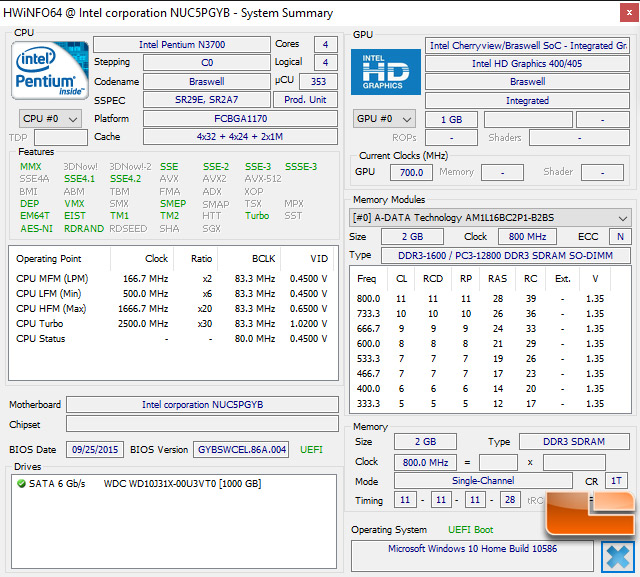 Let's take a look at the performance on the Intel NUC NUC5PGYH compete Mini PC!