SanDisk Extreme Pro UHS-II 32GB Memory Card Review
By
SanDisk Extreme Pro UHS-II SHDC/SDXC Memory Cards Arrive
Billed as the world's fastest SD cards, the recently released SanDisk Extreme PRO SDHC/SDXC UHS-II memory card series uses the latest high-performance SD specification, UHS-II, to offer up to 280MB/s (1867X) read transfer speeds for optimized post production workflows and up to 250MB/s (1667X) write speeds for continuous burst-mode shooting. The cards are also UHS Speed Class 3 (U3) rated for sustained video capture of at least 30MB/s, making them suitable for 4K, 3D, high-bitrate Full HD video capture as well as live broadcasting.
Have you heard about UHS-II yet? UHS-II is the ultra high speed serial bus interface in SD Memory Card Standard Ver4.20 that delivers data at 156MB/s by single lane access and 312MB/s by dual lane access. This means that UHS II cards could potentially be three times faster than the top UHS-I as they top out at a maximum theoretical speed of 104MB/s!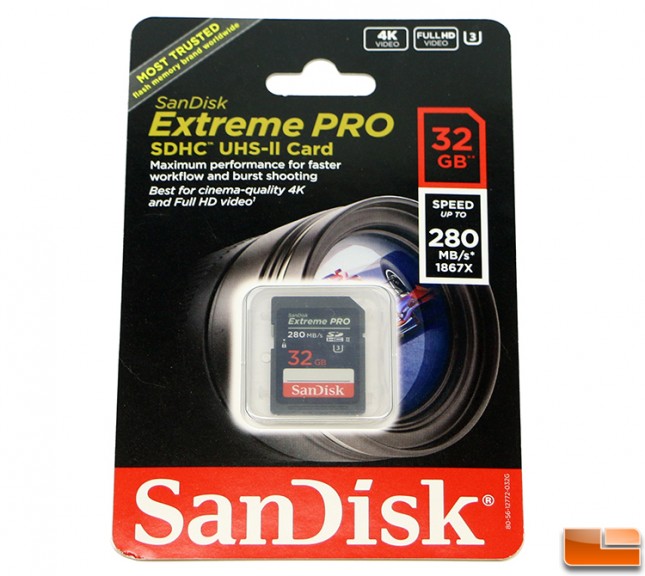 The SanDisk Extreme PRO SDHC/SDXC UHS-II memory cards are available in 16, 32, and 64GB capacities:
SanDisk says that this 32GB SDHC card can hold 8 minutes of 4K video shot at 500Mbps or 80 minutes of Full HD video at 50Mbps. This isn't much time, so if you are planning on shooting good quality 4K video content down the road you'll likely need to invest in larger capacity cards or pick up multiple cards for your storage needs. We tried out the SanDisk Extreme PRO SDHC UHS-II card in a GoPro HERO3+ Black Edition sport camera and got just just about 90 minutes of 4K 15 FPS content before the cards memory filled up and the battery on the GoPro became low. The FujiFilm X-T1 can only take ~14 minute long individual movies on full HD mode, but the battery should last around 100 minutes with face detection off. So, while while the storage capacity might not sound like it is large enough, many of the consumer 4K cameras on the market today don't last that long.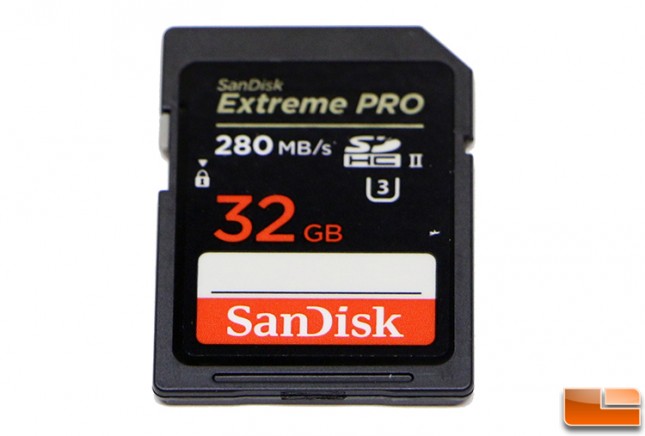 As with most SanDisk cards, this memory card comes shockproof, X-ray proof, waterproof, and and can operate in temperatures ranging from -13 to 185 degrees Fahrenheit. This means you can take this card with you into some of the most grueling shooting conditions on earth and not have to worry about if the card was able to capture the shot. The write speeds of up to 250 MB/s allows for advanced camera functions such as continuous burst, rapid shooting, and RAW plus JPEG capture or 4K, 3D, and Full HD video.
As we have already mentioned, the SanDisk Extreme Pro card uses the new UHS-II standard and has had additional pins added to the interface to enable the higher data transfer speeds. While the typical top row of SD card pin connections are still present, there is now a second row of eight additional pins used exclusively to read and write UHS-II signals. The first row of connectors is still used for normal speed, high speed, and UHS-I signals, meaning the cards are backwards compatible with all SDHC/SDXC host devices, albeit without UHS-II performance. The SanDisk Extreme Pro UHS-II series card has been optimized for cameras that support the UHS-II standard, however using this card on older host devices might actually give you lower performance than when using UHS-I cards.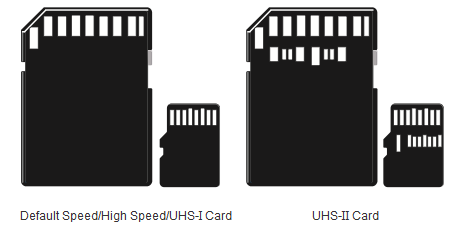 The specification also applies to microSD cards, so expect to see UHS-II class cards slowly becoming the norm on mobile devices like cameras, smartphones and tablets. Full performance requires a UHS-II host, which means you will need new USB 3.0 card readers that are UHS-II compliant as well as cameras like the FujiFilm X-T1, Panasonic Lumix DMC-GH4 that natively support the new standard. We don't happen to have either of those cameras available, so our testing will be limited to just USB 3.0 memory card reader testing.
Let's take a look at the performance test results on the next page.