Intel NUC 9 Extreme Review – Ghost Canyon with Core i9-9980HK
By
Civ6, Bannerlord II, enCore RT
Sid Meier's Civilization VI
Sid Meier's Civilization VI (called Civilization VI or Civ6 for short) is a turn-based strategy game in the Civilization franchise that was released in 2016. Over 50,000 people a day still play this game title, so we ran the games built-in benchmark to take a look at performance on the Ghost Canyon Extreme NUC Kit.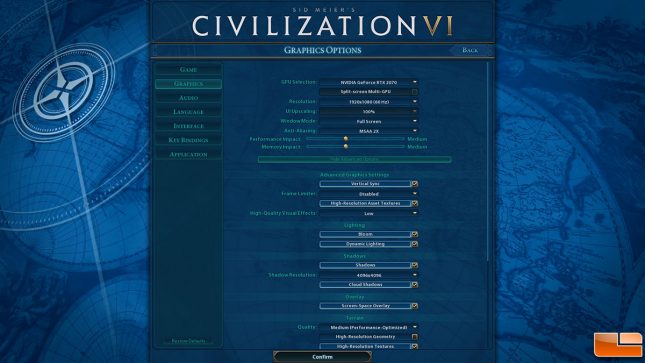 Testing was done at 1080P and 144oP with 2x MSAA enabled and VSync disabled.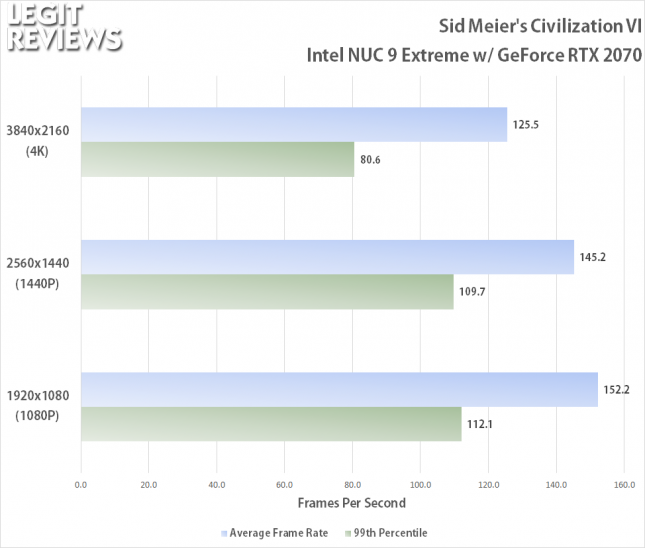 The GPU benchmark test showed that we were getting an average 0f 152.2 FPS with these settings at 1080P, 145.4 FPS when the display resolution was increased to 1440P, and a still impressive 125.5 FPS at 4K. The 99th percentile frame rate never once dropped below 80 FPS at any of the resolutions!
The AI benchmark showed the average time per turn was 6.83 seconds to 7.05 seconds when we ran the built-in AI benchmark scenario on the Intel NUC 9 Extreme.
Mount&Blade II: Bannerlord
Mount&Blade II: Bannerlord is a sandbox action-RPG strategy hybrid released in 2020 by TaleWorlds as a prequel to Mount&Blade: Warband. This game title is really popular right now with nearly 150,000 people playing it daily.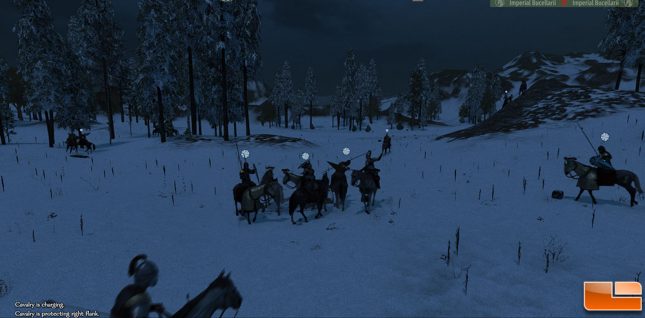 There is no built-in benchmark to test performance on this title, so we set up a custom battle of 500 soldiers (250 per side) during the winter season. We then used FRAPS to record gameplay performance over a 120 second stretch of the battle to see how the Intel NUC Ghost Canyon performed.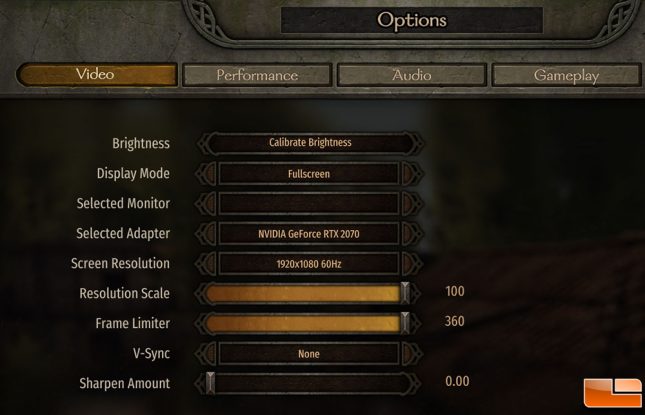 The testing was done with the 'Medium' image quality preset, a frame limiter of 360 FPS and no V-Sync.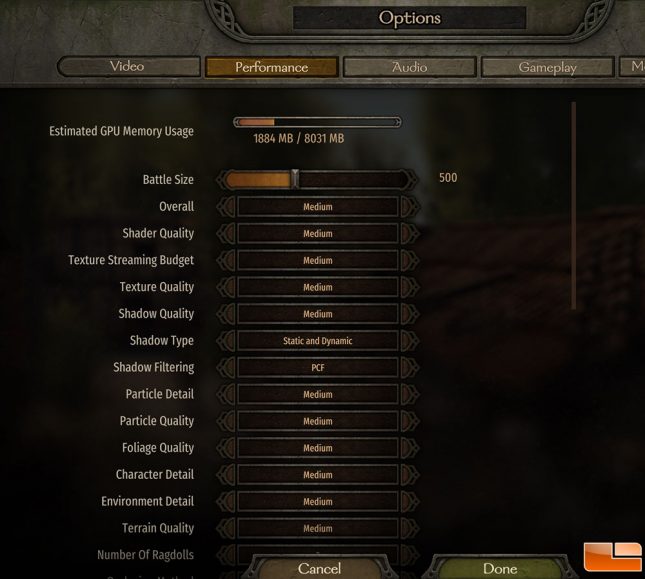 We averaged 105.5 FPS at 1080P, 86.1 FPS at 1440P and 67.8 FPS at 4K display resolutions over the course of the 120 second FRAPS run. Not bad performance at all three resolutions! The minimum frame rate only dropped below 60 FPS when we were running at 4K, which was pretty much expected.
World of Tanks enCore RT
The final game we used to benchmark the Ghost Canyon NUC was World of Tanks enCore RT. This is the latest demo of Core, the brand-new graphics engine for World of Tanks, developed by the folks over at Wargaming.
Using the standalone benchmark utility we were able to run the graphics test on the highest 'Ultra' image quality settings to take a look at the performance. We did not enable Ray Traced Shadows.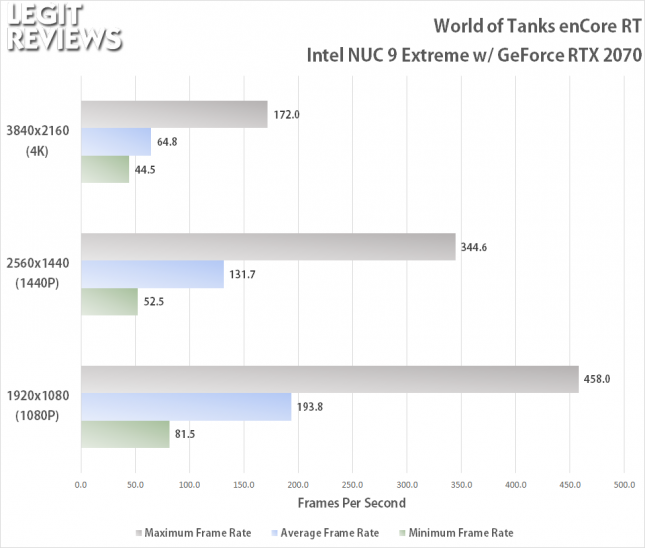 The default benchmark results from this test are shown as an overall score. We did not chart those, but they were 32,304 points on 1080P, 21,950 points at 1440P and 10,799 points on 4K. The numbers we charted are the actual frame rates that were saved to data logs. The NUC 9 Extreme got an average frame rate of 193.82 FPS with a minimum of 81.53 FPS and a maximum of 457.99 FPS at 1080P. The Ghost Canyon NUC had no issues on this 1080P gaming workload! Increasing the display resolution up to 2560×1440 gave an average FPS of 131.7 FPS with a minimum frame rate of 52.5 FPS and a maximum of 344.6 FPS. Pushing the limits and moving up to a 4K display resolution we still managed to get over 60 FPS on average, but we were dipping down to the 40's at the really tough spots on the benchmark.
The NUC 9 Extreme can easily play a large number of popular game titles at pretty much and common gaming resolution thanks to the beefy Intel Core i9-9980HK processor being paired with the NVIDIA GeForce RTX 2070 discrete graphics card!