Intel Core i9-9980XE Extreme Edition Processor Review
By
Power Consumption, Temperatures and Overclocking
Power consumption is something that you should be aware of with regards to processors as someone is going to be paying the electric bill. The AMD Ryzen 2000 series ranges between 65W and 250W TDP, which is a very wide power range.
AMD Ryzen Threadripper 2990WX – 250W TDP
AMD Ryzen Threadripper 2950X – 180W TDP
AMD Ryzen 7 2700X – 105W TDP
AMD Ryzen 7 2700 – 65W TDP
AMD Ryzen 5 2600X – 95W TDP
AMD Ryzen 5 2600 – 65W TDP
Intel Core i9-7960X/7980XE/9980XE – 165W TDP
Intel Core i9-9900K – 95W TDP
Intel Core i7-8700K – 95W TDP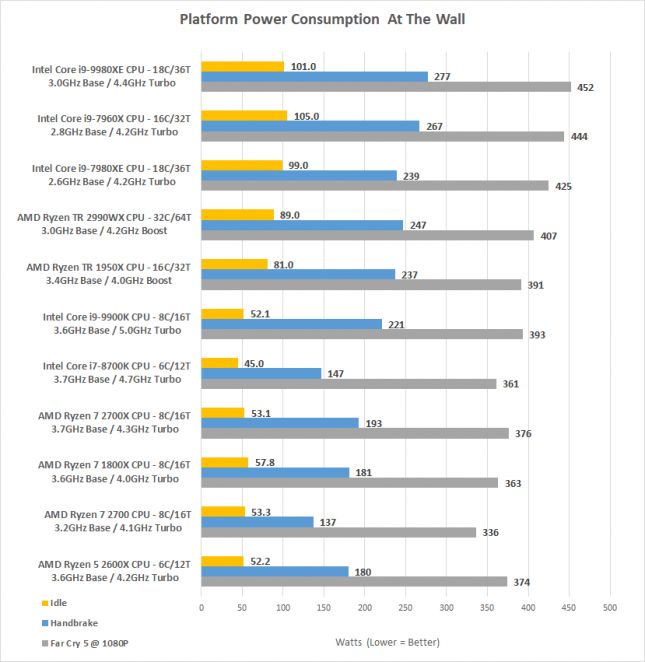 We really don't like our load power numbers as it turns out that we picked really poor load tests to look at. For example, Handbrake only supports up to 32-cores and in 'Game Mode' only 1/4 of the 2990WX cores are available for use. This means none of our load numbers are actually showing full load results on the 2990WX. We'll be going back and using Blender for our CPU load tests to get a true look at 100% CPU load power numbers. We also noticed that between 'Creator' and 'Game' mode that the idle powered would differ by about 20 Watts, so we might need to include two idle power results for Threadripper in the future. The idle and handbrake numbers above are using the Creator mode, but the Far Cry 5 numbers are in Game mode.
The Intel Core i9-9980XE used the most power of any processor on these tests, but we expected it to use the most of any Intel processor since it has the more cores and highest frequency of the bunch.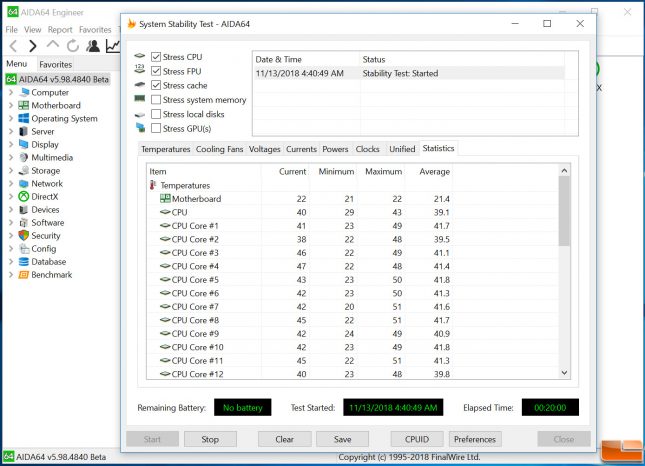 We ran the AIDA64 system stability test and found that the CPU temperature sensor was showing 29C at idle and reached up to 43C at load.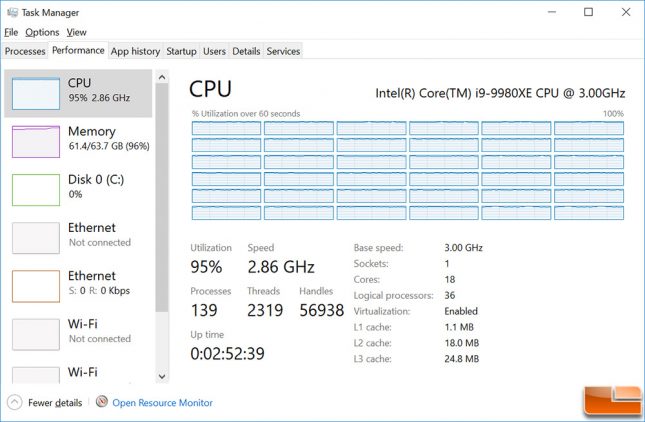 AIDA64 puts the CPU load at about 95% and the clock speed was showing up as being 2.9GHz while the stress test was being run.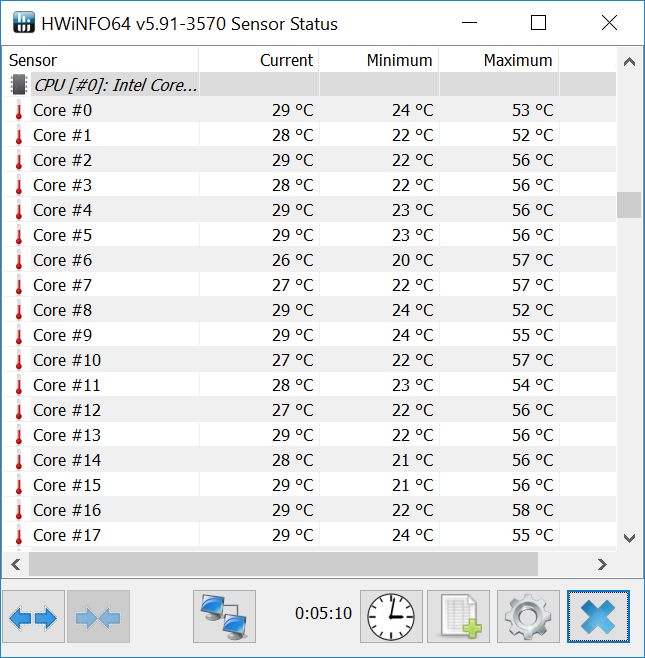 Running loops of the multi-core CPU test in Cinebench R15 for 5 minutes we noticed that the temperatures on the cores reached up to 57C according to HWiNFO64.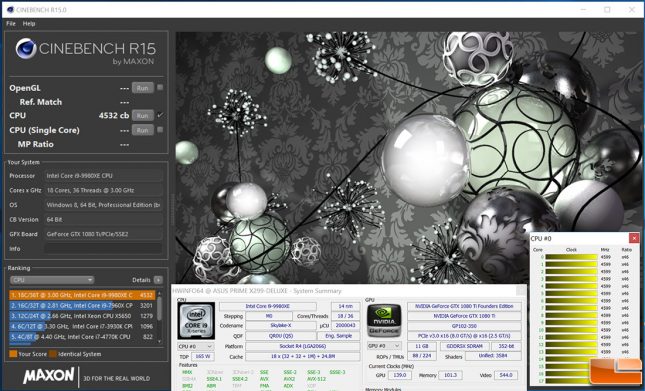 Overclocking the 9980XE on the ASUS PRIME X299 Deluxe-II motherboard was simple and we were able to get it up to 4600MHz. Benchmarks with all cores set to 4600MHz were impressive as we went from around 3750 to 4500 on the Cinebench CPU test that uses all available cores. The power consumption in Cinebench R15 went from 364 Watts on the 9980XE in stock form to 658 Watts with the overclock. This systems idles at 101 Watts, so just running the CPU at full load is pulling over 650 Watts from the wall. Overclocking will yield huge performance boost on this platform, but you'll want to make sure that you have a beefy power supply to handle the load. We would recommend an 850W power supply as the base model to go with if you plan on building a system with the 9980XE and want to do overclocking with it. If you plan on using more than one graphics card you'll want to go with an even larger PSU.