Intel Core i7-7700K Processor Review
By
3DMark & Cinebench
Futuremark 3DMark 2.2.3509 – link
3DMark is a popular gaming performance benchmark that includes everything you need to benchmark your PC whether you're gaming on a desktop PC, laptop, notebook, or a tablet. 3DMark includes seven benchmark tests and we'll be running 'Sky Diver' that is aimed at gaming laptops and mid-range PCs.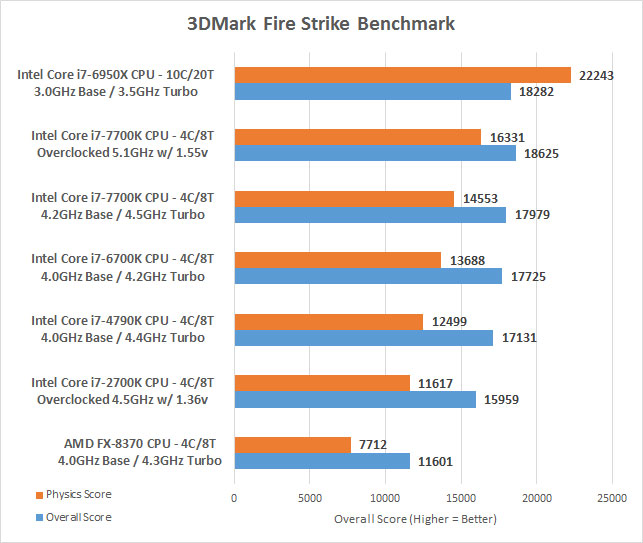 Maxon Cinebench R15.038 – link
CINEBENCH is a real-world cross platform test suite that evaluates your computer's performance capabilities. CINEBENCH is based on MAXON's award-winning animation software Cinema 4D, which is used extensively by studios and production houses worldwide for 3D content creation. MAXON software has been used in blockbuster movies such as Iron Man 3, Oblivion, Life of Pi or Prometheus and many more.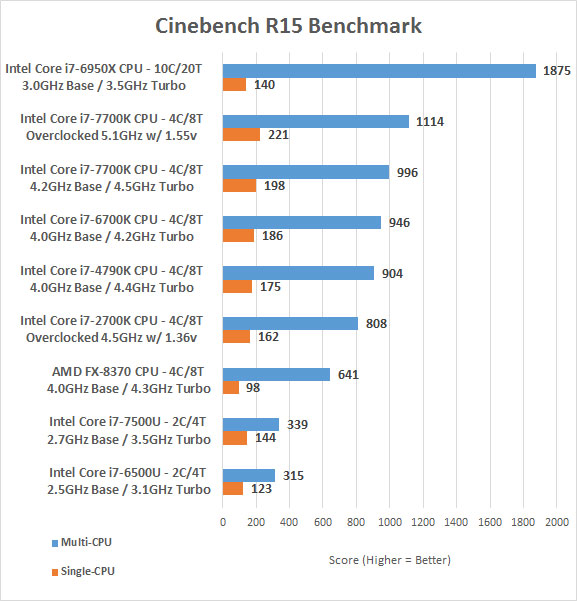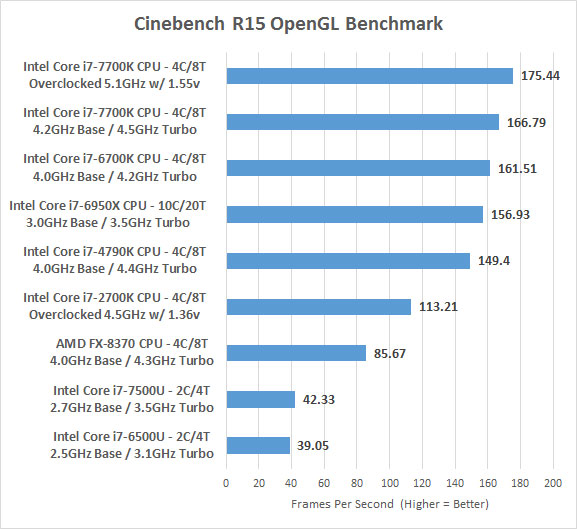 3DMark and Cinebench Benchmarks Results Summary: The new Intel Core i7-7700K Kaby Lake processor with the NVIDIA GeForce GTX 1080 Founders Edition graphics card had a 3DMark Fire Strike score of just under 18,000 points and when overclocked it was 18,625 points. Pretty impressive scores and the older Intel Core i7-2700K Sandy Bridge processor overclocked up to 4.5GHz wasn't even able to break 16,000 points on the overall test. Cinebench R15 performance was impressive on the 7700K with 996 points on all available cores and 198 points on a single core. When overclocked to 5,100MHz the 7700K hit 1,114 points with all cores and 221 points on a single core. This is the first time we've broken the 220 point mark here on Legit Reviews! OpenGL benchmark performance scaled nicely with the CPUs that we tested and you can see the 7700K was about 3.2% faster than a stock 6700K. Once again the higher clock speed on the 7700K is the reason it leads, but there is a nice gain over the 4790K that has a boost clock that is just 100MHz slower.