Intel Core i7-7700K Processor Review
By
Core i7-7700K Kaby Lake Overclocking
Overclocking the Intel Core i7-7700K Kaby Lake processor on motherboards like the Gigabyte Aorus Z270X-UD5 motherboard is super simple thanks to the latest UEFI versions. The Graphical User Interface (GUI) is easy to navigate and you can even use a mouse in the UEFI, so those that haven't updated in many years will find it easier than ever to change UEFI settings. The gallery below shows the main menus that overclockers will be using.
We overclocked our Intel Core i7-7700K Processor up to 4.8 GHz with no voltage bump needed to get that. To get over that we needed to increase the CPU core voltage and we stopped at 1.55V and that gave us 5,100MHz or 5.1 GHz with full stability. We could rip movies for an hour with Handbrake with no errors and run the AIDA64 Stress test for hours on end with no errors and the temperatures would just barely get in the low 90 Celsius range on one core.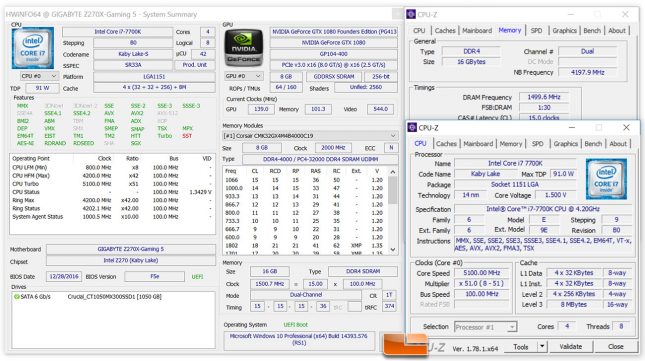 We were able to get 5.2 GHz and get into the desktop and actually run a few light benchmarks, but we wouldn't by any means call it stable at it would crash when running very CPU intensive applications like Handbrake and benchmarks like Cinebench. We might have been able to get it stable on a different board or with some more voltage, but we didn't want to push much past 1.55V on the CPU Core. We did try 1.56V once, but the system failed to load Windows with that much voltage.

We did notice that when the CPU core voltage was set to 1.55V for example that there appeared to be a decent amount of voltage drop happening on the CPU. In the capture above we had the voltage set to 1.55V, but according to this particualr software utility we never got over 1.50V and actually dipped below 1.40V all while under . Gigabyte suggested that we set the loadline calibration to High or Turbo in the advanced voltage setting menu under M.I.T. in the boards UEFI. This should apply a more aggressive loadline curve to combat the vdrop that we experienced. We didn't get much time to play around with that setting, but it appeared to work and is a great tip to share with our readers.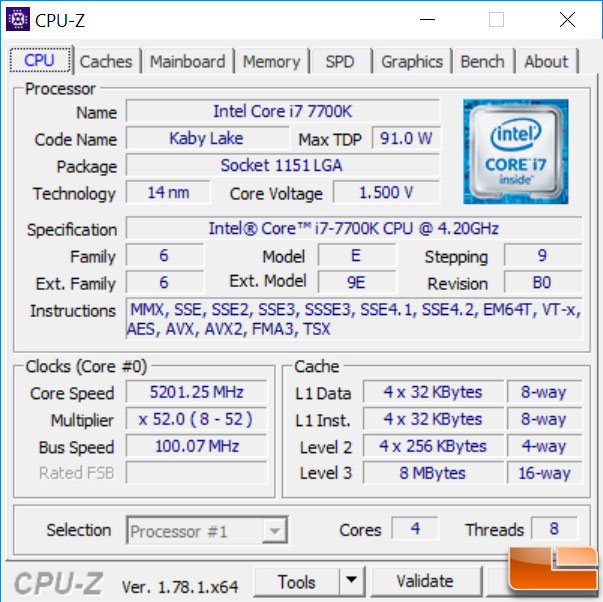 We were more than happy with our 5.10 GHz overclock on the Core i7-7700K as it was rock solid, so we ran every benchmark in our test suite at those speeds in addition to the stock settings!