Intel Compute Stick STK1AW32SC Review with Cherry Trail
By
Intel Compute Stick Gets The Latest Intel Atom Processor – Cherry Trail
The Intel Compute Stick was introduced in April 2015 and received a luke warm welcome as the tiny HDMI computer stick certainly had a number of faults. Most people need to keep in mind that the Intel Compete Stick was a first generation product and Intel was just testing the waters. At CES 2016 we learned that Intel was greatly expanding their Intel Compute sticks and announced three new Compute Stick models at the show. If you are an Ultra-Compact Form Factor ( UCFF ) lover, these new models might bring the additional features and performance that you've been waiting for if you were a bit underwhelmed by the original. The old Bay Trail powered Compute Stick that debuted in 2015 has been replaced by a more powerful Cherry Trail powered Compute Stick and two faster Core M models.
Intel will be shipping two versions of the new Compute Stick. The first version will be sold under part number STK1AW32SC and it will be running Microsoft Windows 10 Home (32-bit) for around $159.99 when it launches later this month. The other is a version that comes without any operating system under part number STK1A32SC and is only available in 10-pack bundles. Intel explained to Legit Reviews that the version without an OS is intended for the commercial market and that the only way an average consumer could find one was if a retailer broke up a 10-pack and sold them individually.
Intel Compute Stick – STK1A32SC Without Windows – Only available as a 10-pack for the commercial market
Intel Compute Stick – STK1AW32SC with Windows 10 Home 32-bit – $159.99 Plus Shipping
"Amazing meets affordable. The Intel Compute Stick is a tiny device the size of a pack of gum that can transform any HDMI TV or display into a complete computer. But its whats inside thats really incredible: a quad-core Intel Atom processor that gives you balanced performance for work or play. The Intel Compute Stick delivers an affordable plug-and-play PC in a device that fits in the palm of your hand." – Intel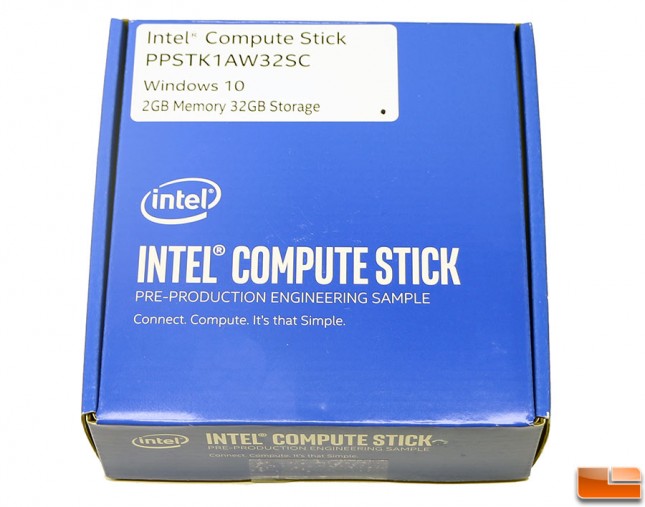 Intel sent Legit Reviews an early pre-production sample of the Intel Compute Stick with Windows 10 to test out. The part number on this model is STK1AW32SC and this PC on a stick comes with an Intel Atom quad-core 'Cherry Trail' processor x5-Z8300, 2 GB of DDR3L memory, 32 GB of on board storage, a micro SD card slot (with support for up to 128 GB of additional storage), 802.11ac wireless, Bluetooth 4.0, two USB ports and Windows 10 Home 32-bit.
Intel Compute Stick Specifications – STK1AW32SC – Windows 10 Home
PROCESSOR: Intel Atom Processor x5-Z8300 Quad-Core (2 MB Cache, 1.44 GHz base, 1.84 GHz burst)
GRAPHICS: Intel HD Graphics (HDMI 1.4b output)
MEMORY: 2 GB Single Channel DDR3L-RS 1600MHz @ 1.35V
DISK DRIVE: SanDisk 32 GB eMMC built-in for primary storage
STORAGE EXPANSION: microSDXC v3.0 Card Slot w/ UHS-I Support
CONNECTIVITY: dual-band 802.11ac WiFi, Bluetooth 4.0, 1x USB 2.0, 1x USB 3.0
AUDIO: Intel HD Audio via HDMI, Supporting Multi-Channel Digital Audio
OPERATING SYSTEM: Microsoft Windows 10 Home 32-bit x86
POWER: 5V, 3A Wall-Mount AC-DC Power Adapter to micro-USB Power Port
DIMENSIONS: 113mm x 38mm x 12mm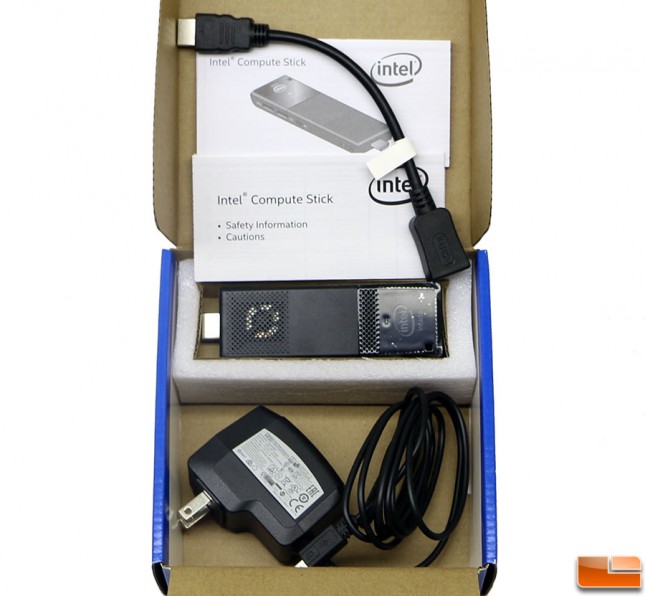 Inside the packing we discovered the Intel Compute Stick, AC-DC power adapter that has a 6-foot long cable on it, instructions and an optional an HDMI extension cable to ensure the best compatibility with the thousands of different HDTVs and PC monitors out there. It should also be noted that the AC-DC power adapter has a 6-foot long cable on it, which is longer than the original model to ensure that it will be long enough to make it to the power outlet on most large TV sets.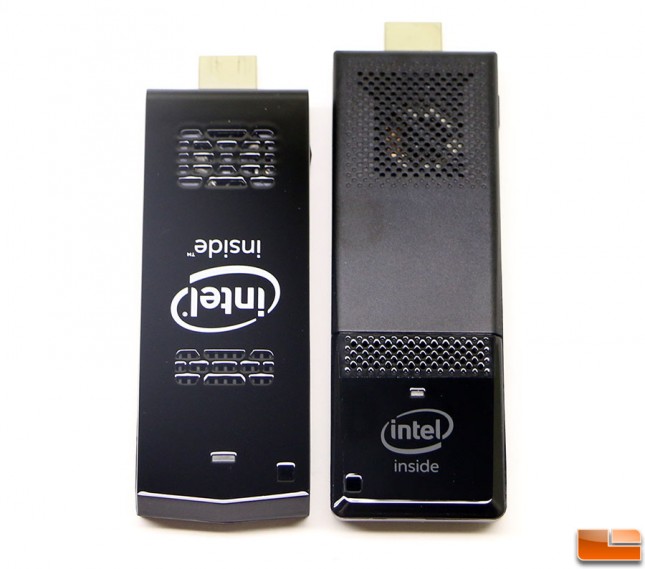 The original Intel Compute Stick (left) measures 103 x 37 x 12 mm (LxWxH) and the new Intel Compute Stick (right) is 113mm x 38mm x 12mm. It hasn't gotten any thicker, but it has gotten longer and wider. The housing has more matte finishing touches on it and the fan grill holes look precision cut this time around. The slightly larger size on this years Intel Atom Cherry Trail model doesn't really bother us much as this PC-On-A-Stick will likely be plugged into a side of a TV and won't be seen.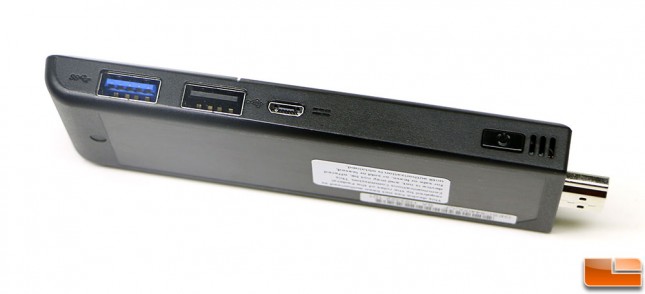 One of the big problems of the original Compute Stick was the lack of USB ports on the device. One USB 2.0 port just wasn't enough and most household don't own Bluetooth peripherals, so there was a fairly substantial cost that was needed after the initial purchase to get a Bluetooth keyboard and mouse ordered in. This time around Intel made the enclosure larger in order to be able to add a second full sized USB port. The Intel STK1AW32SC Compute Stick has a USB 3.0 port and USB 2.0 port for your devices and then uses a micro-USB port for power. We still highly recommend taking advantage of the Bluetooth 4.0 support to free up one or both USB ports.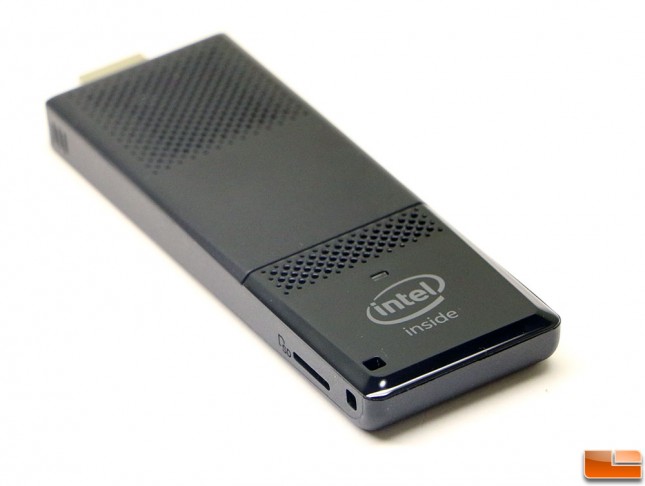 The Intel Atom x5-Z8300 Processor has a Scenario Design Power (SDP) of just 2W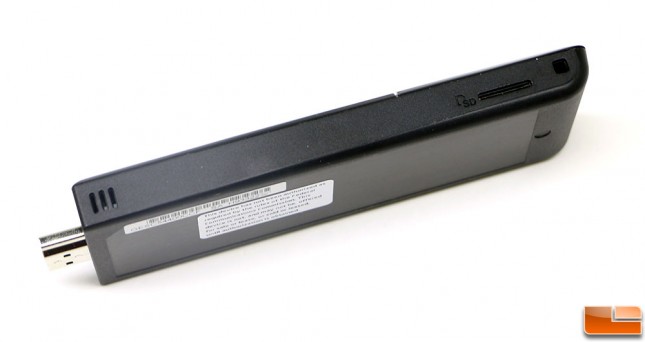 On the other side you have the microSD UHS-I card slot and that is it other the the ventilation holes that are on either side of the black plastic housing. Let's take a look inside the Intel Compute Stick!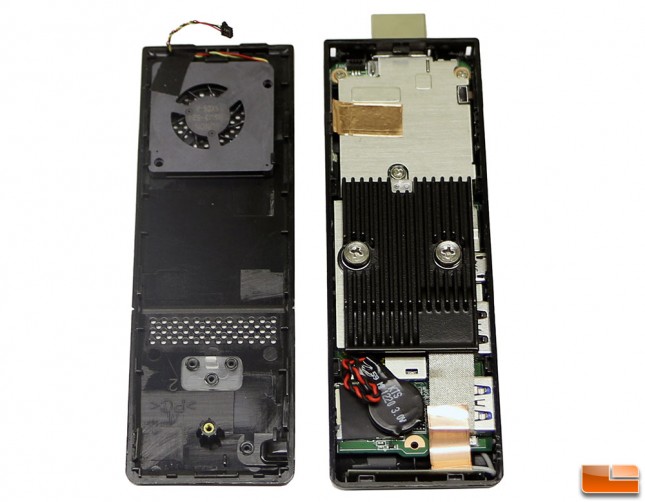 Intel has managed to pack a good number components inside this miniature computer along with a decently sized heatsink and the smallest fan that we have ever seen in a PC!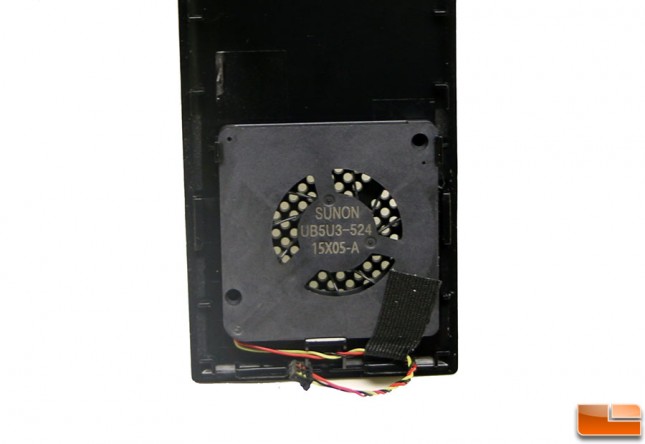 Intel went with a SUNON UB5U3-524 fan that is 30mm square with a thickness of just 3mm. This fan puts out around 0.630 CFM of airflow and only kicks in when a certain temperature threshold is reached. Despite the blower fans extremely small size it has a noise rating of just 39.2 dB and you can barely hear it a few feet away in a fairly quite home environment.
Now that we have a basic understanding of what the Intel Compute Stick is and what makes it tick we can get to the performance testing that you've been waiting so diligently for.