Intel Compute Stick Review – Windows 8.1 PC For Under $150
By
Intel Compute Stick Will Make Your Dumb TV Smarter Than Ever!
How we access the internet on a daily basis has drastically changed over the past five years and there has been a clear shift away from the desktop PC. Intel knows that the market is changing and doesn't want to miss out on the shifting market, so they are working on a number of new products that will help keep traditional computers relevant even though they might not look like a PC. One of the products that Intel has been working on in recent months is the Intel Compute Stick. The Intel Compute Stick was designed to allow users around the world to quickly and easily make any HD television a computer. Like it or not it appears that we are entering the era of having an entire PC on an stick!
Intel is admittedly not going after power users with the the Compute Stick, but rather everyday consumers that need a cost effective way to browse the web, stream videos, Skype with others, play basic games and check e-mail. For this reason Intel is shipping the Compute Stick as a full computer with memory, storage, connectivity and even the Operating System (OS) installed and ready to go out of the box.
Intel will be shipping two versions of the Compute Stick. The first version will be sold under part number STCK1A32WFC and it will be running Microsoft Windows 8.1 (32-bit) for around $149.99 when it launches later this month. Then in June there will be an Intel Compute Stick version running Ubuntu 14.04 LTS (Linux) coming for around $110 that will be sold under part number STCK1A8LFC. The Linux version has some hardware differences that we will talk about in a bit.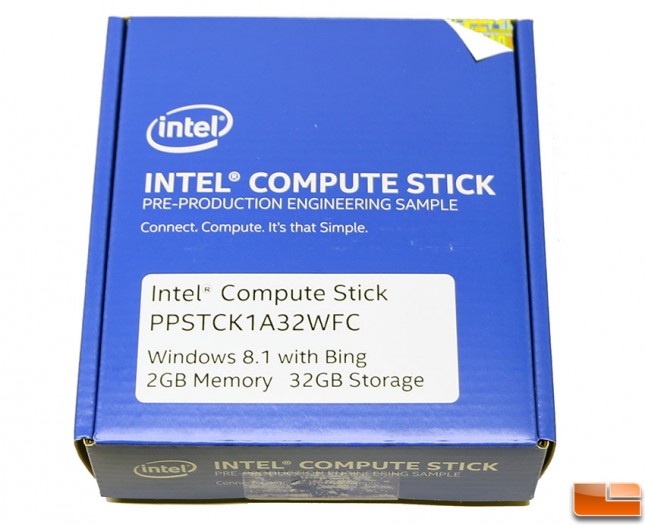 Intel sent Legit Reviews an early pre-production sample of the Intel Compute Stick with Windows 8.1 to test out. The part number on this model is STCK1A32WFC and this PC on a stick comes with an Intel Atom quad-core 'Bay Trail' processor (Z3735F), 2 GB of DDR3L memory, 32 GB of on board storage, a micro SD card slot (with support for up to 128 GB of additional storage), 802.11b/g/n wireless, Bluetooth 4.0, and Windows 8.1 with Bing. The Linux version is obviously different due to the OS that comes installed on it, but it also has only 1 GB of DDR3L memory and 8 GB of on board storage.
Intel Compute Stick Specifications – STCK1A32WFC – Windows 8.1 with Bing
PROCESSOR: Intel Atom Processor Z3735F (2 MB Cache, 1.33 GHz)
GRAPHICS: Intel HD Graphics (HDMI 1.4a output)
MEMORY: 2 GB Single Channel DDR3 1333MHz @ 1.35V
DISK DRIVE: Samsung MGB4GC 32 GB eMMC
STORAGE EXPANSION: SDXC Card Slot w/ UHS-I Support
CONNECTIVITY: 802.11bgn WiFi, Bluetooth 4.0 and USB 2.0
AUDIO: Intel HD Audio via HDMI, Supporting Multi-Channel Digital Audio
OPERATING SYSTEM: Microsoft Windows 8.1 32-bit with Bing
POWER: 5V, 2A Wall-Mount AC-DC Power Adapter to USB Power Port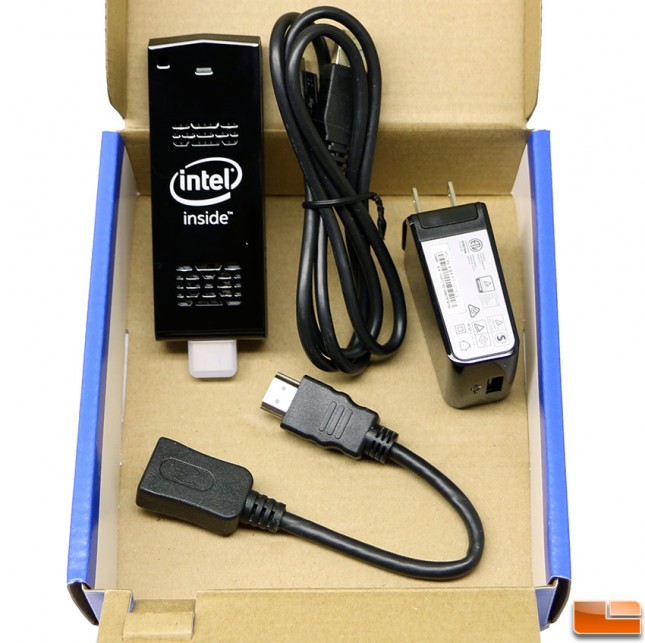 Inside the packing we discovered the Intel Compute Stick, AC-DC power adapter, USB cable for the power adapter and an HDMI extension cable to ensure the best compatibility with the thousands of HDTVs and PC monitors out there.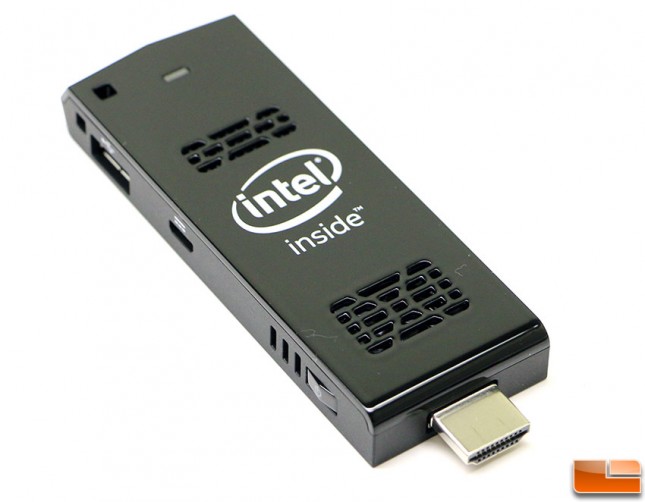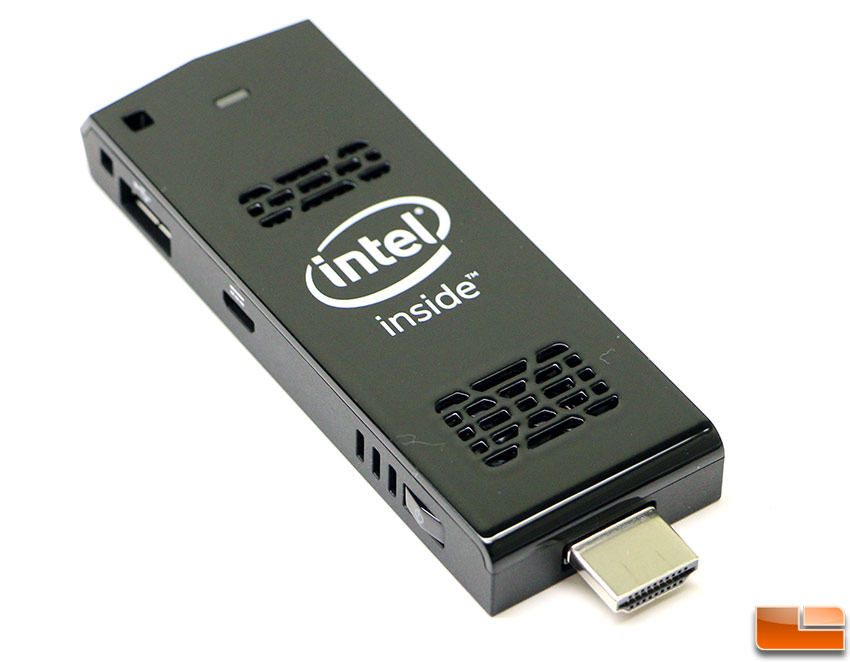 The Intel Compute Stick is measures 103 x 37 x 12 mm (LxWxH) and is pretty damn small for an actively cooled PC. Yes, Intel managed to stuff a small cooling fan inside the Compute Stick to ensure nothing inside gets too toasty when you have the Intel Atom Processor Z3735F under a heavy load.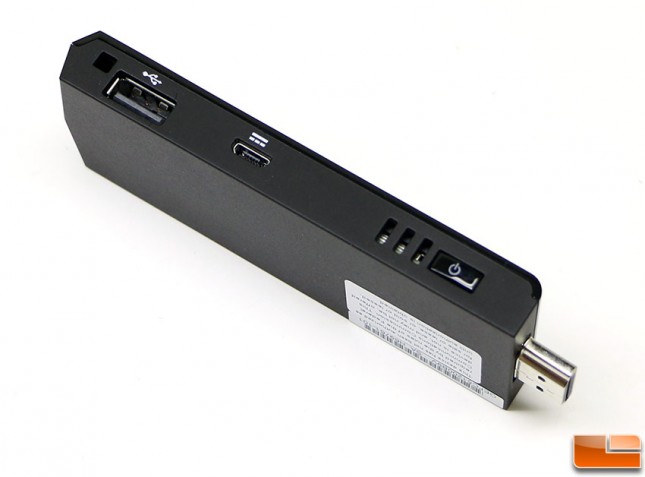 On the end of the drive you have the HDMI 1.4a port that goes into the TV or monitor and then all the rest of the goodies are on the sides of the drive. On this side you have the security notch, high-speed USB 2.0 port, power port and the power button.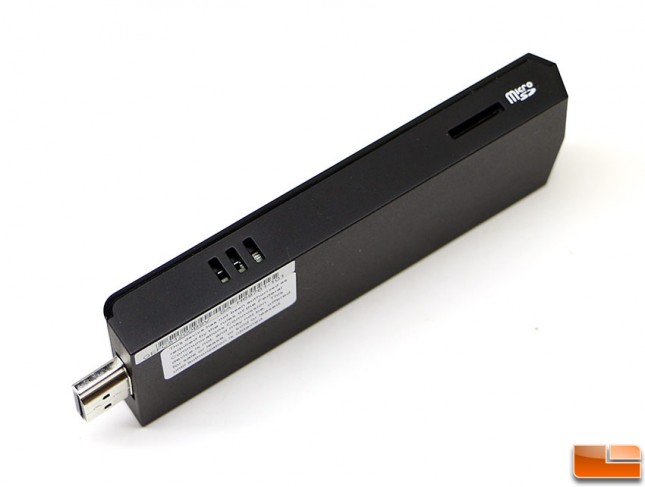 On the other side you have the microSD UHS-I card slot and that is it other the the ventilation holes that are on either side of the black plastic housing. Let's take a look inside the Intel Compute Stick!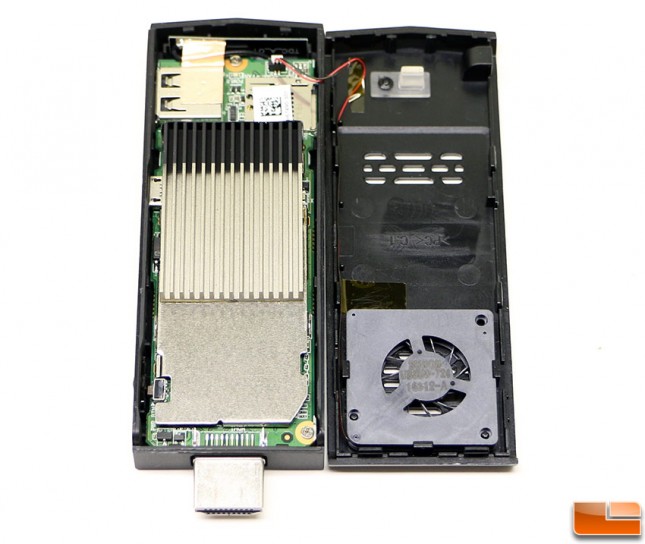 Intel has managed to pack a good number components inside this miniature computer along with a decently sized heatsink and the smallest fan that we have ever seen in a PC! Intel went with a SUNON UB5U3 that is 30mm square with a thickness of just 3mm. This fan puts out around 0.630 CFM of airflow and only kicks in when a certain temperature threshold is reached. Despite the blower fans extremely small size it has a noise rating of just 39.2 dB and you can barely hear it a few feet away in a fairly quite home environment.
Now that we have a basic understanding of what the Intel Compute Stick is and what makes it tick we can get to the performance testing that you've been waiting so diligently for.