Intel 320 Series 300GB SSD Review w/ 25nm Flash!
By
Capacity, Final Thoughts & Conclusions
With the Intel 320 Series having 320 GB (measured in 1,000,000,000 bytes per GB) on board, the end user is left with the equivalent of 279 GiB (1,073,741,824
bytes per GiB). This being the discrepancy between the physical and logical measure plus roughly 6% overprovisioning. For many, more affordable large capacity SSDs can't come soon enough.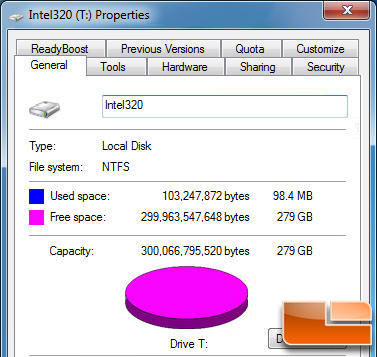 If you haven't just skipped to the last page (do you peek at your presents too?), you would've learned that Intel did more than just update the firmware and slap some 25nm NAND in there. They also made improvements to data security with AES 128-bit encryption and also changed the architecture to mitigate data loss during sudden or improper shutdowns which is a justifiable concern among SSD users. Typically, a feature like this is reserved for the enterprise level drives so it's nice to see it on affordable consumer drives. The performance has improved to 270 MB/s reads and 220 MB/s writes while still utilizing the SATA II 3Gbps interface. While the reads are among the best in its class the writes are little behind where the SandForce drives are – especially when faced with compressible data. The 4 KB random writes ostensibly show somewhat of a weakness but Intel has proactively informed us that several of the shorter length synthetic benchmarks report slower throughputs than the drive is capable of so keep this in mind as you peruse the results. Iometer did show better 4 KB random writes than the other tests as it runs over a longer interval.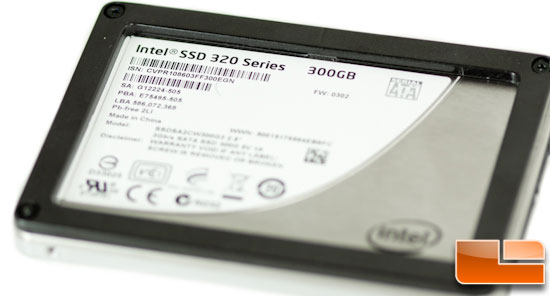 We are finally seeing solid state drives reaching capacities that forgo the need for a secondary storage drives which is good news for mobile PC machines that only support one drive at a time. Unfortunately, these larger drives are still prohibitively expensive to the average consumer and with the most recent natural and nuclear disasters in Japan (our sincere condolences and well-wishes for the unfortunate souls impacted), expect to see NAND prices hold steady if not rise. The 300 GB drive we tested is supposed to retail in the neighborhood of $529 which is around $1.89 per usable GB. This is below what we are seeing for other larger capacity drives in the retail market. Taking in consideration the aforementioned features, the pricing is extremely competitive. Of course, when they do hit retailers, expect the prices to be inflated a bit as usual with new products. Intel probably also has the most expansive line in terms of capacity we've seen to date with the smallest drive of 40 GB being priced around $89, all the way up to the big boy 600 GB at roughly $1,069. This is really good to see.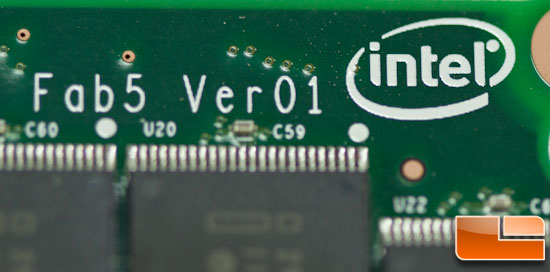 There have been concerns among consumers about the 25nm NAND and it's overall endurance as it's been widely discussed that the smaller the architecture, the more error-prone and the shorter the life span. Intel's specifications show a 5 year endurance rating which assumes workloads up to 20 GB of host writes per day. Most of us aren't going to come anywhere near that daily write quantity and even so, most are going to upgrade their main OS drive (if not the whole PC) long before 5 years. Intel offers a 3-year warranty to back up any manufacturing defects and they bundle their drives with data migration software and their excellent toolbox for optimizing and maintaining the drive. Secure erasing an Intel SSD is a breeze and I personally appreciate this simple but powerful feature. Overall, during normal use, the drive seemed snappy and very responsive
and garbage collection seemed to work well without being overly
aggressive. Even after thrashing the drive, performance returned to near
new levels without intervention on my part. Good stuff. Intel has done a very nice job with the 320 Series and those with an X25-M drive will find this to be a worthwhile upgrade.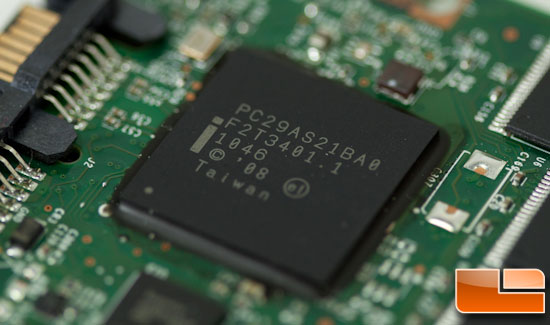 Legit Bottom Line: While a few may disappointed that the 320 Series doesn't offer a 6Gbps interface, those that are still on SATA 3Gbps hardware will enjoy yet another strong offering in the long list of available SSDs. With Intel's loyal consumer following, strong feature set, solid performance, and aggressive pricing, we expect these drives to be a hot commodity when they hit the shelves.