Intel 320 Series 300GB SSD Review w/ 25nm Flash!
By
Intel 320 Series – Test System
Legit Reviews Test System
All tests were performed on a fresh and up-to-date install of Windows 7 Pro x64 with no other applications running while using AHCI mode set through the BIOS. Synthetic Benchmarks were run with the OS loaded on a 40GB Corsair Force SSD. In between every test, the drive was secure erased using Intel's own secure erase tool in their toolbox. As such, all results should be indicative of optimal performance. All components were set to their default speeds and are listed below and we'd like to thank ASUS for their generosity and support in providing the motherboard for our test bench.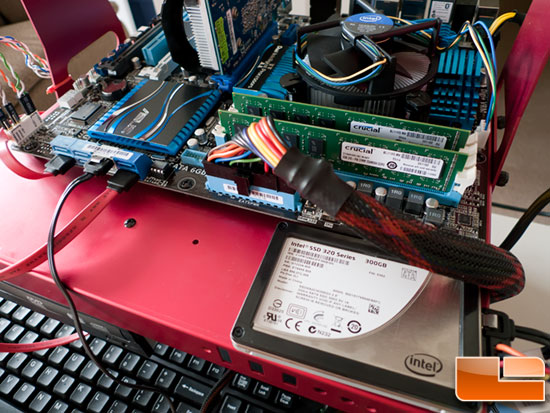 P67 Test Bench
Intel LGA 1155 Test Platform
Component
Brand/Model
Live Pricing

Processor

Core i5 2500k

Motherboard

ASUS P8P67 Deluxe

Memory

Crucial 2 x 2GB

PC3-10600

Video Card

Gigabyte GeForce GT 430

OS Drive

Corsair Force 40GB

Power Supply

Corsair HX1000

Operating System

Windows 7 Pro 64-Bit
Comparison Drives & Other Models We Have Tested

Since there are so many SSDs out there now with different controllers, we started a reference table of which controllers are used by each drive to help you compare results.
Different controllers definitely perform differently and each has various strengths and weaknesses. Like CPU's, even identical drives will have variations in performance and part of that variance may be attributable to the NAND flash used. Since the tests of the drives listed have spanned different test benches and represent three different interfaces, we have listed them for the synthetic tests as a point of reference even though there is no direct comparison.
In the readout on CrystalDiskInfo 3.10.1, both NCQ and S.M.A.R.T. are
enabled, as is TRIM. This is a great free tool to see what version of
firmware the drive is running in the event there are updates
available. Intel also provides a copy of their SSD Toolbox which can provide much of the same, if not more, information as well as other tools for secure erasing and optimizing the OS configuration for best performance.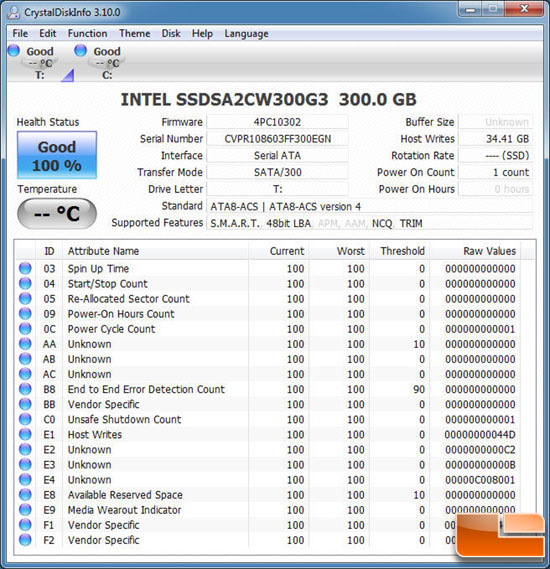 On to the benchmarks!