Intel 320 Series 300GB SSD Review w/ 25nm Flash!
By
The Intel 320 Series – The X25-M Matures
Back in 2008, Intel rolled out their X25-M SSD and was met with much love and enthusiasm as, at the time, the SSDs on the market just weren't very good. Drive stuttering was rampant and performance was lackluster. The X25-M was a breath of fresh air that put a lot of pressure on others in the marketplace. As such, sales were brisk and the X25-M was the gold standard drive that all others were compared against. Competition breeds excellence and soon drives powered by Indilinx and SandForce were moving to the forefront in performance and in consumer's minds. The X25-M has been the SSD of choice for a lot of OEM machines when given an SSD option but it's getting a little long in the tooth even with the second generation refresh in 2009. With the third generation comes a name change to the 320 Series and is the successor to the X25-M. Intel sent us a 300 GB model prior to the March 28th launch to spend some time testing and using it to give our impressions.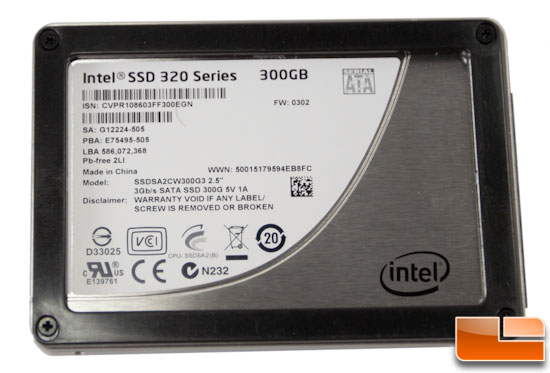 The drive is intended for both consumer and enterprise application and although many have been expecting a 6Gbps, Intel controller based drive but that's not happening at this time. Although it's sticking with the SATA 3Gbps interface, the 320 Series does boast a number of improvements and a wider range of capacities; all while offering a lower price per GB. With capacities ranging from 40 GB to 600 GB Intel has set forth pricing (based on 1,000 unit quantities) as 40 GB at $89; 80 GB at $159; 120 GB at $209; 160 GB at $289; 300 GB at $529 and 600 GB at $1,069. For those that have been waiting for more large capacity SSDs, these should fit the bill nicely but don't forget your checkbook because they still aren't cheap. While we know performance is not going to be comparable to the 510 Series and other SATA III drives, Intel's specifications of 270 MB/s reads and 220 MB/s writes are still very strong and well beyond the capabilities of conventional spinning platter drives as Intel demonstrates with their boot time comparison video. As many have touted, adding an SSD is one of the best bang for your buck upgrades you can make right now.

Intel 320 Series Specifications
Form Factors:

1.8-inch & 2.5-inch
Capacity:
80/160/300 GB (1.8-inch)
40/80/120/160/300/600 GB (2.5-inch)

Components:

Intel 25nm NAND Flash Memory (MLC)
Bandwidth Performance (Iometer QD 32):
Sustained sequential read: up to 270 MB/s
Sustained sequential write: up to 220 MB/s
Read and Write IOPS (Iometer QD 32):
Random 4KB reads: Up to 39,500 IOPS
Random 4KB writes: Up to 23,000 IOPS
AES 128-bit Encryption
Compatibility:
Intel SSD Toolbox w/Intel SSD Optimizer
Intel Data Migration Software
Intel Rapid Storage Technology
Intel 6 Series Express Chipsets (with SATA 6Gb/s)
SATA Revision 2.6
ATA8-ACS
SSD Enhanced S.M.A.R.T. ATA Feature Set
NCQ Command Set
Data Set Management Command Trim attribute
Temperature:
Operating: 0 C to 70 C
Non-Operating: -55 C top 95 C

Shock (operating and non-operating):

1,500 G/0.5 msec
Intel has also added some new features that aren't quite as tangible such as enhanced data security and power-loss management. Both of which are valuable attributes.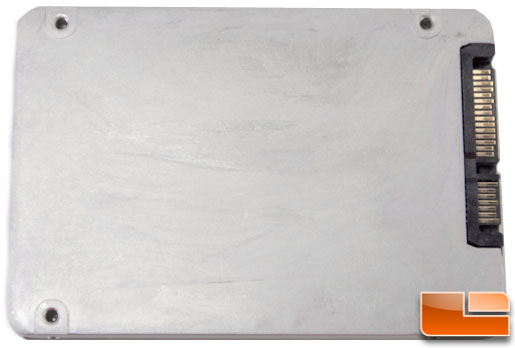 The power-loss protection kicks in when there is an unsafe shutdown such as during a power outage which can preclude successful completion of writes to the non-volatile NAND (i.e. sayonara precious data!). The 320 Series prevents this by buffering the data and completing the writes, powered by the capacitor elements on board. It's also smart enough to prioritize user data against non-essential controller activities to ensure all essential writes are completed. There is also a mechanism to mitigate power spikes due to hot-plugging, etc. This type of architecture is typically only found on enterprise class drives and should not be overlooked in the overall value of the drive.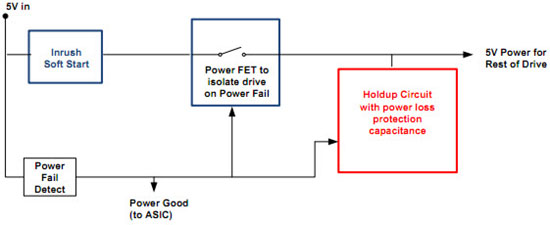 The 320 Series also implements the Advanced Encryption Standard (AES) for encryption and decryption of data using a 128-bit key. This is paired with an ATA user password set through the BIOS and requires authentication each time the drive is powered on in order to access the data on the drive. Data security is as simple as that and for mobile PC users, this is a great feature that more people should take advantage of.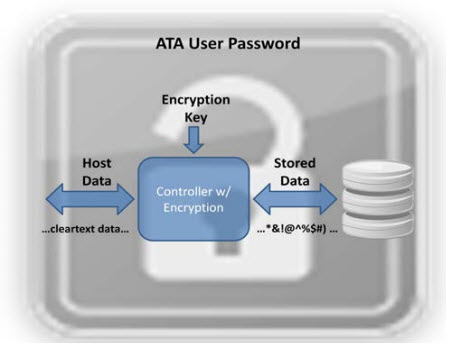 As far as the exterior is concerned, the design hasn't changed much at all with the aluminum case and the plastic bumper-type guard on the perimeter of the top. If it ain't broke, don't fix it.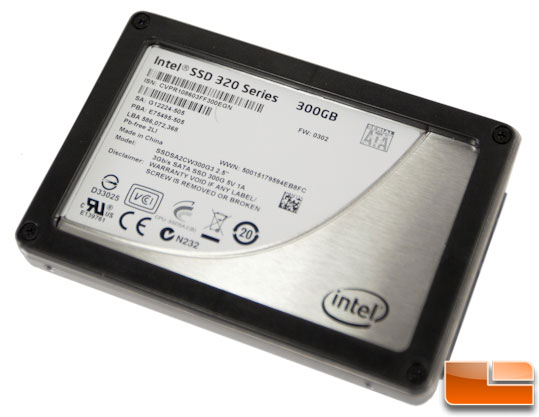 Time to take a peek inside.