Intel 10nm Ice Lake Benchmarks on the Core i7-1065G7 Processor
By
AIXPRT – AI benchmark tool
For the very first time we will be using AIXPRT Community Preview 2, which is a pre-release build of AIXPRT. This is an AI benchmark tool that makes it easier to evaluate a system's machine learning inference performance by running common image-classification and object-detection workloads.
We used the Intel OpenVINO toolkit to run image-classification and object-detection workloads using the ResNet-50 and SSD-MobileNet v1 networks. We tested at FP32 and INT8 levels of precision on our Windows 10 v1903 test systems. The results from this test are shown in batch sizes of 1, 2, 4, 8, 16, and 32. We'll be charting just the results for batch 1 and batch 4. If someone is looking for the single best inference latency in a client-side use case, batches as low as 1 are usually best. Those looking for maximum throughput on servers would likely be searching for concurrent inferences at larger batch sizes (typically 8, 16, 32, 64, 128). So, our readers will likely be most interested in the lower batch results.
FP32 Results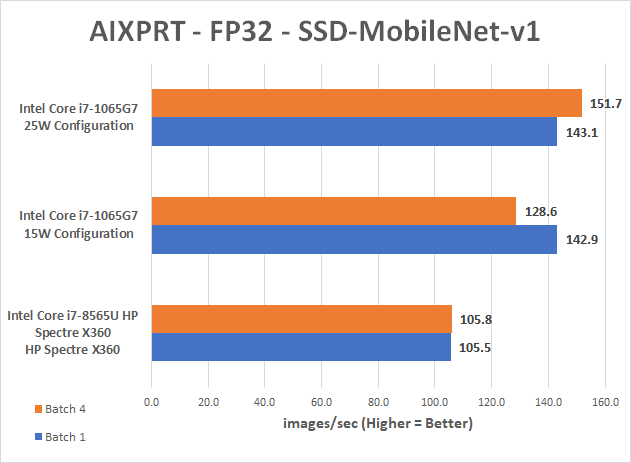 INT8 Results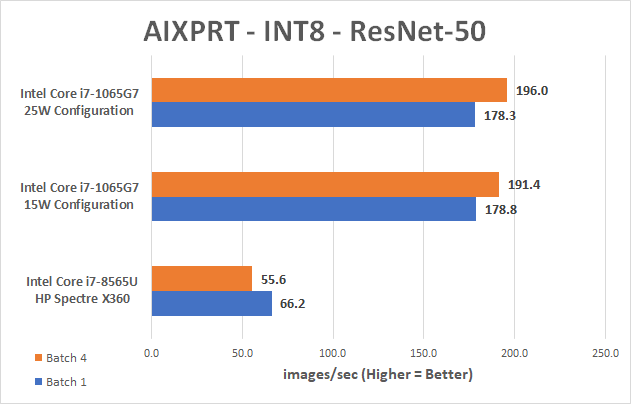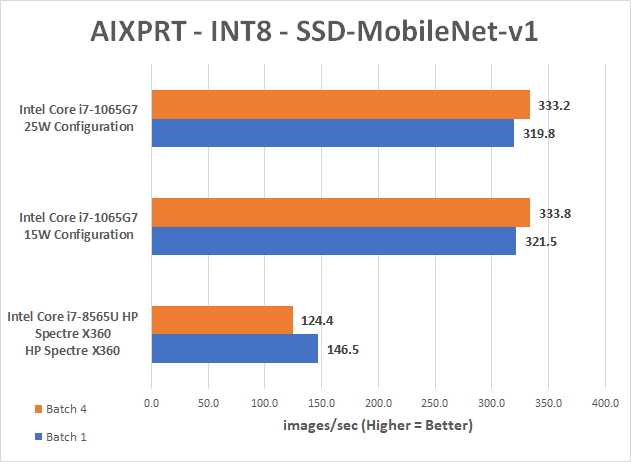 Benchmark Results: Intel promised huge AI performance gains on their 10th Gen Intel Core processors and they once again delivered with Intel Deep Learning Boost. This is the first time AI inference instruction set been added to a consumer processor, so we asked how would mainstream laptop users benefit from the performance boosts that we are seeing in AIXPRT. The answer from Intel was superb, so we included it in its entirety below.
Dozens of AI-based features are already in common PC applications such as semantic search, natural language processing, live translation, biometric login, smart calendar, AI based image editing tools and many more. In addition to brand-new AI applications, PC users will see their existing go-to applications enhanced thanks to modern machine learning approaches being implemented day by day. Some examples include:

Microsoft Photos app (semantic search)
Adobe Premiere Pro (enhance details)
Cyberlink PowerDirector (Style Transfer) PhotoDirector (de-blur)
XSplit (AI green screen)
Excire (AI search plugin for Adobe LightRoom)
Orbo (Super resolution)

Intel processors support popular APIs like, WinML and OpenVINO. This will make AI available to the OS and a broad set of applications. Today users can experience AI optimizations in Cyberlink Power Directors video style transfer feature and Adobe Lightroom Classics image enhance features both use AI technology.

Some example usages of Intels AI hardware features are image recognition with DLBoost, noise suppression with GNA, and video stylizing or photo deblur with GPU offload.