Intel 10nm Ice Lake Benchmarks on the Core i7-1065G7 Processor
By
Legit Reviews Gets To Benchmark 10nm Ice Lake
Intel recently invited a small number of hardware reviewers out to Santa Clara to be the very first to get a chance to do some hands-on testing with 10th Gen Intel Core mobile processors. Legit Reviews just happened to be one of those sites and we eagerly jumped at the opportunity to benchmark whatever we wanted to on the 10nm Ice Lake development platform!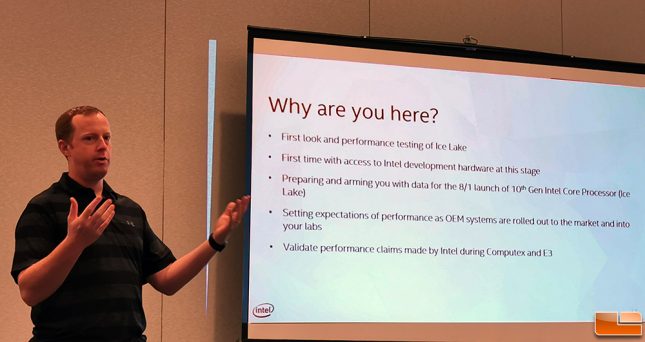 Our odyssey out to California led us straight to Ryan Shrout, Intel Chief Performance Strategist, and a table with our very own laptop powered by the Intel Core i7-1065G7 4-core, 8-thread 15W mobile processor. Mr. Shrout gave a short presentation on Ice Lake and how this was the first time reviewers could test Intel development hardware so early.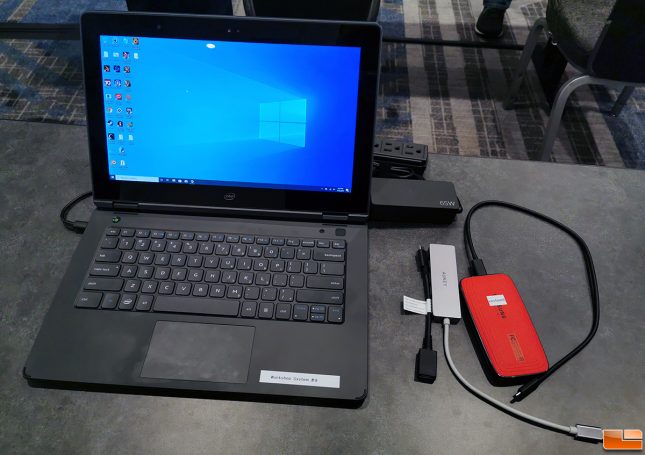 We were then given 8 hours to benchmark the Core i7-1065G7 processor on Windows 10 v1903. Intel placed no restrictions on what we installed, what we tested or how we tested. As long as we didn't test battery life, acoustics or skin temperatures. Engineers were in the room if any issues popped up. Luckily, no major issues came up during our test session! Intel also provided an external Thunderbolt 3 drive with software and game titles if we wanted to install it without having to download it from the Internet. We brought our own external SSD though, so we stuck with our files.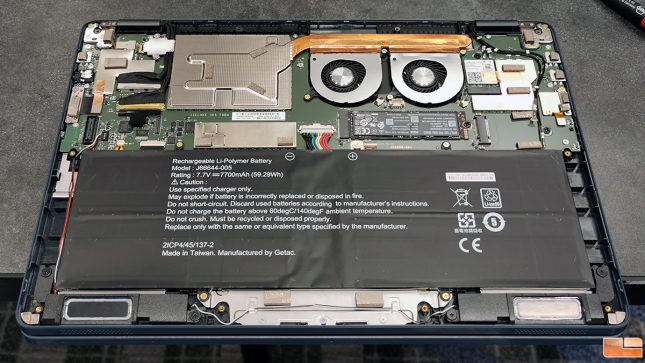 Intel even let us crack open their development platform and look inside. Inside we found an Intel SSD 760p Series 256GB NVMe SSD for storage along with 8GB 3733 MHz LPDDR4X memory that was soldered down. This was a smaller SSD and less DRAM than we expected, but we couldn't do much about that. From what we've heard higher capacity (16GB/32GB) LPDDR4X chips at 3733 MHz aren't readily available but will be by the time actual retail platforms launch during the holiday season. We should also point out that running 3733 MHz LPDDR4 memory allows for nearly 40GB of memory bandwidth on these dual-channel systems, which is impressive.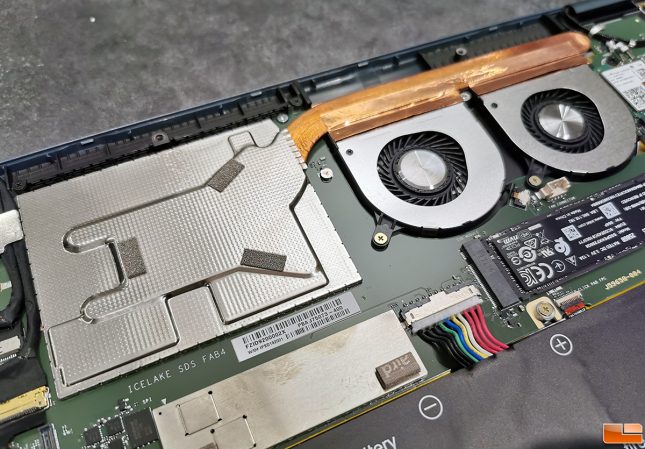 We've been spoiled with exotic heatsink designs in recent years, but Intel kept it simple here. Rather than using a 'high-end' copper thermal chamber design they stuck with a traditional heat pipe design with just a single pipe with twin fans blowing across the copper heat sinks fin arrays. Intel locked the fan speeds at a higher RPM to ensure the platform was ready for 8 hours of testing at either 15W or 25W power configurations. Yes, you read that right… Intel had the systems setup to be switch between 15W and 25W TDP configurations for us! Suddenly we went from having 8 hours to test one laptop to about 3 hours after setup/lunch to test each power mode.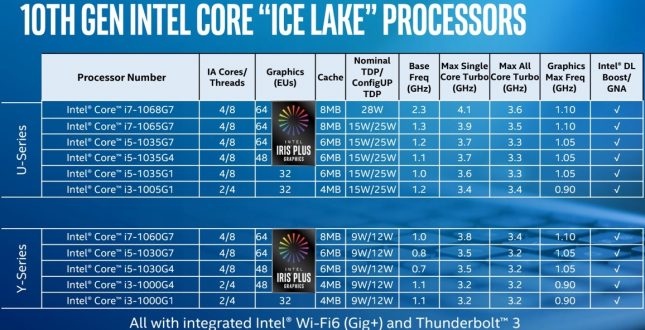 Before we show you the performance numbers, we want to show you the 10th Gen Intel Core 'Ice Lake' Processor lineup. You have 11 mobile PC SKUs for the 10th Gen Intel Core processor family being announced today. Six are in the U-Series and five are in the Y-series and both series are available three different integrated graphics options.

The naming process, starting with Ice Lake, has been simplified to identify SKU level (i3, i5, i7), generation (10), and Gen11 graphics performance (G1, G4, G7) among other things. In Ice Lake, you can identify whats been previously referred to as U-series and Y-series with the digit in front of the G where a 0 represents Y and a 5 represents U. You can see the distinction more easily in this example:
Intel Core i5-1035G7 this one is U-series
Intel Core i5-1030G7 this one is Y-series
The G1, G4, G7 at the end of the processor name lets you know if it has 32, 48 or 64 EUs, respectively. G4 and G7 processors get the Intel Iris Plus Graphics badge and will delivery a better experience in applications that demand a high performance GPU.
Today, we'll be benchmarking the Intel Core i7-1065G7, which just happens to be the fastest 15W part. The Core i7-1065G7 comes with a 1.3 GHz base clock, 3.5 GHz max all core clock and 3.9 GHz max single-core clock speed. If these clock speeds seem low to you it is because they are lower than what we saw on the 8th Gen Intel Core 'Whiskey Lake' processors. We spoke to Intel about the lower clock speeds and were reminded that this is the starting point for clock speeds with the new 10nm Ice Lake microarchitecture and Sunny Cove cores. Intel says that as we've seen with 14nm processors, over time, as the process matures, Intel will be able to push the frequency by considerable amounts over the process lifecycle.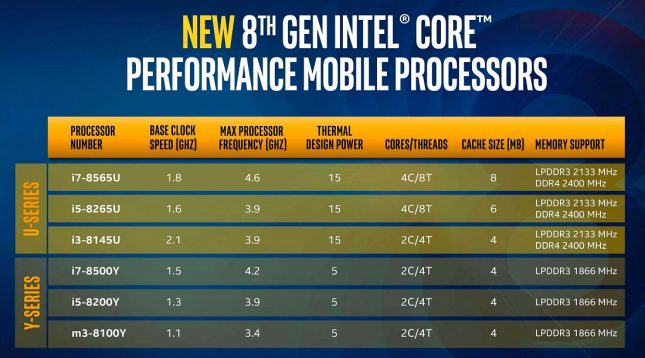 The flagship 8th Gen Core 'Whiskey Lake' 15W Mobile processor was the Core i7-8565U and that topped out at 4.6 GHz when 1-core was active. 10th Gen Core 'Ice Lake' 15W mobile processors are only able to get up to 3.9GHz on 1-core with the new Sunny Cove cores. That means with this generation we are seeing a 700 MHz or 15% reduction with regards to max clock speeds on the flagship 15W part. With the move from 14nm to 10nm you would expect that the core clock would increase, but that is not the case. The good news here is that Intel is seeing on average an 18% IPC improvement over Skylake when it comes to IPC. This means that the raw CPU performance of the new Intel Core i7-1065G7 and Intel Core i7-8565U will likely be very close in some situations due to the IPC improvements and clock speed changes.
Heck, let's stop talking about it and look at the benchmark numbers!