HyperX Predator 3200MHz DDR4 Memory Kit Review
By
Final Thoughts & Conclusions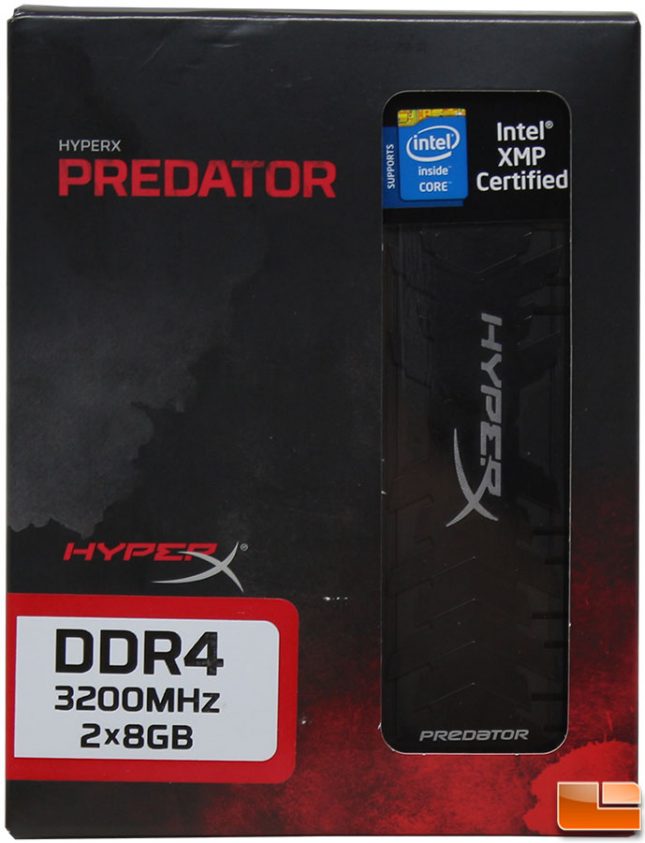 When we first received our Ryzen 7 1700x media kit, the HyperX Predator memory kit was included. It was reported to be one of the best memory kits for the Ryzen platform. In our initial tests on the provided motherboard, we had some issues getting it to post beyond 2933MHz, however after some updates from AMD, we were able to get the Predator memory to run at full speed. These types of compatibility issues are not uncommon for new platforms, and are usually resolved pretty quickly.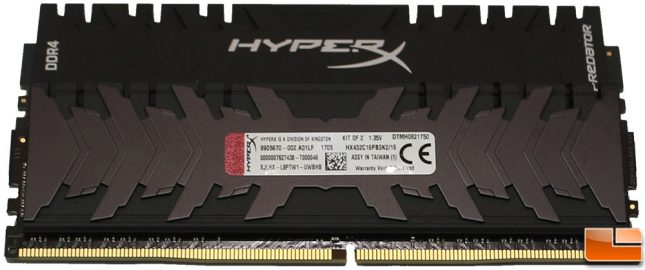 In nearly every test we performed on the HyperX Predator 3200MHz DDR4 kit, the results were nearly identical. When run on an Intel based system it wasn't the fast memory we tested. However once it was moved to the AMD Ryzen system, it began to show what it's capable of. While for most a 5% boost in performance won't mean much, for those that want to get every ounce of performance out of their system any boost is welcomed. In reality, most of us know that you won't typically see a big boost in performance when increasing memory clock speeds, however depending on the price difference between the speeds, you are better off getting the fastest possible to reduce any potential bottleneck. We did notice that on the AMD Ryzen 7 platform, the faster the memory we did receive better gaming performance.
Speed
Part #
Latency
Voltage
Price
3000MHz
8GB (2x4GB) – HX430C15PB3K2/8

16GB (2x8GB) – HX430C15PB3K2/16

16GB (4x4GB) – HX430C15PB3K4/16

32GB (2x16GB) – HX430C15PB3K2/32

32GB (4x8GB) – HX430C15PB3K4/32

64GB (4x16GB) – HX430C15PB3K4/64

15-17-17
1.35V
$105.89
3200MHz
8GB (2x4GB) – HX432C16PB3K2/8

16GB (2x8GB) – HX432C16PB3K2/16

16GB (4x4GB) – HX432C16PB3K4/16

32GB (4x8GB) – HX432C16PB3K4/32

16-18-18
1.35V
$94.99
3333MHz
16GB (2x8GB) – HX433C16PB3K2/16
16-18-18
1.35V
$202.23
3600MHz
16GB (2x8GB) – HX436C17PB3K2/16

32GB (4x8GB) – HX436C17PB3K4/32

17-18-18
1.35V
$219.00
The HyperX Predator 3200MHz kit performed as we expected on the Intel based system, and exceeded our expectations on the AMD Ryzen system. The HyperX Predator memory is available in four different speeds ranging from 3000MHz to the latest 3600MHz. The 3200MHz kit is currently the fastest available for AMD Ryzen, however for the Intel platform you can go higher than 3600MHz if you wish. Here we took a look at the HyperX Predator 16GB 3200MHz kit, HX432C16PB3K2/16, which can be purchased online for $176.99 shipped on Newegg or $219.99 shipped on Amazon with a lifetime warranty. While there are lower priced DDR4 kits, this price is right in line with high quality enthusiast grade memory that should last for quite a while, plus it has the added bonus of being manufactured by one of the most well known companies that has a long history of manufacturing reliable memory.

Legit Bottom Line: The HyperX PredatorDDR4 3200MHz 16GB (2x8GB) memory kit performed well, but at the end of the day it doesn't stand out from the pack and didn't have significant overclocking headroom.