HyperX Predator 3200MHz DDR4 Memory Kit Review
By
HyperX Predator High Performance Memory For Enthusiasts
When it comes to memory, Kingston is one of the first names people bring up. HyperX is Kingston's high-performance division, that focus's developing the best peripherals for gamers and users that demad the best performance. They are constantly updating their product line to meet the needs of gamers and enthusiasts. When a new chipset is released, HyperX is always found on the motherboard's compatibility list. When Ryzen came out, there were many issues with memory compatibility, however HyperX was one of the first to be fully certified.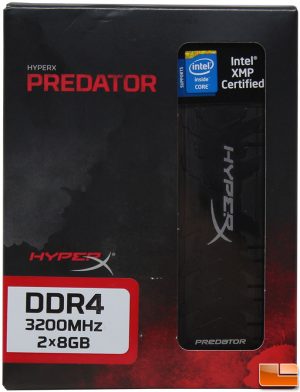 When we received our AMD Ryzen 7 1700X media kit, HyperX provided us a set of their HyperX Predator DDR4 3200MHz memory to test along with the Ryzen. The HyperX Predator DDR4 memory line includes speeds starting at 3000MHz and goes up to 3600MHz, in various capacities.
Speed
Part #
Latency
Voltage
Price
3000MHz
8GB (2x4GB) – HX430C15PB3K2/8

16GB (2x8GB) – HX430C15PB3K2/16

16GB (4x4GB) – HX430C15PB3K4/16

32GB (2x16GB) – HX430C15PB3K2/32

32GB (4x8GB) – HX430C15PB3K4/32

64GB (4x16GB) – HX430C15PB3K4/64

15-17-17
1.35V
$105.89
3200MHz
8GB (2x4GB) – HX432C16PB3K2/8

16GB (2x8GB) – HX432C16PB3K2/16

16GB (4x4GB) – HX432C16PB3K4/16

32GB (4x8GB) – HX432C16PB3K4/32

16-18-18
1.35V
$94.99
3333MHz
16GB (2x8GB) – HX433C16PB3K2/16
16-18-18
1.35V
$202.23
3600MHz
16GB (2x8GB) – HX436C17PB3K2/16

32GB (4x8GB) – HX436C17PB3K4/32

17-18-18
1.35V
$219.00
The 16GB memory kit we received to test is the HX432C16PB3K2/16 model, it can be purchased online for $176.99 shipped on Newegg or $219.99 shipped on Amazon with a lifetime warranty. This is one of the higher priced 16GB DDR4 kits available. To save yourself a little money, you can also buy it directly from Kingston where they have it for $189.00, which is where it becomes more in line with other high quality memory kits.
Features:
Fierce black aluminum heat spreader gives your rig a menacing edge
High speeds and low latencies pump out extreme DDR4 performance
Intel XMP-ready profiles optimized for Intel's latest chipsets
Backed by a lifetime warranty
The HyperX Predator 3200MHz 16GB DDR4 memory kit, includes support for Intel XMP, with dual profiles. XMP Profile 1, sets the speed to 3200MHz with 16-18-18 timings, while Profile 2 will set it to 3000MHz and 15-17-17 timings. For our testing, we will use these settings for base clock speeds. We attempted to overclock the memory, but wasn't able to squeeze out any faster settings.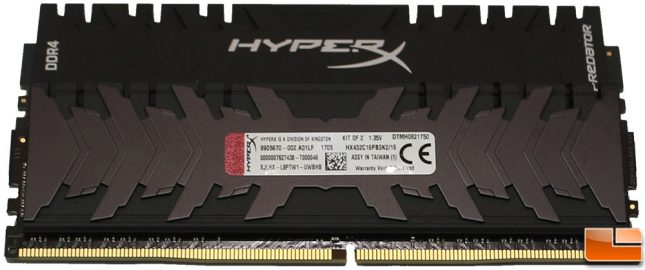 Overall, the black aluminum heatsink has an aggressive design to it, while while it looks great, won't be seen much once it's installed in most systems. The front of the memory module has the HyperX logo in silver with the Predator name on one edge. On the back side of the module, HyperX has placed the product label that provides the normal information such as model number, serial number and various other codes.
Once you have installed the HyperX Predator memory into your system, the top edge is what you'll be seeing the most. Here the heat spreader is split to provide additional cooling surface area, with the HyperX name in the center. I personally like the design of the heatsink, it's a fairly clean design while still providing something different than a plain heatsink.
Let's take a look at the Intel Z270 based test system, as well as the Ryzen 7 1700X test system before getting into doing any benchmarks.