HyperX Predator 3200MHz DDR4 Memory Kit Review
By
AIDA64 Extreme Edition
AIDA64 is one of the industry standards for benchmarking memory performance. It has a simple memory benchmark that provides Read, Write, Copy and Latency scores for the memory, as well as the cache system. We will be taking a look at the Read, Write and Copy scores, which are presented in MB/s and the higher score is better.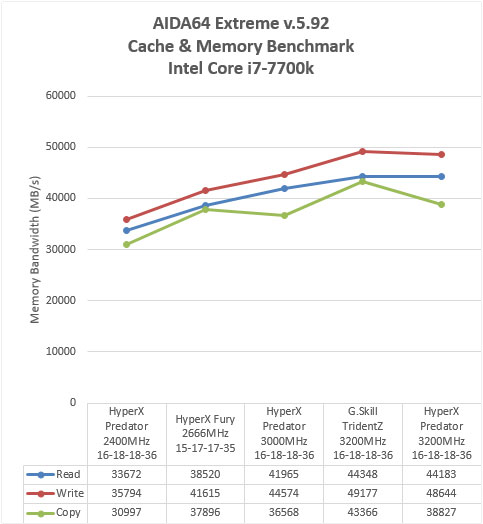 Benchmark Results: When taking a look at the HyperX Predator memory kit on the Intel Z270 platform, we see that it obviously performs better than the slower memory, however at 3200MHz the G.Skill TridentZ has a slight performance edge over the HyperX Predator. For the Read and Write portion of the benchmark, it is less than 1% in G.Skill TridentZ favor, however for the copy test, that increases to around 11%. Taking a look at all the scores across the various speeds, we do see an upwards trend the faster the memory is clocked at least for this synthetic benchmark test.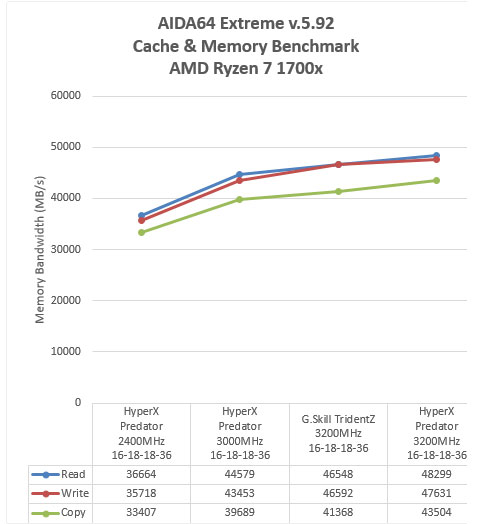 Benchmark Results: When we do the performance testing on the AMD Ryzen 7 based system, we get a different story. Here the HyperX Predator takes over the lead. For the Read and Write portion, the HyperX Predator 3200MHz kit receives between a 2% and 4% performance edge over the G.Skill TridentZ 3200MHz kit. During the Copy benchmark, the HyperX Predator takes a 5% lead. As you would expect, with the faster memory we saw an increase in performance for the synthetic benchmark.