Gigabyte GeForce GTX 960 G1 Gaming Video Card Review
By
Gigabyte GeForce GTX 960 G1 Gaming Video Card

If you ware looking to spend around $200 for a gaming graphics card this spring the NVIDIA GeForce GTX 960 (launch review) is the latest and greatest card from NVIDIA at that price point. There are more than a dozen GTX960 cards on the market from six manufacturers (ASUS, EVGA, Gigabyte, MSI, PNY,and Zotac) in the United States, so picking the right card could be a bit overwhelming for those that are building their first gaming PC. Today, we'll be doing a brief overview on the three GTX960 offerings from Gigabyte and then take an in-depth look at their flagship model!
| | | | |
| --- | --- | --- | --- |
| GeForce GTX 960 | Gigabyte GTX 960 G1 Gaming | Gigabyte GTX 960 OC | Gigabyte GTX 960 Mini ITX OC |
| Model | G1 Gaming SuperOverclock (SoC) | Overclocked | Mini ITX |
| Part Number | GV-N960G1 GAMING-2GD | GV-N960WF2OC-2GD | GV-N960IXOC-2GD |
| GPU boost clock | 1304MHz | 1279MHz | 1178MHz |
| GPU base clock | 1241MHz | 1216MHz | 1051MHz |
| Memory Size | 2 GB GDDR5 | 2 GB GDDR5 | 2 GB GDDR5 |
| Memory clock | 7010MHz | 7010 MHz | 7000 MHz |
| Memory interface | 128-bit | 128-bit | 128-bit |
| Number of Fans | Triple WindForce 3x | Dual WindForce 2x | Single 90mm |
| Length | 295mm | 257mm | 183mm |
| Price | $204.99 | $199.99 | $199.99 |
Gigabyte has three GeForce GTX 960 models for you to pick from. If you are looking for a short card for a small form factor or Mini-ITX system build there is the Gigabyte GTX 960 Mini ITX Overclocked card that is just 7.2-inches in length. That card was designed to be small, so it has the smallest heatsink, paired with a single cooling fan and the lowest clock speeds. Up from there you have the standard Gigabyte GeForce GTX 960 Overclocked card, which has a dual-fan WindForce 2x GPU cooler design with base clock speeds that are 15.7% higher than on the Mini-ITX card. Both cards are priced at $199.99, so if card length isn't an issue you'll want to go with 'standard' model to get the most from your gaming system. The flagship model would be the Gigtabyte GeForce GTX 960 G1 Gaming and it is by far the longest card at 11.7-inches in length, but it also has the largest WindForce 3x GPU cooler and by far the highest clock speeds. The 1241MHz base and 1304MHz boost clocks on the 1,024 CUDA cores in the NVIDIA 'Maswell' GM206 GPU aren't the highest clocks available on the overall market, but they are close.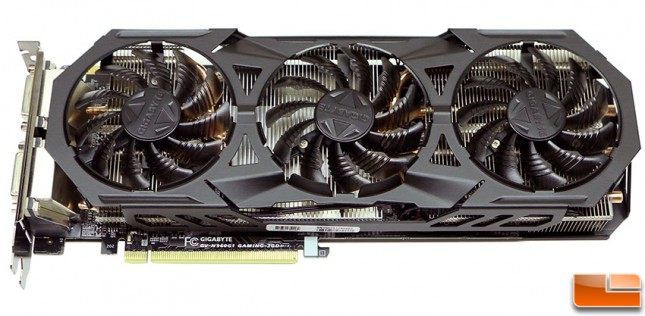 The card that we are looking at today is the Gigabyte GTX 960 G1 Gaming and they styling of the card shouldn't come as a shock to anyone. Gigabyte has stuck with a black PCB, black fan shroud and smoked black fan blades. Most gamers are happy with black and it doesn't appear that the video card manufacturers are wanting to stray away from that color much these days. The WindForce 3x GPU cooler has three 11-blade 90mm dust-proof cooling fans (Power Logic PLD08010S12H) that are optimized for silent airflow. The fans help dissipate the heat from three aluminum finned cooling arrays that are interwoven with four 6mm copper heatpipes that make direct contact with the GPU. The design looks to be well done and the GPU cooler does have a heatsink with a thermal pad that makes contact with the MOSFETs to ensure the PWM components are kept at safe temperatures to ensure product longevity.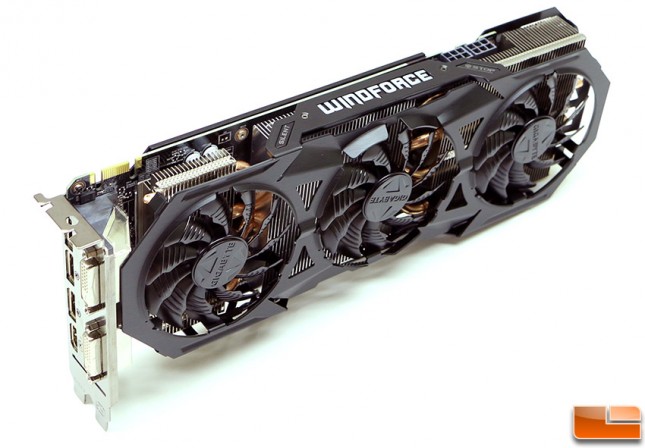 The GTX 960 G1 Gaming is a fairly large card that measures in at 295mm x 114mm x 43mm (L x W x H), so you might want to make sure it fits in your chassis if you have a mid-tower or some other smaller chassis.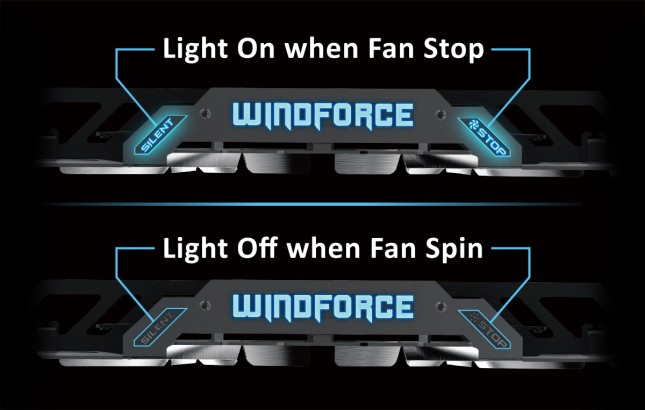 Like many of the other NVIDIA GeForce GTX 960 cards on the market the Gigabyte GTX 960 G1 Gaming features 0db noise reduction technology, which means the fans seldom run when the card is running in 2D mode or even when doing some light 3D gaming. From what we gather the fans kick on when the power draw on the card exceeds 60 Watts or the GPU temperature gets over 62C. Gigabyte put some LED lighted areas along the top edge of the GPU cooler that show when the fans are off and on. Most gamers don't need LED lights to know if their fans are running or not, but it's some extra LED bling and it looks cool.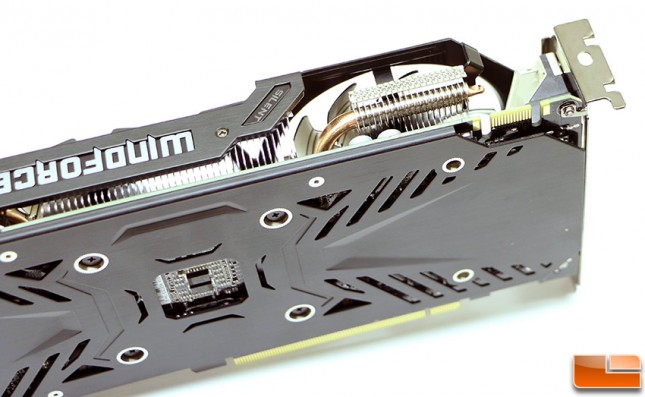 By the rear mounting bracket you'll find the NVIDIA SLI interconnect for those that wanted to run two of these cards together for improved gaming performance. There are no jumpers or switches on this model as Gigabyte put most of the resources into designing the GPU cooler and sorting for the best GPU for the flagship model by using their 'GPU Gauntlet Sorting' system. Gigabyte does have a dual-bios solution in-place on this card, but it's an automated process where if one BIOS fails the card rolls over to the second one without you having to do anything.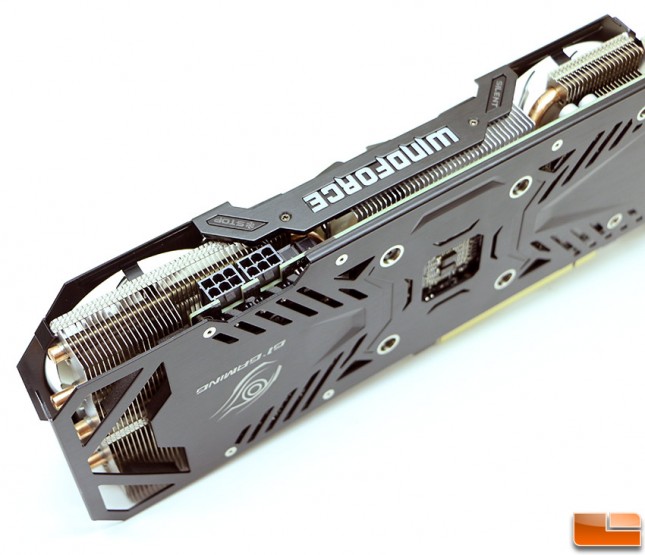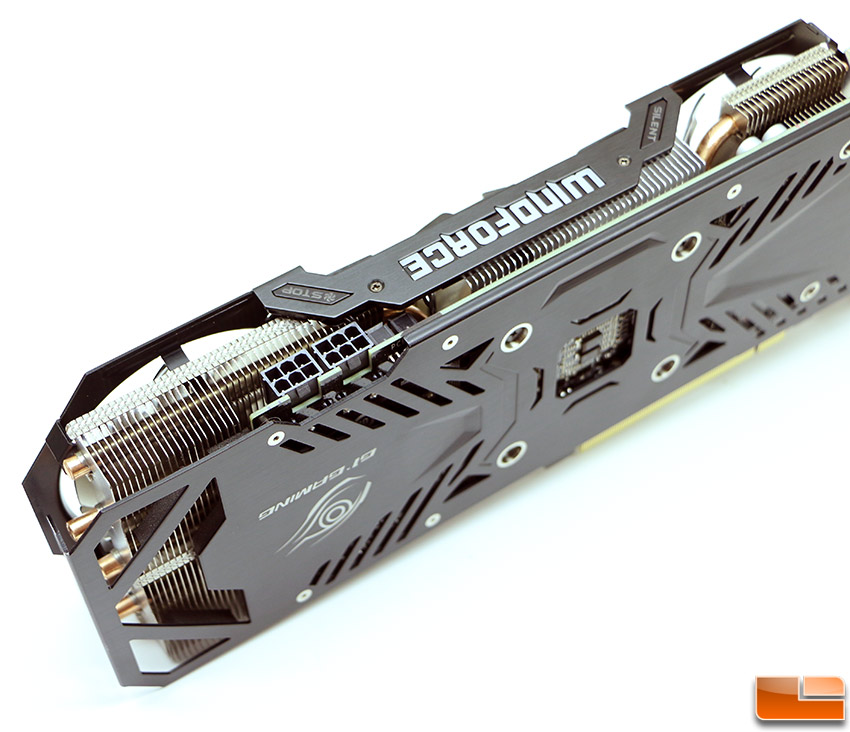 On the other end of the top edge of the GTX 960 G1 Gaming you'll find the two rear-facing 6-pin PCIe external power connectors. Gigabyte recommends a 400W or greater power supply for your gaming system for this model.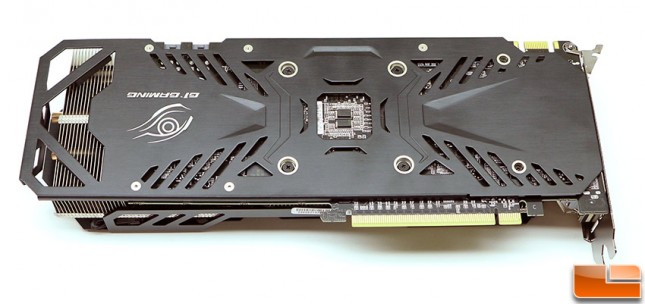 The Gigabyte GeForce GTX 960 G1 Gaming comes with a full coverage black back plate to help protect the components on the back of the card and it helps lower the PCB temperature.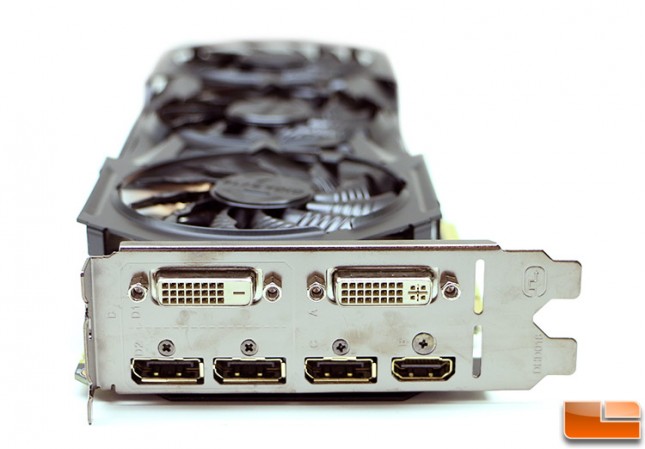 Gigabyte went with three DisplayPort 1.2 outputs as well as single HDMI 2.0 and Dual-Link DVI-I when it comes to video outputs. The HDMI 2.0 port does support 4K @ 60Hz! Gigabyte does not include any DVI to VGA adapters or SLI bridges in the accessory bundle with this card, so just a friendly heads up there.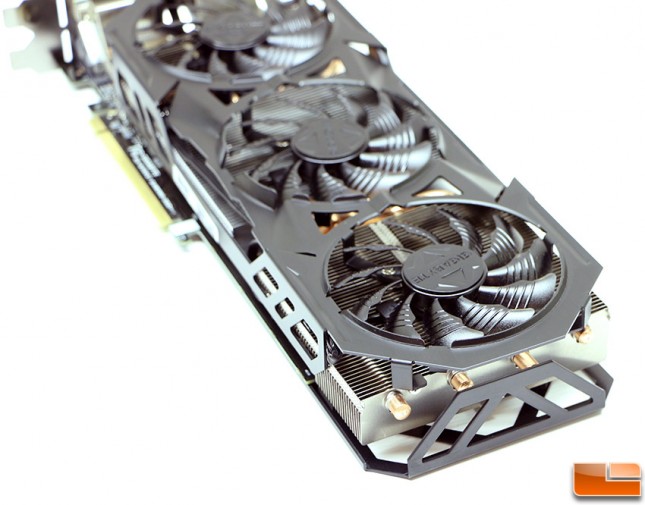 Here you can make out the four 6mm thick direct touch copper heat pipes sticking out past the aluminum cooling fin array. These heat pipes help whisk heat away from the GM206 GPU to ensure the Gigabyte GTX 960 G1 Gaming is kept as cool as possible.
Now that we have the basics out of the way we can take a look at the retail packaging and get to the benchmarks!