GIGABYTE GA-A75-D3H FM1 Motherboard Review
By
Futuremark 3DMark 11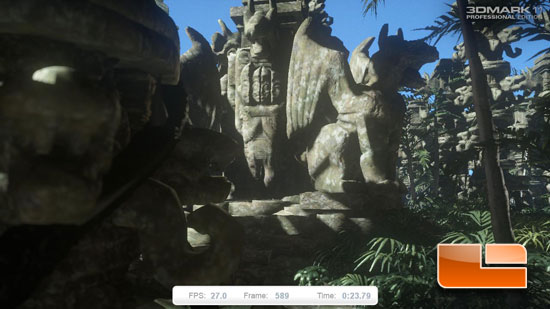 3DMark 11 is the latest version of the worlds most popular benchmark for measuring the 3D graphics performance of gaming PCs. 3DMark 11 uses a native DirectX 11 engine designed to make extensive use of all the new features in DirectX 11, including tessellation, compute shaders and multi-threading.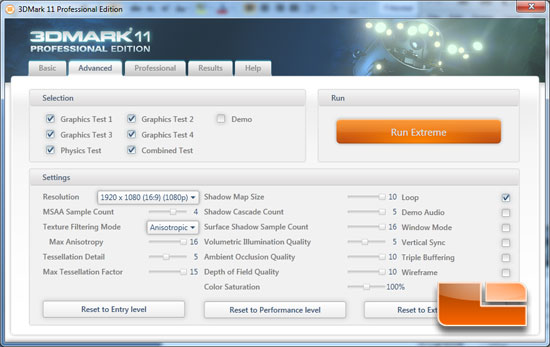 Since Futuremark is releasing 3DMark11 today we decided to run the benchmark at both performance and extreme presets to see how our hardware will run.
GIGABYTE GA-A75-D3H 3DMark11 Entry Preset Benchmark Results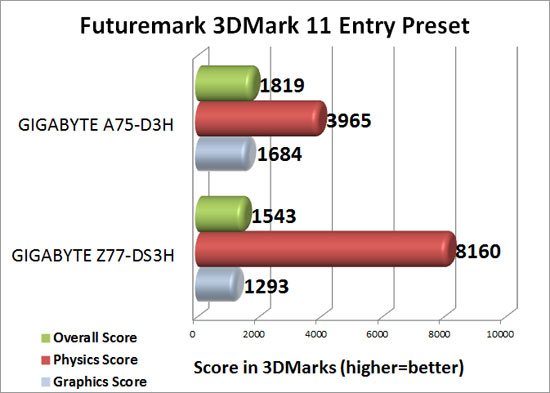 Benchmark Results: The overall score in 3DMark 11 at the Entry preset shows the GIGABYTE A75-D3H leading by 276 points or ~18%. The physics score which relies heavily on the CPU being used was dominated by the Intel Core i7 3770K which is a much more powerful CPU, though also more than triple the price of the AMD A8-3870K that we are using on the GIGABYTE A75-D3H. The Graphics score of the GIGABYTE A75-D3H was nearly 400 points higher than the Intel HD 4000 graphics on the Z77-DS3H.
GIGABYTE GA-A75-D3H 3DMark11 Performance Preset Benchmark Results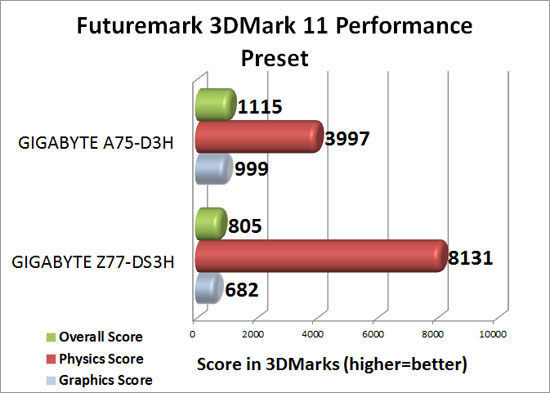 Benchmark results: The results above are similar to what we saw in the entry preset above. The GIGABYTE A75-D3H led the way on the overall score with 1115 3DMarks and 999 points for the graphics score. The GIGABYTE Z77-DS3H led the physics score with the more powerful processor.