GIGABYTE GA-A75-D3H FM1 Motherboard Review
By
The GIGABYTE GA-A75-D3H Mainboard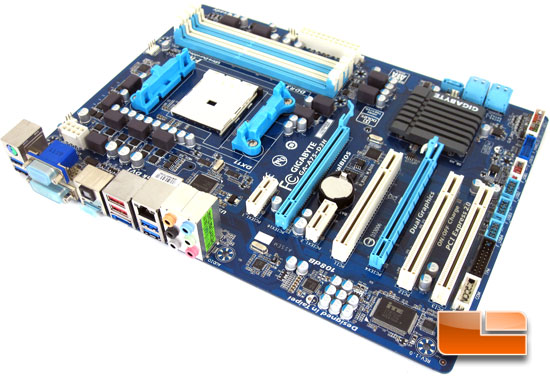 The GIGABYTE A75-D3H is an entry level AMD A75 chipset based motherboard. If you aren't familiar with the AMD A75 chipset, it is used in conjunction with the first generation AMD APU in the FM1 package. The AMD A75 chipset was first launched in June of 2011 and we found it was a great system for the average user. We could do some light DirectX 11 gaming, run all of our typical day to day applications without and issue. Overall the AMD FM1 motherboards and processors were great for the typical user experience.
Now that the second generation of AMD APU's have launched, we wanted to take a look at the first generation Llano before we start delving too much into Trinity. One of the good things about the Trinity launch for consumers is that it has caused prices of the now 'old' Llano APU's to drop. When the AMD A8-3850 first launched we could grab one off of the shelves for $139 or so, now we can get our hands on the same processor for only $94.99, or we can grab the AMD A8-3870K for only $109.98.
While the combination of AMD Llano FM1 motherboards and processors are a bit of a budget system, there is nothing budget about the GIGABYTE A75-D3H that we have on our lab today, well aside from the price of $89.99 with Free shipping. The GIGABYTE A75-D3H is packed with features that we can traditionally find on high end motherboards. Many features are pretty standard on the current generation of motherboards, SATA III 6Gbps, SuperSpeed USB 3.0, DDR3 support, and of course PCIe x16 slots are all a given. In true GIGABYTE fashion though, they have loaded the GA-A75-D3H with some features specific to their motherboards. Among the GIGABYTE exclusive features is the GIGABYTE Super4. The GIGABYTE Super4 consists of four parts (kind of obvious I know).
The first part of the GIGABYTE Super4 is the Super Safe technologies. The GIGABYTE Super Safe is a group of features designed to improve the longevity of GIGABYTE motherboards. It includes features like GIGABYTE DualBIOS to help protect against BIOS corruption due to a failed BIOS flash which can brick your board. With the DualBIOS, the second BIOS chip will restore the first BIOS chip if it becomes corrupted. Definitely a feature I could have used in the past after a live update failed on a different board.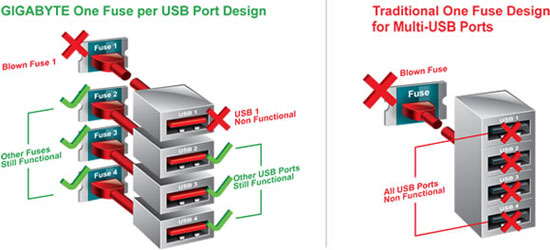 Another feature of the GIGABYTE Super Safe is that each of the USB ports has a dedicated power fuse to help prevent USB port failure. In other motherboards all, or groups of USB ports are on one fuse, if that fuse fails all of the USB ports on that fuse are now useless. If one of the USB port fuses happen to fail on the GIGABYTE A75-D3H, you will only be down one USB port, not all of them.
The second portion of the GIGABYTE Super4 is Super Speed. GIGABYTE Super Speed technology uses GIGABYTE's Ultra Durable technology to make sure you processor runs at its optimal capacity. The AMD A75-D3H also uses the GIGABYTE 3x USB power which will allow you to charge your iPad, iPhone, and iPod up to 40% faster than a traditional USB port. The only processors available for the AMD FM1 motherboards are the AMD A-series APU, which means we will be able to take advantage of the latest DirectX 11 technology for the best eye candy out there!
Super Savings is the third of the four GIGABYTE Super4 technologies. All of the Super4 boards come equipped with the high end components you would expect from GIGABYTE that will ensure your system is running at the maximum power efficiency. Lower RDS(on) MOSFETs reduce energy wastage through unnecessary residual heat dissipation. This all amounts to tangible energy savings which are beneficial for both end-users and the environment without impacting system performance.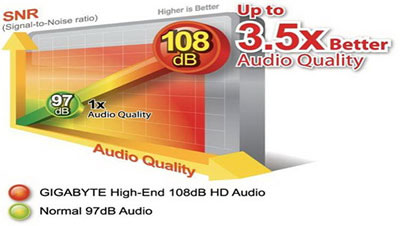 The fourth and final component of the GIGABYTE Super4 technology is the Super Sound. Each of the Super Sound GIGABYTE motherboards feature full 7.1 surround sound audio with a proprietary converter that is able to achieve a 108dB noise ratio (SNR) playback quality. This will create a better audio experience with lower noise levels and hiss while enjoying the latest HD content.
GIGABYTE GA-A75-D3H AMD A75 Motherboard Specifications
APU
FM1 Socket:
AMD A series & E2 series processors
Chipset
AMD A75 chipset
Memory
4 x 1.5V DDR3 DIMM sockets supporting up to 64 GB of system memory
Dual channel memory architecture
Support for DDR3 2400(OC)/1866/1600/1333/1066 MHz memory modules
Onboard Graphics
APU:

1 x D-Sub port
1 x DVI-D port, supporting a maximum resolution of 2560×1600

1 x HDMI port, supporting a maximum resolution of 1920×1200

Audio
Realtek ALC889 codec
High Definition Audio
2/4/5.1/7.1-channel
Support for Dolby Home Theater
Support for S/PDIF Out
LAN
1 x Realtek RTL8111E chip (10/100/1000 Mbit)
Expansion Slots
1 x PCI Express x16 slot, running at x16 (PCIEX16)
1 x PCI Express x16 slot, running at x4 (PCIEX4)
2 x PCI Express x1 slots
(All PCI Express slots conform to the PCI Express 2.0 standard.)
3 x PCI slots
Multi-Graphics Technology
Support for AMD Dual Graphics technology
Only A series APU support AMD Dual Graphics.
Support for AMD CrossFireX technology
Storage Interface
Chipset:
5 x SATA 6Gb/s connectors supporting up to 5 SATA 6Gb/s devices
1 x eSATA 6Gb/s port on the back panel supporting up to 1 SATA 6Gb/s device
Support for RAID 0, RAID 1, RAID 10, and JBOD
USB
Chipset:

Up to 10 USB 2.0/1.1 ports (2 ports on the back panel, 8 ports available through the internal USB headers)
Up to 4 USB 3.0/2.0 ports (2 ports on the back panel, 2 ports available through the internal USB header)
Etron EJ168 chips:

Up to 2 USB 3.0/2.0 ports on the back panel

Internal I/O Connectors
1 x 24-pin ATX main power connector
1 x 8-pin ATX 12V power connector
5 x SATA 6Gb/s connectors
1 x APU fan header
2 x system fan headers
1 x power fan header
1 x front panel header
1 x front panel audio header
1 x S/PDIF Out header
4 x USB 2.0/1.1 headers
1 x USB 3.0/2.0 header
1 x serial port header
1 x Trusted Platform Module (TPM) header
1 x clearing CMOS jumper
Back Panel Connectors
1 x PS/2 keyboard/mouse port
1 x D-Sub port
1 x DVI-D port
1 x HDMI port
1 x optical S/PDIF Out connector
2 x USB 2.0/1.1 ports
4 x USB 3.0/2.0 ports
1 x eSATA 6Gb/s port
1 x RJ-45 port
6 x audio jacks (Center/Subwoofer Speaker Out/Rear Speaker Out/Side Speaker Out/Line In/Line Out/Microphone)
I/O Controller
iTE IT8720 chip
H/W Monitoring
System voltage detection
APU/System temperature detection
APU/System/Power fan speed detection
APU overheating warning
APU/System/Power fan fail warning
APU/System fan speed control
BIOS
2 x 32 Mbit flash
Use of licensed AWARD BIOS
Support for DualBIOS
PnP 1.0a, DMI 2.0, SM BIOS 2.4, ACPI 1.0b
Unique Features
Support for @BIOS
Support for Q-Flash
Support for Xpress BIOS Rescue
Support for Download Center
Support for Xpress Install
Support for Xpress Recovery2
Support for EasyTune
Support for Smart Recovery
Support for Auto Green
Support for ON/OFF Charge
Support for 3TB+ Unlock
Support for Q-Share
Bundle Software
Norton Internet Security (OEM version)
Operating System
Support for Microsoft Windows 8/7/Vista/XP
Form Factor
ATX Form Factor; 30.5cm x 22.5cm
Now that we've taken a look at the details and specifications of the GIGABYTE A75-D3H, we can move on to the good stuff like the bundle and layout of the AMD FM1 motherboard.