GIGABYTE G1.Killer Sniper 5 Intel Z87 Motherboard Review
By
The Legit Reviews Test System
Before we look at the numbers, let's take a brief look at the test system that was used. All testing was done on a fresh install of Windows 8 Enterprise 64-bit and benchmarks were completed on the desktop with no other software programs running. We completely overhauled our test setup for the Intel Core i7-4770K processor launch, so we are starting over from scratch when it comes to testing everything. For this review will be comparing Intel Z77, Intel Z87 and AMD FM2 platforms. These platforms are aimed at mainstream users and all feature integrated graphics, so it will be interesting to see how the systems compare. We understand that there is a significant price difference between some of the processors we will be testing, but the platforms are targeted to the same consumer group.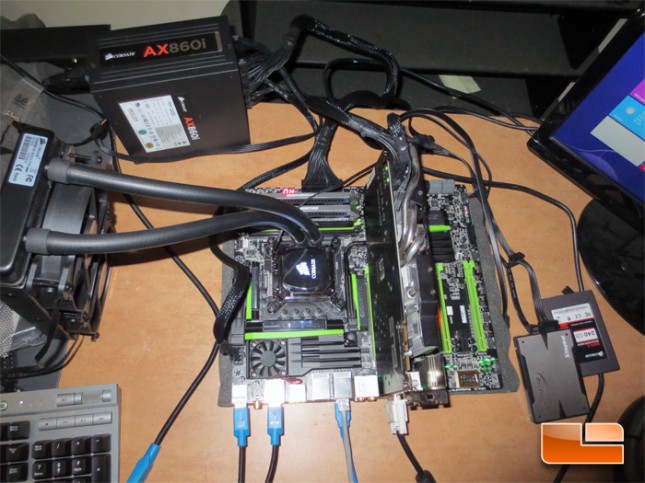 Here is a quick look at the CPU-Z information for our main test system that we'll be doing the testing on.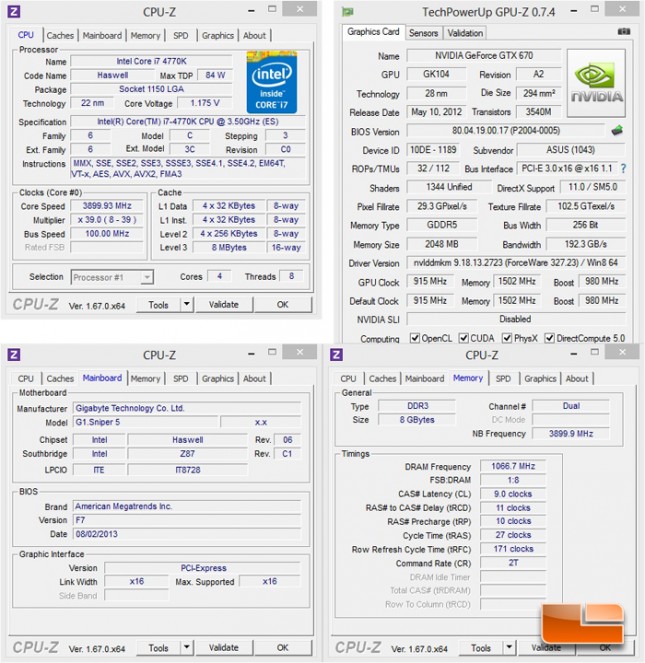 The Intel Z87 platform that we used to test the Intel 1150 processors was running the GIGABYTE G1.Sniper 5 and was running the latest BIOS version F7 that came out on 8/05/2013. The Corsair Dominator Platnium 8GB 2133MHz memory kit was set to XMP 1.3 memory profile settings, which is 1.5v and 9-11-10-27 2T memory timings at 2133MHz. The Corsair Neutron GTX 240GB SSD uses 19nm NAND and was using M310 firmware.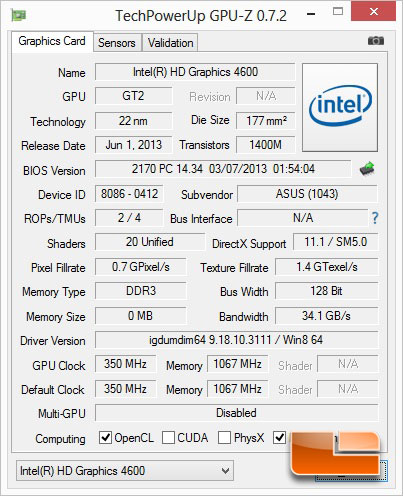 The Intel HD Graphics 4600 that from the Intel Core i7-4770K
Intel LGA1150 Test Platform

Component

Brand/Model

Live Pricing

Processor

Intel Core i7-4770K

Motherboard

GIGABYTE Z87X-OC Force

Click Here

Memory

8GB Donimator 2133MHz

Click Here

Video Card

ASUS GeForce GTX670 DirectCU II

Click Here

Hard Drive

Corsair Neutron GTX 240GB SSD

Click Here

Cooling

Corsair H100i

Click Here

Keyboard

Corsair K90

Click Here

Mouse

Corsair M95

Click Here

Power Supply

Corsair AX860i

Click Here

Operating System

Windows 8 64-Bit

Click Here