Gigabyte Brix Gaming UHD Mini-PC Review – GB-BNi7HG4-950
By
Gigabyte Brix Gaming UHD Mini-PC Review
Gigabyte launched the BRIX series back in 2013 to cover the growing ultra compact and versatile DIY PC kit market. Gigabyte has offered a broad choice of processors covering a range of performance points and a couple of those systems have been aimed at gamers of the years. Gamers are a tough bunch to satisfy as you need to cram in high-performance PC hardware into a compact sleek design. Gigabyte has been teasing us with the Brix Gaming UHD since CES 2016 and after seeing it displayed at multiple trade shows over the course of this year we finally have the retail model in our possession!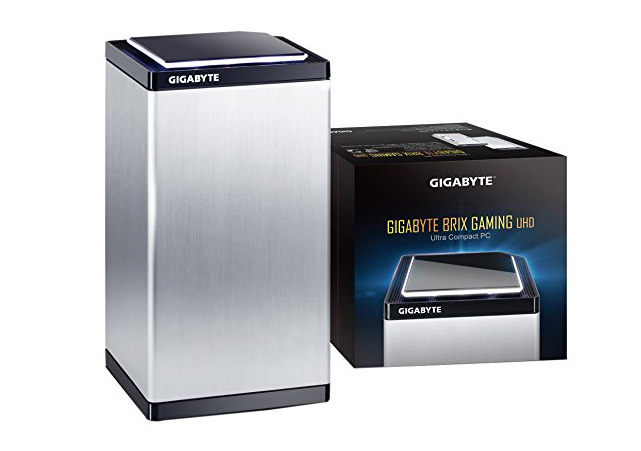 The Gigabyte Brix Gaming UDH is a vertically oriented gaming system that features an Intel Core i7 'Skylake' processor and an NVIDIA GeForce GTX 950 graphics card with pricing starting at $999. Gigabyte has two Brix Gaming UHD models; GB-BNi5HG4-950 with an Intel Core i5-5300HQ processor and then there is the GB-BNi7HG4-950 with the more powerful Intel Core i7-6700HQ processor. Only the GB-BNi7HG4-950 will be available in the United States and that is the model that we are focusing on today.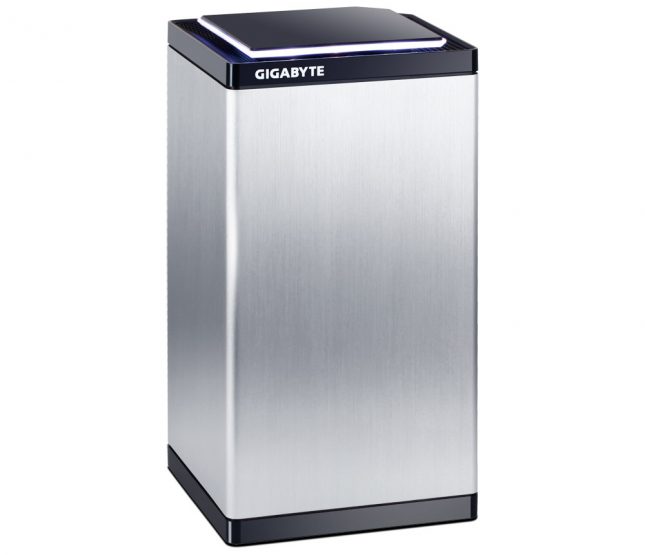 The Gigabyte Brix Gaming UDH has a 4.3-inch square base and measures in at 8.6-inches in height, so it is a pretty compact system considering all the components that Gigabyte packed inside. Cool air is sucked in the bottom thanks to ventilation mesh and a 120mm fan that helps push the air up through the enclosure and out the top. This stove pipe design has been around for centuries and is a proven way to vent hot air. The front of the system is clean and the top has LED lighting that looks pretty sharp.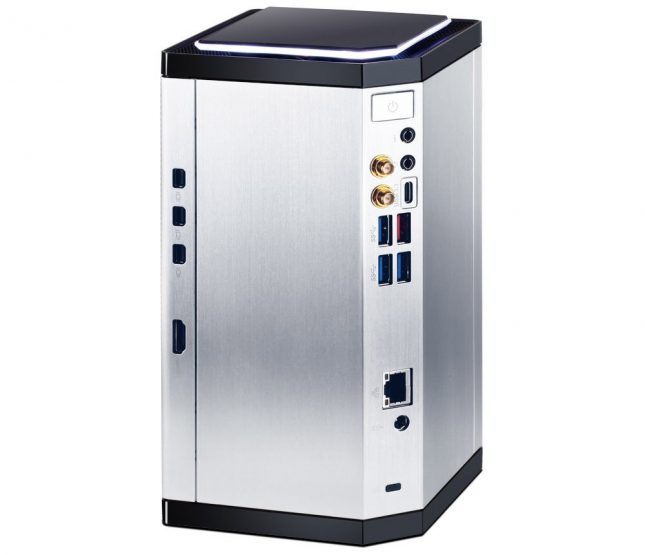 The power button along with all the connectors are located on the back of the system. It might take some getting used to the power button being above the rear I/O area, but it keeps the front of the system clean. Our only concern with the layout is how tight all the USB ports are. We had trouble putting in a USB thumb drive with our keyboard and mouse plugged in along when the antenna was hooked up. If you have a large USB drive you'll likely be unable to use it on this system.
Gigabyte GB-BNi7HG4-950 Features:
Processor: Intel Core i7-6700HQ Quad-Core (2.6GHz / 3.5 GHz)
Chasssis: Ultra compact PC design at only 2.6L (220 x 110 x 110mm)
Discrete Graphics: NVIDIA GeForce GTX 950 w/ 4GB GDDR5 (GTX 965M)
Storage:

1 x M.2 SSD (2280) PCIe slot directly connected to the CPU (No M.2 RAID possible)
1 x M.2 SSD (2280) SATA/PCIe slot connected to the Intel HM170 chipset
2 x 2.5 SATA III HDD/SSD, 7.0/9.5 mm thick (RAID capable)

Memory: 2 x SO-DIMM DDR4 slot (2133 MHz)
Connectivity: Intel Dual Band Wireless-AC 8260 w/ Buetooth 4.2 NGFF M.2 card
Ethernet: Intel Gigabit Lan (Intel i219LM)
2 x USB3.1 (1* USB Type-C w/ ASmedia controller)
3 x USB 3.0
3 x Mini DP (Max Resolution 3840×2160 @ 60 Hz)
1 x HDMI 2.0 (Max Resolution 3840×2160 @ 60 Hz)
Headphone and Microphone jack w/ Realtek ALC255 audio
Here is an overview video on the Brix Gaming UHD.
We aren't going to cover the inside of the Gigabyte BRIX Gaming UHD in much detail as Gigabyte has created a good installation tutorial on how to put everything together. We will note that it supports two 2.5″ SATA storage drives, 1 M.2 SATA/PCIe slot, 1 M.2 PCIe slot and two DDR4 SO-DIMM memory slots. The single M.2 PCIe slot is connected directly to the CPU while the others go through the chipset. This means you can't run M.2 RAID arrays, but you can software RAID the three SATA drives together if one would want to do that. This is a barebone system, so you'll need to purchase your own drive, DRAM and operating system. The bad news is that you likely won't be able to ever upgrade the already obsolete GeForce GTX 950 (GTX 965M) graphics on this system. Gigabyte won't say anything about the availability of a Pascal MXM 3.0b 10-series card ever being released for this system, but did say that they are exploring options. We've never seen anyone readily sell discrete MXM cards in the decade that they've been around, so we aren't holding our breath.
Gigabyte sent us a loaner unit that already had Windows 10 Home installed ($90.72) to help speed along our review process. They populated the system with a Transcend 128GB SATA M.2 MTS800 SSD as the primary drive, a WD Blue 1TB 2.5″ notebook drive for mass storage and one 8GB DDR4 2133MHz SO-DIMM. This configuration puts the total at around $1,305 for the fully built system.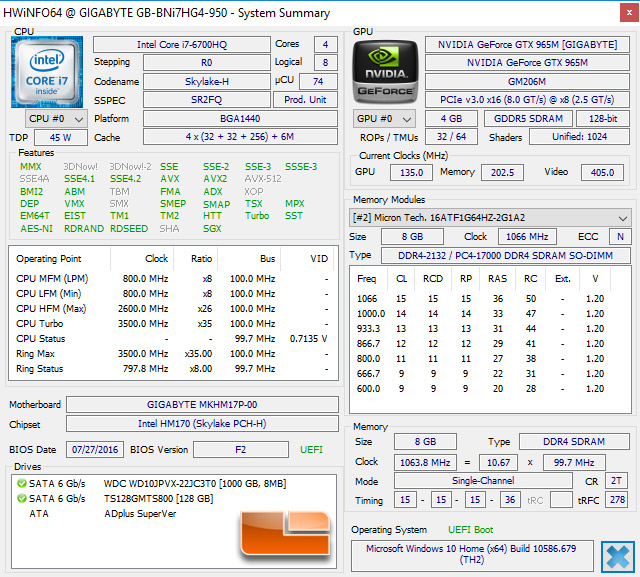 HWiNFO64 shows a couple things that we'd like to hit on before we start showing you the benchmark results. For starters Gigabyte says they are using a GeForce GTX 950 with 4GB of GDDR5 memory in this system, but all the GPU diagnostic utilities will show it as an NVIDIA GeForce GTX 965M. It appears that Gigabyte has developed a custom MXM card for this system that they call a GeForce GTX 950, but is really a GeForce GTX 965M GPU (specs) running on a PCIe Gen3 x8 interface with 1,024 CUDA cores running at 935MHz base and 1,150MHz boost. A true NVIDIA GeForce GTX 950 desktop graphics card has 768 CUDA cores running at a base clock of 1,024 MHz and a boost clock of 1,188MHz. The Geforce GTX 965M memory is rated at 80 GB/s versus 105.6 GB/s on the GeForce GTX 950, so there are a number of differences. Overall performance should be roughly the same, but we are still confused by the fact that NVIDIA markets this system as having dedicated GeForce GTX 950 graphics when it really has a GeForce GTX 965M graphics solution.
Due to the semi-custom nature of this discrete graphics solution there might be some driver complications that one might run into. For example our system came with GeForce 364.72 drivers installed and those are over 6 months old. There have been tons of driver updates since then, but NVIDIA GeForce Experience says that none are available. We reached out to NVIDIA on the situation and they informed us that they don't keep up with partner solutions and that a custom driver may be needed for this specific system. Gigabyte doesn't offer any GPU drivers on the driver support page for the GIGABYTE BRIX GAMING UHD GB-BNi7HG4-950 system.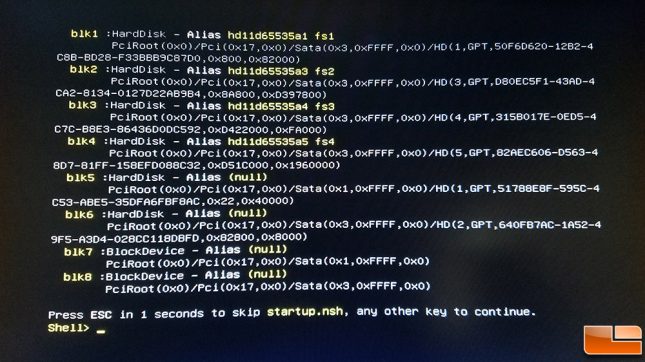 You might also notice that the GB-BNi7HG4-950 is running Windows 10 Home, Version 1511, Build 10586. We thought that was odd on a system that was just sent to us last week, so we let the system update to Windows 10 Home Anniversary update (Version 1607). The update failed brilliantly and left the system unusable, so maybe that is why Gigabyte shipped it without the update. Too bad they didn't turn off automatic updates for us! The good news is we ran a handful of benchmarks and tests on this system before the Windows update ruined our fun and we returned this loaner system.
Let's move along to the performance tests that we ran on Windows 10 Home, Version 1511, Build 10586.