GeForce GTX 1070 Ti Review with NVIDIA Founders Edition and EVGA FTW2
By
Temperature & Noise Testing
The gaming performance on a graphics card is the most important factor in buying a card, but you also need to be concerned about the noise, temperature and power consumption numbers. Since GPU-Z doesn't yet read the temperatures of VEGA we didn't have a way to record or log or temperatures. Using AMD Radeon Settings isn't good for idle temperatures as it uses the GPU, so we ended up using GPU Shark to get some readings.
NVIDIA GeForce GTX 1070 Founders Edition Temperatures: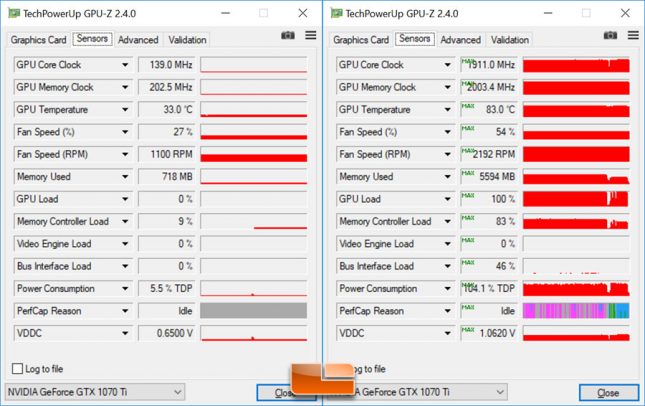 The NVIDIA GeForce GTX 1070 Ti 8GB Founders Edition graphics card has a blower style fan that always runs, so we were seeing 33C at idle and 83C at load while gaming for an extended period of time. The fan was spinning at 27% (700RPM) at idle and got up to 54% (2200RPM) at load.
EVGA GeForce GTX 1070 Ti FTW2 Temperatures: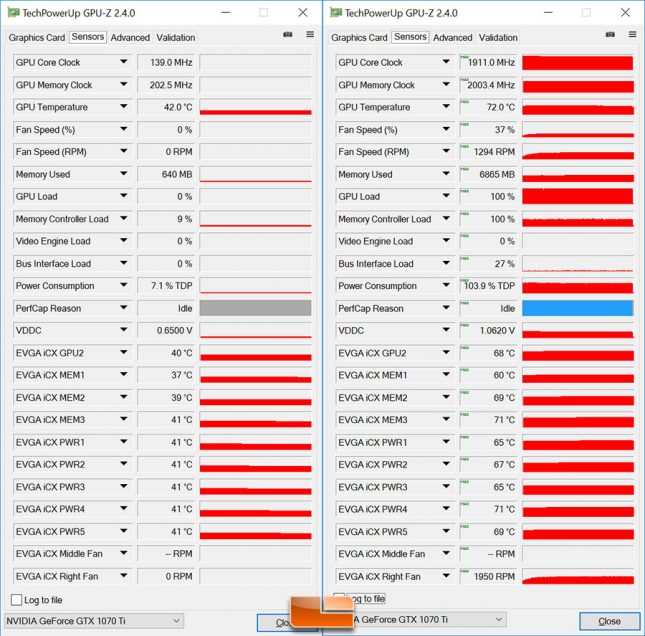 The EVGA GeForce GTX 1070 Ti FTW2 has no fans running at idle, so it is passively cooled at that point and the idle temp is higher at 42C as a result. The load temperature of 72C with the two fans running at 37% (1300RPM) is solid, so you are warmer than the reference card at idle, but silent, then at load you are almost 10C cooler. The EVGA iCX cooler also has nine additional temperature sensors that the reference card doesn't have. It shows that the memory and power phase components on the card are running cooler than the GPU, so it looks great!
Sound Testing
We test noise levels with an Extech sound level meter that has 1.5dB accuracy that meets Type 2 standards. This meter ranges from 35dB to 90dB on the low measurement range, which is perfect for us as our test room usually averages around 36dB. We measure the sound level two inches above the corner of the motherboard with 'A' frequency weighting. The microphone wind cover is used to make sure no wind is blowing across the microphone, which would seriously throw off the data.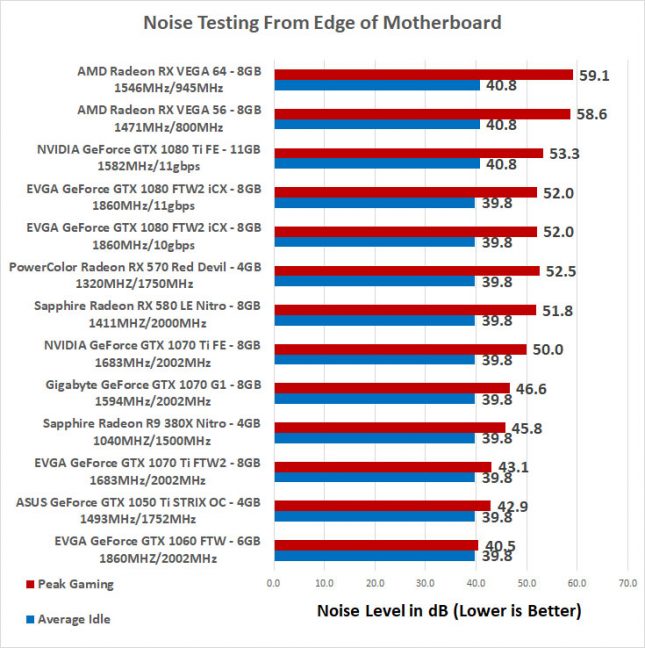 When it comes to noise levels the Gigabyte GeForce GTX 1070 Ti Founders Edition was louder than the EVGA GeForce GTX 1070 Ti FTW2 at both idle and load. No big shocker here as the iCX cooler design is really well done.