GeForce GTX 1050 Ti Video Card Roundup – EVGA, MSI and ZOTAC
By
Final Thoughts and Conclusions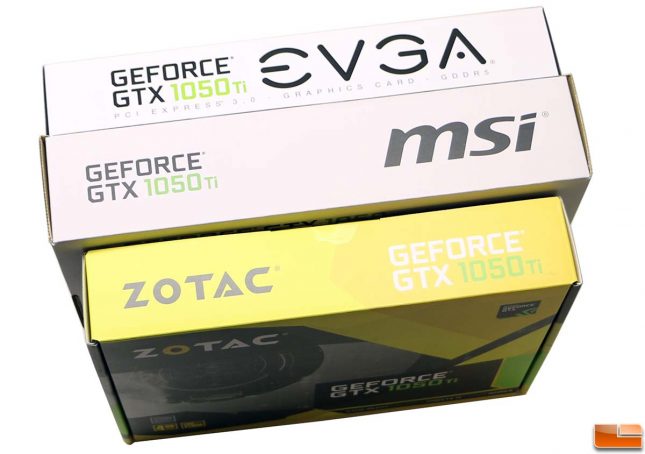 Usually when we do video card roundups there is a pretty clear winner, but this time around there is not. All three GeForce GTX 1050 Ti cards were basically performing the same and the results were too close to call a winner. Maybe when the overclocking issues are fixed with a future GeForce driver release we'll be able to see some performance differences, but right now they are just too close to one another. The feature table below shows just how similar the cards are.

Zotac

MSI

EVGA
Model
GTX 1050 Ti Mini
GTX 1050 Ti 4G OC
GTX 1050 Ti SC Gaming
Part Number
ZT-P10510A-10L
GTX 1050 Ti 4G OC
04G-P4-6253-KR
GPU boost clock
1417MHz
1455MHz
1468MHz
GPU base clock
1303MHz
1341MHz
1354MHz
Memory Size
4 GB GDDR5
4 GB GDDR5
4 GB GDDR5
Memory clock
7008 MHz
7008 MHz
7008 MHz
Memory interface
128-bit
128-bit
128-bit
Number of Fans
1x 90mm Fan
1x 90mm Fan
1x 90mm Fan
Length
144.77 mm
177 mm
144.78 mm
RGB Lighting
No
No
No
Power
PCIe Bus Only
PCIe Bus Only
PCIe Bus Only
Warranty
3-years
3-years
3-years
Newegg Price
Amazon Price
$139.99
$155.70
$139.99
$139.99
$149.99
$149.99
When we were looking at our benchmarks logs we noticed that while the specifications of the cards showed a 51 MHz difference between the slowest and fastest cards that the real clock speeds were much closer than that. Check out the chart below as this one chart sums up the performance between the cards the best in our opinion.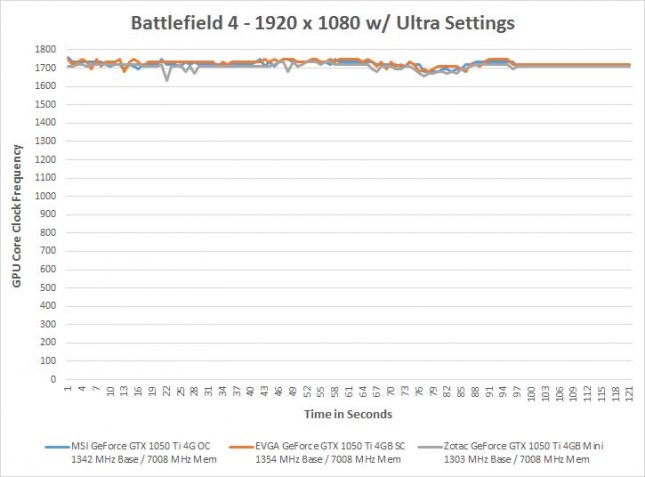 Over a 2 minute FRAPS benchmark run there is basically no difference in clock speed between the cards thanks to NVIDIA GPU Boost technology, which was shocking. What was even more interesting is that when you averaged the clock speeds over a two minute section of the run that they were very close and well over the rated boost clocks. The three cards we reviewed today were rated as having boost clocks between 1400-1500 MHz, but clearly they are all running over 1700MHz as you can see above and below. The average clock speeds on the slowest and fastest cards were only apart by 18.4 MHz!
Average Clock Speeds Over 2 Minutes:
EVGA GeForce GTX 1050 Ti 4GB SC Gaming Average Clock: 1727.1 MHz
MSI GeForce GTX 1050 Ti 4G OC Average Clock: 1722.2 MHz
Zotac GeForce GTX 1050 Ti 4GB Mini Average Clock: 1708.7 MHz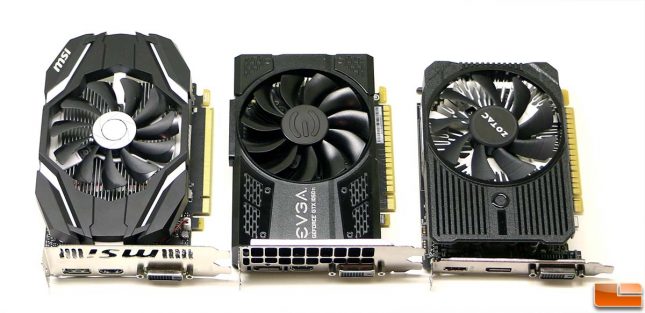 So, what card is right for you? That is totally up to you, but it doesn't look like you can go wrong. Paying more for a factory overclocked card doesn't appear to get you much of a performance gain on this series as NVIDIA GPU Boost 2.0 seems to extract the most performance from each card regardless stock settings. Factor in manual overclocking and that model that costs extra doesn't look like so much of a bargain. This is one of the rare times that you can actually pick on appearance or pick your favorite brand without being jealous of what one of the other companies is doing. Then again, all three of the cards we looked at today have black fans, black PCBs and black black fan shrouds. Could buying the lowest price card actually make sense for this series?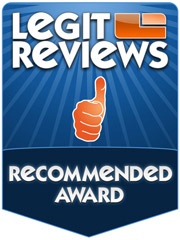 Legit Bottom Line: Three GeForce GTX 1050 Ti video cards tested with no significant differences between them to be found, so grab the one you prefer and game happy!