G.SKILL RIPJAWS SR910 Real 7.1 Gaming Headset Review
By
G.SKILL RIPJAWS SR910 Real 7.1 Headset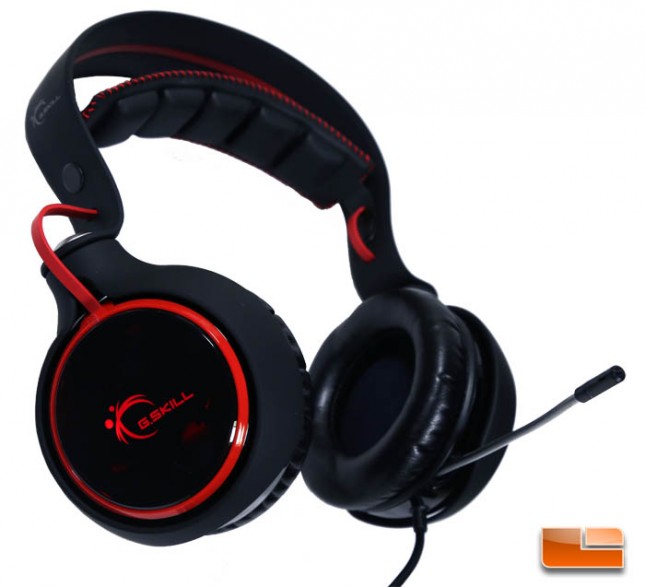 We're rounding up our reviews on G.SKILL's new RIPJAWS gaming peripherals with a quick look at a pair of headsets with lots of promising features. We've already reviewed the MX780 mouse and the KM780 mechanical keyboard both which notably crammed lots of high-end feature favorites at competitive high-end pricing. The RIPJAWS SR910 real 7.1 headset, which this review focuses on, appears to follow that same principle. The sister SV710 virtual 7.1 headset will be the subject of its own upcoming article.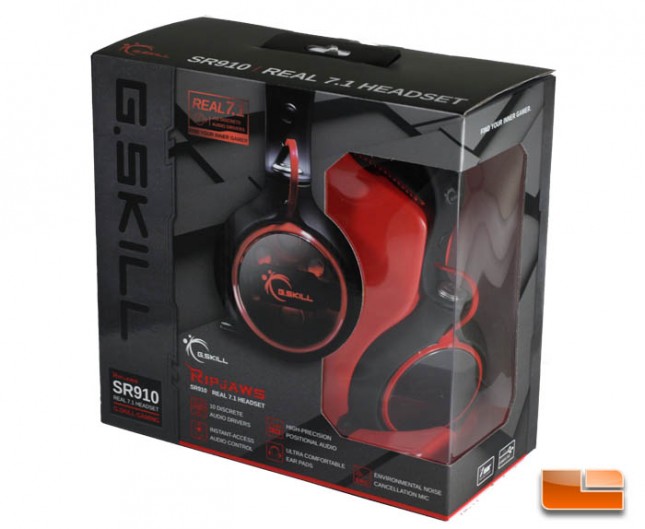 The RIPJAWS SR910 is the more expensive of G.SKILLS's new headsets. Costing $99 on Amazon, its notable feature is real 7.1 surround sound which incorporates ten audio drivers into the headset design. Other features to note include the leatherette ear pads, in-line desktop volume remote, and 2-year warranty.
G.SKILL RIPJAWS SR910 Real 7.1 Gaming Headset Features:
10 discrete audio drivers
Real 5.1 / 7.1 surround sound modes
Environmental noise cancellation (ENC) mic
Breathable leatherette lined ear pads
Xear 3D technology
In-line desktop remote
Full audio control software suite
G.SKILL RIPJAWS SR910 Real 7.1 Gaming Headset Specifications:
Headset
Driver: Neodymium Magnet
Driver Diameter:

400mm (Subwoofer)
30mm (Front)
30mm (center)
27mm (side)
23mm (Rear)

Frequency Response: 20-20,000 Hz
Impredance: 32 @ 1 kHz
Sensitivity @ 1kHz:

1186 dB (Subwoofer)
1213 db (Front)
1213 (Center)
1233dB (Side)
1203dB (Rear)

Power Consumption: 1.5W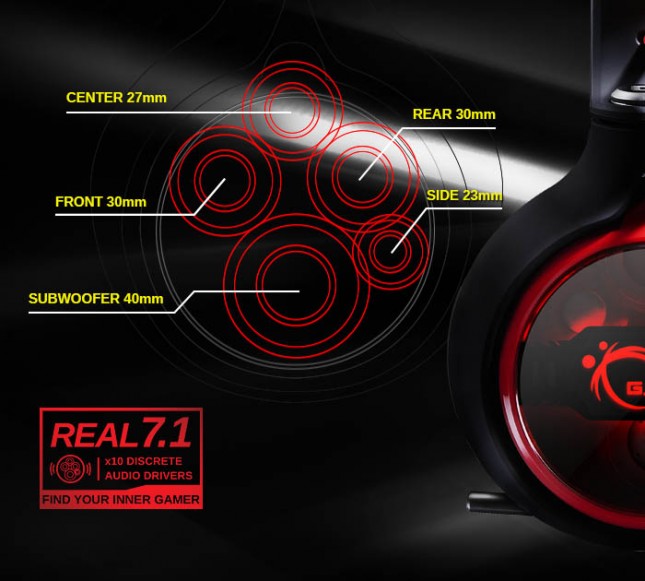 Microphone
Type: Unidirectional Noise Cancelling Condenser
Impedance: 2.2k
Frequency Response: 50-10,000 Hz
Sensitivity: 363 dB
Signal-to-Noise Ratio: 50 dB
General
Weight: 600g (incl. cable remote)
Cable Length: 3m
Connector: USB 2.0 Type A; Gold Plated
Warranty: 2 Year Limited Warranty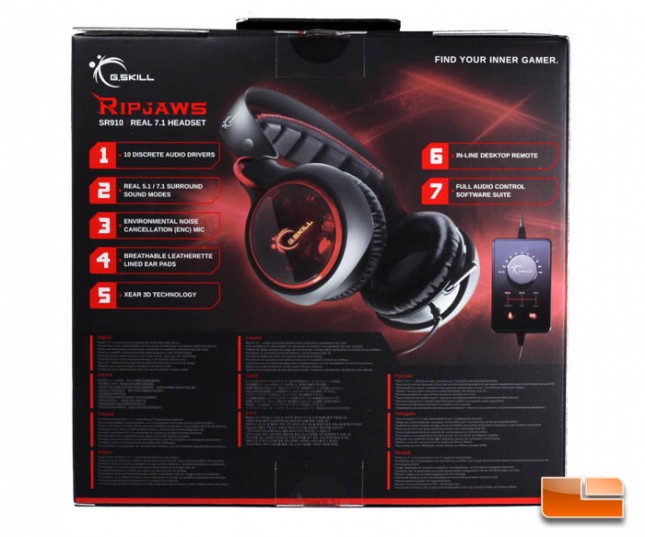 The RIPJAWS SR910 headset and its in-line remote are packed securely in shaped plastic cradles to show off the goods through the windows on the box. Included is a user guide and warranty info. Downloading the software and updating the firmware is highly recommended because without those, the audio will sound rather dull.