G.SKILL RIPJAWS KM780 RGB Mechanical Gaming Keyboard Review
By
G.SKILL RIPJAWS KM780 RGB Keyboard
Memory manufacture G.SKILL has entered the keyboard market with a high-end RGB mechanical keyboard called the RIPJAWS KM780. There are some curious similarities to Corsair's K70 and K95 keyboards most notably in the exposed metal backplate, use of Cherry switches, and that both companies are major players in the enthusiast memory market. At the same time, G.SKILL had a vastly different approach with its keyboard and we notice bits and pieces of the features from other mechanical keyboards being brought together with this one. We're not sure if the KM780 keyboard is supposed to look like a RAM module with the heatspreader, but it does use the same RIPJAWS name from one of G.SKILL's memory product lines.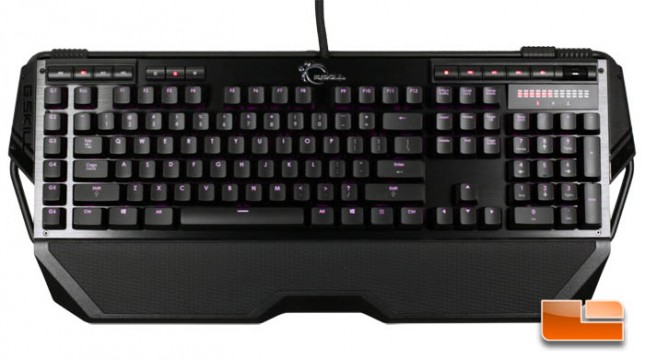 It's not unusual to see long lists of advertised features for high-end keyboards, but it would seem that G.SKILL has taken some popular features from other keyboards into the design of the KM780. The audio passthrough is most notably found on the Razer Blackwidow, the exposed anodized aluminum backplate is part of the signature appearance of Corsair's Vengeance and now K family of keyboards, and the overall shape vaguely resembles the Logitech G710. The other features are fairly common such as the dedicated macro keys, profiles, media controls, and palm rest.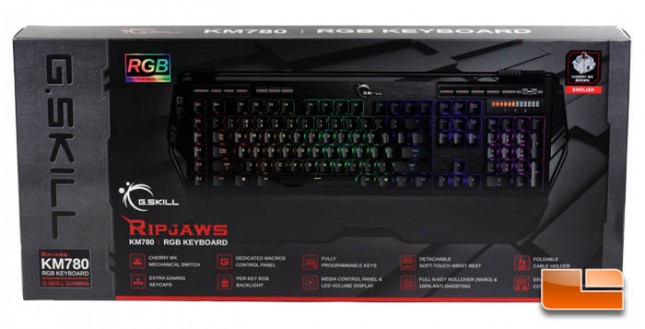 The RIPJAWS KM780 can be found at Newegg for $159.99 shipped or for $169.95 shipped on Amazon. There are four versions of this keyboard available. The RGB version comes with either Cherry MX RGB Red or Cherry MX RGB Brown. The less expensive RIPJAWs KM780 MX ($119.99 shipped) has monocolor backlighting with red LEDs and is available in either Cherry MX Red or Cherry MX Brown.
G.SKILL RIPJAWS KM780 RGB Keyboard Features:
Profile Select
On-The-Fly Macro Recoding
6 Dedicated Macro Keys
Cherry MX Mechanical Key Switch
Black Anodized Aluminum Finish
Extra Gaming Keycaps
Foldable Cable Holder
Media Control Panel & LED Volume Display
Per-Key Backlighting Control
Soft-Touch Wrist Rest
Fully Programmagle Keys
Full N-Key Rollover (NKRO) &100% Anti-Ghosting
G.SKILL RIPJAWS KM780 RGB Keyboard Specifications:
Series: Gaming Keyboards
Keyboard Type: Mechanical
Key Switch: Cherry MX RGB Red Switch
Backlighting: Yes
Anti-Ghosting: Yes
Full N-Key Rollover: Yes
Gaming Mode Option: Yes
On-board profile: 3
Additional Macro Keys: 6
Dedicated Media Control Panel: Yes
Audio-in and Microphone-out: Yes
USB Passthrough: Yes
Mouse Cable Holder: Yes
Detachable palm rest: Yes
Dimensions: 518 x 172 x 48 mm
Dimensions w/ palm rest: 518 x 228 x 48 mm
Weight: 1.36 kg
Weight w/ palm rest: 1.54 kg
Warranty: 2-Year Limited Warranty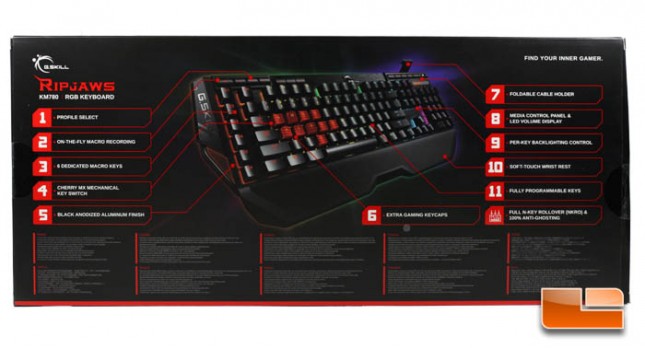 Unloading the contents of the box, we see that the keyboard and accessories have been neatly packaged in plastic bags. The KM780 comes with a detachable palm rest, a case containing a keycap puller and a set of gaming keycaps, and a quick start guide. On the next page, we take a closer look.