G.SKILL RIPJAWS SR910 Real 7.1 Gaming Headset Review
By
Final Thoughts and Conclusion
Though the RIPJAWS SR910's audio quality is hardly remarkable being just passable compared to the competition, the construction quality and comfort recoup the value for G.SKILL's headset. The use of high-quality memory foam renders this heavy headset secure and evenly distributes the modest clamping force. Listening during long gaming sessions are hardly a problem once the foam is allowed to set for a few minutes. Additional design elements to note are the exposed metal headband and the sturdy hinges cluing that the SV910 should hold up for years to come. The sporty bright red lights are a bonus.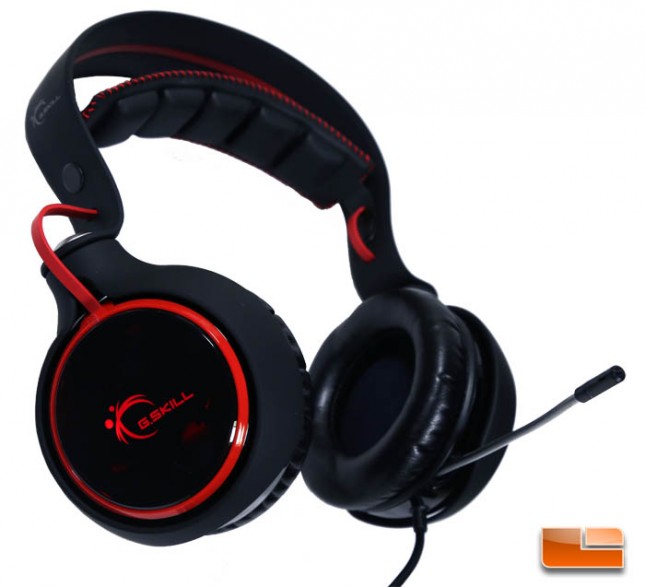 The headset software and in-line remote control together are decently straightforward to use once you find the menus nested behind another, a relief from the convoluted menus of G.SKILLs mouse and keyboard control software. We like that the simple volume controls are right within reach despite the surround sound toggles being limited to the software. The graphic equalizer in the software was helpful for drastically shaping the SV910's sound character to our liking.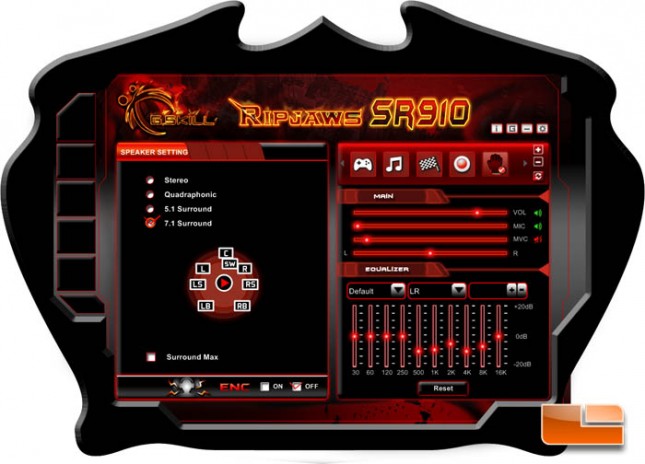 The sound quality didn't impress us, but the headset's responsiveness to equalization allowed us to make our own changes. Out of the box, we found the mids and highs too bloated, while the subwoofer drivers with the surround sound modes gave a subtle, but enjoyable rumble to bass. The clarity is generally inferior to some similarly priced gaming headsets. Compounding to that is the limited effect of real surround sound. With the drivers packed in so close together in the earcup, there isn't enough distance for human hearing to readily discern the direction or the distance of positional audio.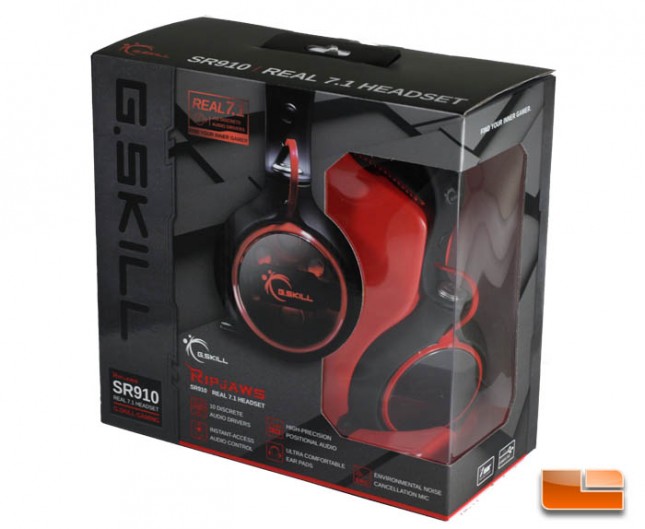 Despite the acceptable audio quality, the comfortable design and durable materials used puts the RIPJAWS SR910 on our radar for high-end gaming headsets. The 2-year warranty is fairly generous as we're noticing more and more gaming headsets being backed by 1-year warranties. There aren't many real surround sound headsets out there and with the SR910 costing $99 on Amazon, the only other comparable headset that comes to mind is the Tesoro Kuven Pro. As such, we recommend the RIPKAWS SR910 for the gamer that cares more for comfort and durability than sound.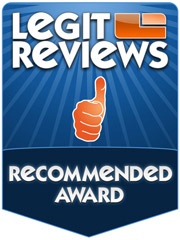 Legit Bottom Line: Stylish and surprisingly well constructed, the G.SKILL RIPJAWS SR910 is comfortable to wear despite its unexceptional audio quality.