Everglide Gaming Products – Christmas Roundup
By
g-1000 Gaming Mouse
With a total of 7 buttons and built in speed sensitivity settings the g-1000 certainly can hold its own on the battlefield. However the title can be misleading for its a 1600dpi optical sensor mouse. Why they named it what they did, EverGlide will only know. Lets see how this uniquely shaped mouse performs from game to game.
Technical Specifications:
Image Processing Speed: 5.8 m/sec
Speed: 1 m/sec
Acceleration: 15g
Adjustable Optical Resolution: 400, 800, 1600 dpi
Mouse Buttons: 5 buttons + 2 dedicated in-game sensitivity controls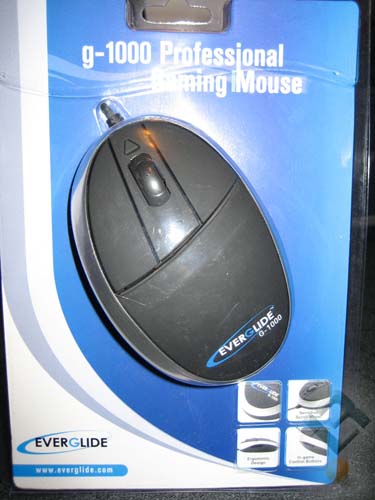 Out of the package you get the g-1000 mouse andthats it, no drivers, software or anything, which in a way can be a good thing so you dont have to trifle through everything to get your mouse all setup. On the other hand you cant customize the mouse the way you as a gamer would like it to be. At first look the mouse is big in width made of a black plastic rubberized material with a more blunt and flat palm rest as oppose to rounded like the Logitech and razor series mice. Those gamers with smaller hands will certainly want to feel the mouse before they buy.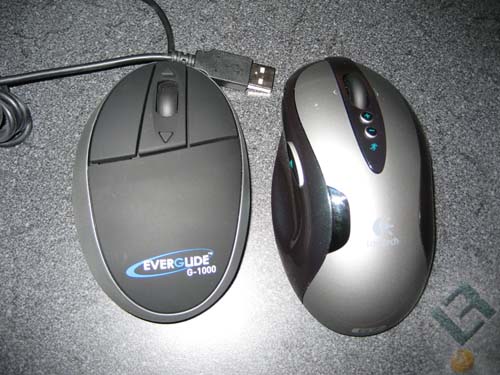 The g-1000 is slightly slanted to the right for ergonomics making the mouse VERY difficult to use for the left handers. The dpi settings of 400, 800, and 1600 are above and below the scroll wheel like that of a Logitech MX-518. The one big annoying difference in this mouse is that the back and forward buttons where your thumb rests for Internet use are reversed. The button closest to you is forward and vis-versa, making it confusing for those who have lived by those 2 buttons their whole life like myself. The mouse is very light weight, almost too light. Its compared to picking up a new stack of post it notes, and once grabbed feels and clicks like a standard 3 button Microsoft mouse.