EKWB Predator 240 AIO Liquid CPU Cooler Review
By
Introduction to the EKWB Predator 240 AIO Liquid CPU Cooler
EK Water Blocks (EKWB), if you've never heard of them before, is a top-tier CPU water cooling component manufacturer based in Slovenia and founded in 1999. They have strictly made components that you can buy separately and put together your own liquid cooling setup, or they sold them as a ready-to-assemble kit – until now. Today, EKWB is launching the Predator 240, which is their first pre-filled and pre-assembled solution.
The Predator 240 was not built with brand new parts, rather it's utilizing top-performing components from its enthusiast product line and putting them together in a ready-made kit. They basically got rid of the annoying part of selecting a radiator, water block, fittings, tubing, and pump, and made an awesome kit instead. While this isn't new to the industry, EKWB wanted and needed to expand to these types of kits to cater to a larger crowd, and we're happy they did!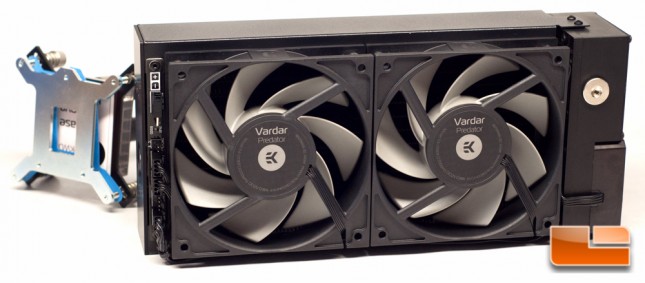 Looking at the line of components used, this cooler is utilizing the Supremacy MX water block – made from the purest copper available and polished to a mirror finish, a 6-watt DDC pump – which is PWM controlled for automatic speed regulation, a CoolStream PE radiator – an all-copper radiator compared to a copper-aluminum or aluminum radiator, providing superior cooling efficiency, and fitted with a pair of Vardar fans – providing high static pressure (3.16 mmH2O), low noise (Max 33.5 dBA), and a PWM interface. To assist with silent operation and keeping everything vibration free, is a technology EK calls Hovercore. It's a radiator dampener that prevents the transfer of pump vibrations from the unit onto the chassis, which would annoy the heck out of you.
What's even more awesome about this kit? It's fully expandable. Included with the kit are instructions for draining the liquid and expanding out your loop. While the 240 needs to be drained, the larger sibling – Predator 360, will NOT have to be drained to expand, thanks to integrated quick disconnects. It would have been cool to see that tech on the 240, but you can't have everything, right?
The Predator 240 that we're reviewing today is only compatible with Intel socket CPUs; AMD compatible kits will be available at a later date, slated for 2016. You will find this cooler available at select retailers in North America, but we can imagine it will be available elsewhere, like Amazon, in due time. The MSRP is currently $199.95 with free shipping on Amazon, but like anything, you could safely expect the street price to be a bit lower as it becomes readily available. Should you run into any issues with your Predator 240, EKWB provides you with a 2-year warranty.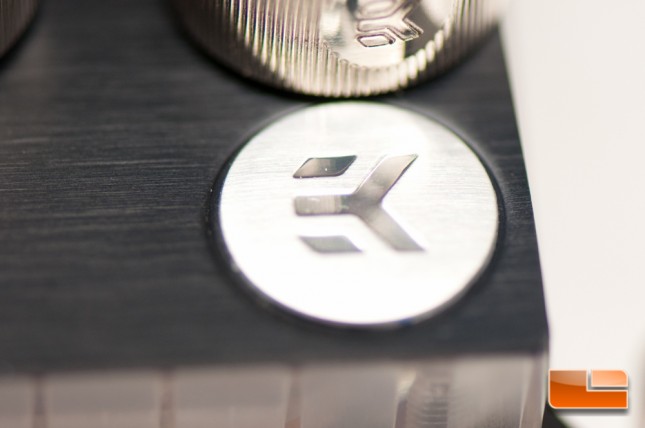 While the price tag on the Predator 240 is relatively high compared to their competition, you have to remember a couple things. For starters, this kit is all components that they would sell individually, and those components are top-notch in the quality department. Secondly, if you were to piece together your own high-end liquid cooling loop, you'll find yourself spending this amount or significantly more. From experience, I spent well over $500 on my first self-built loop and some of these AIO kits can perform almost as well. You know what, let's take a quick rundown of what these components would cost you individually.
| | | |
| --- | --- | --- |
| Part | Model | Price |
| Radiator | EK-CoolStream PE 240 | $61.99 |
| Pump/Res Combo | EK-XRES 100 DDC MX 3.2 | $119.99 |
| Fans (x2) | EK-Vardar F4-120ER | $19.99 |
| CPU Block | EK-Supremacy MX | $54.99 |
| Fittings (x4) | EK-ACF 10/16mm | $6.49 |
| Tubing (x1) | EK-Tube ZMT 15.9/9.5mm | $5.49 |
| Coolant | EK-Ekoolant EVO Series | $16.99 |
| | Total: | $325.39 |
| Similar DIY Kit | EK-KIT L240 (R2.0) | $224.99 |
So with the chart above, you get a relatively good idea of what piecing together your own kit would cost. EK has taken the hard part of selecting parts and assembling a kit out, all for a relatively reasonable price. Given that the individual parts will cost you significantly more than this kit, it's a no-brainer to grab this kit.
Below are the technical specifications for the parts included in this kit.
EKWB Predator Technical Specifications:
Overall Dimensions:
295 x 133 x 68 mm (L x W x H)
Radiator Material:
Copper Fins, 90% Copper Tubing, Brass Chambers, Aluminum Housing
Fan Type:
EK-Vardar F4-120 ER Predator Edition
Fan RPM:
550 – 2200 RPM (+/- 10%)
Max Air Flow:
77 CFM
Static Pressure:
3.16 mmH2O
Noise Level:
33.5 dBA
Shaft Bearing:
Double-ball bearing
Fan Connector:
4-pin PWM
Power Draw:
2.16 Watts
Fan MTBF:
50,000 Hours
Socket Compatibility:
Intel: LGA-1150 / 1151 / 1155 / 1156 / 2011(-3)
Will the price tag on the Predator 240 match the performance? That's something we will have to find out in the coming pages! Let's move on and take a quick look at the packaging and what comes inside the box, and follow that up with a performance review of this wicked liquid CPU cooler.