ECS GANK Drone Z87H3-A3X L337 Gaming Motherboard Review
By
Rightmark Audio Analyzer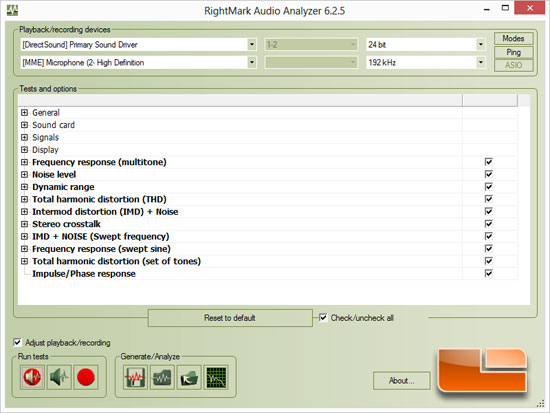 The RightMark Audio Analyzer suite is designed for testing quality of analog and digital paths of any audio devices, be it a sound card, an MP3 player, a consumer CD/DVD player or an acoustic set. The results are obtained by playing and recording test signals passed through the tested audio path by means of frequency analysis algorithms. The latest version of RightMark Audio Analyzer can be found here.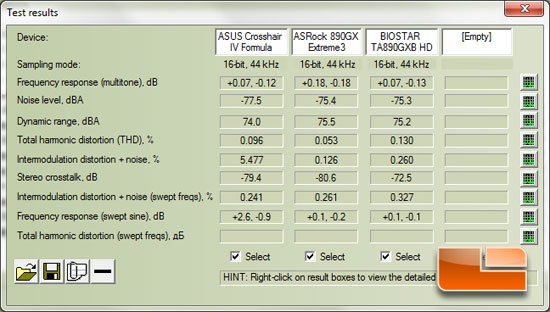 Rightmark Audio Analyzer Comparison Chart

ECS Z87H3-A3X Drone – Realtek ALC1150 8-channel High Definition audio CODEC
GIGABYTE G1.Sniper 5 – Creative Sound Core 3D chip
ECS Z87H3-A2X Extreme – Realtek ALC1150+ALC5505 8-channel Hi-Def Audio CODEC
The ECS GANK Drone Z87H3-A3X takes advantage of the latest Realtek ALC1150 audio codec which has proven itself to be a solid onboard audio solution. The Drone didn't score quite as well as the G1.Sniper 5, but I didn't expect it to, the Sniper 5 uses a Creative Sound Core 3D chip which is more at the discrete audio level. Though overall I would have to say that the Drone held it's own and the General Performance score of 'Very Good' (which is the same as the Sniper 5, just a few lower sub-scores) would make me believe I'm not wrong.