D-Link DIR-868L Wireless AC1750 Dual-Band Cloud Router Review
By
D-Link DIR-868L Wireless Speeds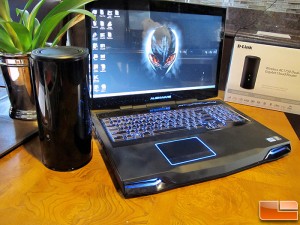 We wanted to test the D-Link DIR 868L in a real world situation so we connected the D-Link D-Link DIR-868L to a PC running Windows 7 64-bit and configured it using Automatic settings for both 2.4Ghz and 5Ghz bands. We then took our Alienware M17XR4 to use as a target laptop client. The Alienware M17XR4 features an Intel i7-3610QM CPU with 6GB RAM running Windows 7 64-Bit, and an NVIDIA GeForce GTX 660M. More importantly for our tests, it is outfitted with a Qualcomm Atheros Killer Wireless-N 1103 Network Adapter. The Killer 1103 is a three-antenna network adapter that connects at up to 450Mbps over 802.11n and features reduced power consumption and Wi-Fi Direct. Much has been written about the Killer NIC technology in recent years but there is no doubt that this 3-antenna solution will give us the best possible wireless throughput for our test. Many people dont have an 802.11ac device in their arsenal yet, so we are looking at some of the best speeds this router can do without the use of Wireless-AC.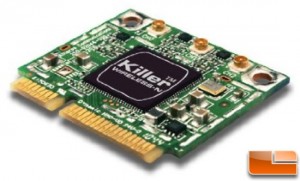 We took our Alienware M17XR4 laptop and moved it 25-feet away from the D-Link router. We didn't tell the client anything more than the SSID name for each router tested and let it automatically choose the channel to connect to. All the routers were set to Unsecure Mode (for fastest data throughput), and with WMM / QoS turned ON. After connecting, we ran the PC application LAN Speed Test (LST) to measure file transfer and network speeds. LST builds a file in memory and then transfers the packet without the effects of windows file caching. It then reports the time and calculates the network speed.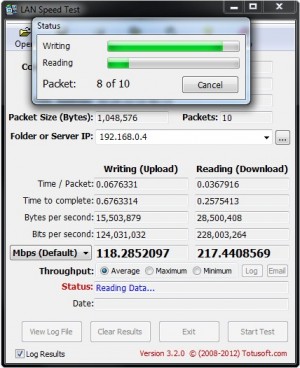 We repeated the test 2 more times rotating the router 90 degrees after each test to make sure that the routers speed was affected adversely by its orientation.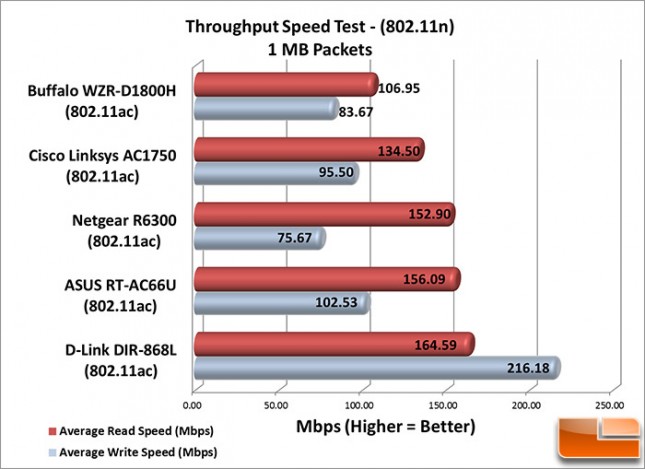 Benchmark Results: This is an interesting look at how these 802.11ac routers perform when they are paired with non-AC devices. Here we see the D-Link DIR-868L competes quite well when compared to its peers. The Average Write Speed of the DIR-868L eclipses any of the other router in our test suite. We have been testing routers for a while now and have never seen this . While the Average Read Speeds are just slightly ahead of the rest of the AC router, the D-Link DIR-868Ls Average Write Speed eclipses anything that we have ever tested. Very impressive!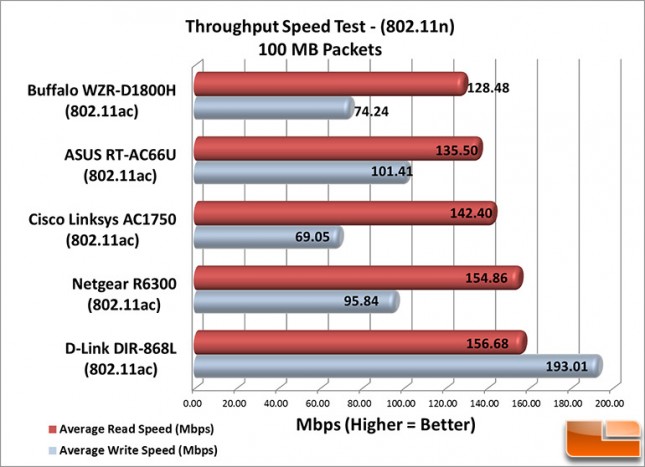 Benchmark Results: When evaluating the larger packet speeds, the story is about the same. The D-Link DIR-868L and Killer Wireless 802.11n make for a combination that we have never seen before. We were so surprised at the D-Links test scores that we retested it to double-check. What is amazing is that the DIR-868L actually showed faster speeds than what is represented in this graph. Remember, these are AVERAGE speeds, the DIR-868l produced Read and Write speeds well past 200Mbps in our testing.