Crucial BX300 480GB SSD Review
By
Crucial BX300 Features 3D MLC NAND With Budget Prices
If you are looking for a budget 2.5-inch SATA SSD you'll quickly find that many are using TLC NAND Flash memory. TLC NAND has come a long way in recent years, but after a number of poorly implemented solutions have come to market it has some enthusiasts avoiding them. The Crucial BX300 series was launched in August 2017 as a budget drive that uses 3D MLC NAND with SLC caching! This should appeal to those that don't want a drive using TLC NAND Flash memory. Say goodbye to the Crucial BX200 with TLC NAND Flash that came out in November 2015!
The Crucial BX300 series is made up of 2.5-inch SATA 6Gb/s SSDs that is available in capacities of 120GB ($59.99), 240GB ($87.99), and 480GB ($144.99). Sequential performance is rated at up to 555MB/s read and 510MB/s write on all three capacities. When it comes to 4K Random IOPS performance all three are rated at 90K write, but differ in read performance. For example the 120GB drive is rated at just 45K IOPS, the 240GB drive is rated at 84K IOPS and the 480GB drive is rated at 95K IOPS. All Crucial BX300 drives come with a 7mm to 9.5mm spacer and a serial number for Acronis True Image HD 2015 software for easy data migration.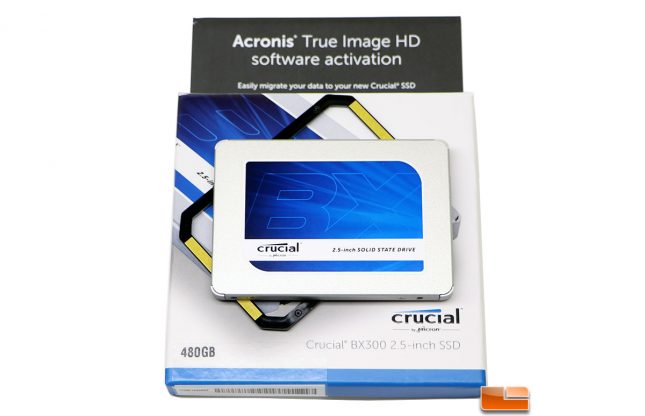 Crucial BX300 Series Features:
Controller: Silicon Motion SM2258
3D NAND: Micron 3D NAND 256Gbit 32-layer 2-bit MLC
Interface: SATA III 6Gbps
Form Factors: 2.5-inch internal 7mm SSD
Capacities: 120GB, 240GB, 480GB
Micron DDR3 DRAM Cache:

120GB/240GB – 256MB
480GB – 512MB

SLC Caching (Write Acceleration)

120GB – 4GB Fixed
240GB – 8GB Fixed
480GB – 16GB Fixed

Data Protection: None
Sequential R/W (MB/s): 555/510
Random R/W (IOPS):

120GB – 45K / 90K
240GB – 84K / 90K
480GB – 95K / 90K

Life Expectancy: 1.5 million hours MTBF
Endurance:

120GB – 55TB
240GB – 80TB
480GB – 160TB

Warranty: 3-year, limited
The model that we'll be taking a look at today is the Crucial BX300 480GB SSD that is sold under part number CT480BX300SSD1 for $144.99 shipped or roughly $0.30 per GB. This model has 16GB of fixed SLC Cache for write acceleration, 512MB of DDR3 DRAM and an endurance rating of 160 TBW. That means the BX300 480GB drive should be good for 146GB of drive writes per day over the 3-year warranty period.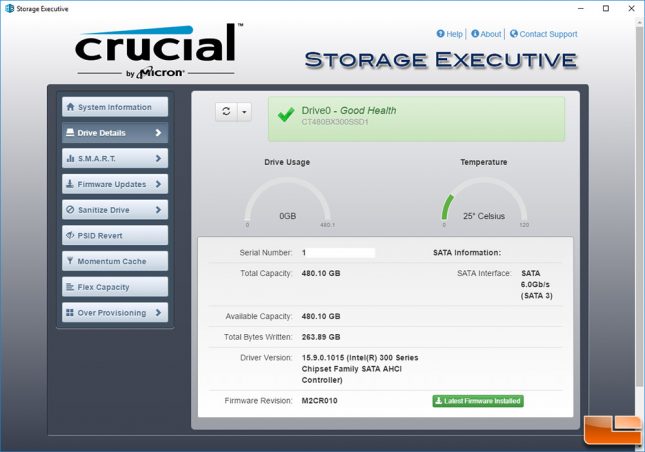 The Crucial BX300 series is fully compatible with the Crucial Storage Executive Tool for easy drive maintenance. This utility will allow you to monitor the drive, check the S.M.A.R.T. attributes, secure erase the drive, update the firmware as well as enabling advanced features like over provisioning, FlexCap, or momentum cache (only use if you have a battery backup).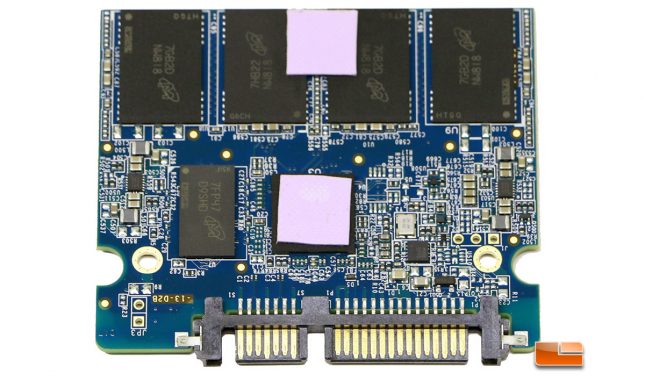 If you want to access the inside of the BX300 SSD you just need to remove the four Philips screws on the outside of the metal enclosure. Once that is removed there are just two Philips screws holding the tiny half-height PCB to the enclosure. These shots are of our 480GB drive and you can see eight 3D MLC NAND modules (256Gbit 32-layer 3D MLC NAND Flash), Micron 512GB DDR3 DRAM and Silicon Motion SM2258 four-channel controller. As you can see from the image above there is thermal tape over the controller that makes contact with the SSD housing and another for spacing across two of the NAND packages.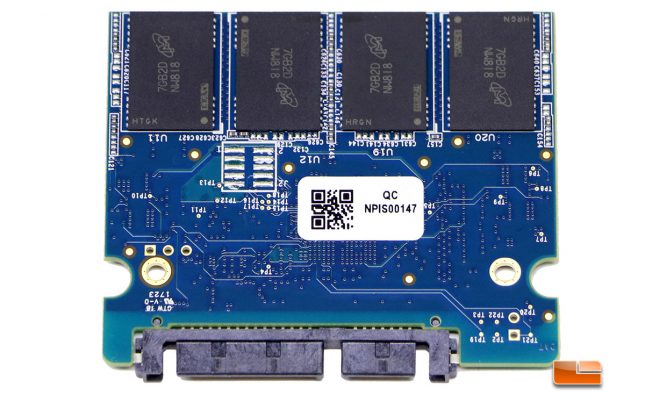 Let's take a look at some benchmarks of this drive!