Crucial BX200 480GB SATA 2.5-Inch SSD Review
By
Crucial BX200 SSD – Affordable Entry Level TLC NAND Flash Drives
It's hard for enthusiasts to grasp that as we near the end of 2015 that a large portion of PC users around the world have yet to experience the performance benefits that an SSD has to offer. The overall cost of SSDs has come down greatly over the past several years and the entry-level SSD market is faster and more affordable than ever. Crucial hopes to entice those users that haven't made the move over to an SSD yet with the release of the new BX200 SSD series. The Crucial BX200 is available in three capacities 240GB, 480GB and 960GB.
The Crucial BX200 series of 2.5-inch SATA III SSDs boasts sequential read and write speeds of up to 540 MB/s and 490 MB/s and the pricing starts at just $85 for a 240GB SSD! Crucial was able to get very respectable performance numbers with less than $0.35 per GB pricing thanks to the use of the Silicon Motion SM2256 controller along with using Micron's first ever 16nm TLC NAND Flash memory.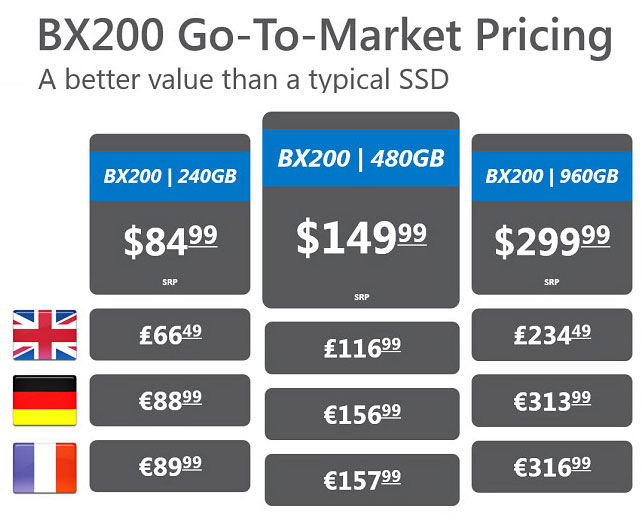 The Crucial BX200 is available today in three capacities 240GB, 480GB and 960GB with MSRPs of $84.99, $149.99 and $299.99, respectively. This puts the price per GB for the BX 200 SSD series at around $0.31 for the 960GB and 480GB drives and $0.35 for the 240GB drive.
Crucial BX200 2.5-Inch SSD Series Specifications
Usage Application
Client PCs
Capacity
240GB, 480GB, 960GB
Interface
SATA III (6Gbps)
Form Factor
2.5-inch x 7mm
Controller
Silicon Motion SM2256 w/ Custom Firmware
NAND Flash Memory
Micron 16nm TLC NAND Flash
Performance
240GB – CT240BX200SSD1
480GB – CT480BX200SSD1
960GB – CT960BX200SSD1
DRAM/Cache
256MB
512MB
1024MB
SLC Buffer
3GB
6GB
12GB
Sequential Read:
Up to 540 MB/s
Up to 540 MB/s
Up to 540 MB/s
Sequential Write:
Up to 490 MB/s
Up to 490 MB/s
Up to 490 MB/s
4KB Random Read(QD32Thread4):
Up to 66K IOPS
Up to 66K IOPS
Up to 66K IOPS
4KB Random Write(QD32Thread4):
Up to 78K IOPS
Up to 78K IOPS
Up to 78K IOPS
PCMark Vantage Score:
86,000
86,000
86,000
ATA modes supported
PIO mode 3, 4
Multiword DMA mode 0, 1, 2
Ultra DMA mode 0, 1, 2, 3, 4, 5, 6
Reliability
MTBF: 1.5 million hours
Power Consumption
Active maximum: 4200mW
Active average: 150mW
Idle: 65mW
DEVSLP: 10mW
Supporting features
Multistep Data Integrity Algorithm
Thermal Monitoring
SLC Write Acceleration
Active Garbage Collection
TRIM Support (Required OS support)
Self-Monitoring and Reporting Technology (SMART)
Error Correction Code (ECC)
Device Sleep extreme low power mode (DEVSLP)
Temperature
OperatingTemp : 0C to 70C
Non-operating Temp : -40C to 85C
Humidity
5% to 85%, non-condensing
Vibration
Non-Operating:
5-800Hz @ 3.1G
Shock
Non-Operating:
1500G , duration 0.5ms, 3 axis
Warranty
3 years limited
TBW
72TB (Equal to 40GB per day for 5 years)
When it comes to performance, Crucial claims that all three capacities in the BX200 series perform pretty much the same with sequential read and write speeds of up to 540 MB/s and 490 MB/s. With regards to 4K random read and write speeds you are looking at 66,000 IOPS and 78,000 IOPS, respectively. If you aren't familiar with SSD performance numbers as this is your first time looking at purchasing one the folks over at Crucial claim this drive is 13 times faster than a typical hard drive and 40 times more energy-efficient.
The Crucial BX200 series is backed by a 3-year warranty or the Total Bytes Written (TBW), which would be 72TB for all three drive capacities. This is equal to 40GB of writes per day over a 5-year period, which is a figure that Crucial is comfortable with for an entry-level SSD that shouldn't be abused like a higher-end drive in a power users system. No hardware encryption is available for this SSD.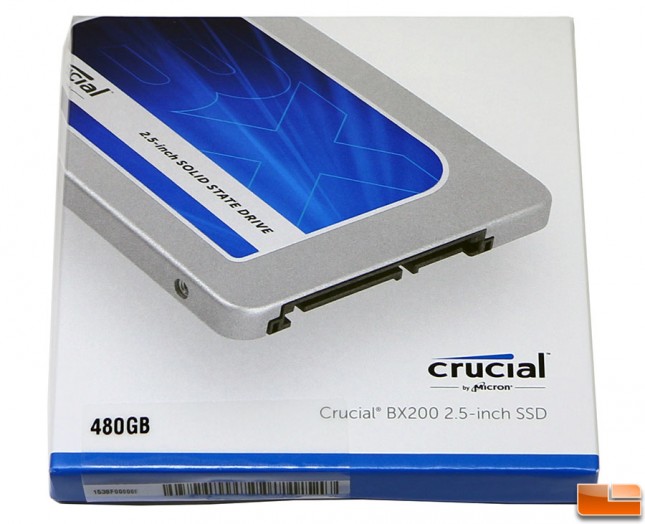 The drive that we'll be looking at today is retail boxed Crucial BX200 480GB 2.5-inch SATA SSD. This particular drive is sold under part number CT480BX200SSD1 and has an an MSRP of $149.99 ($0.31 per GB). This should be the most popular capacity for this series as it's really the sweet spot for pricing and capacity.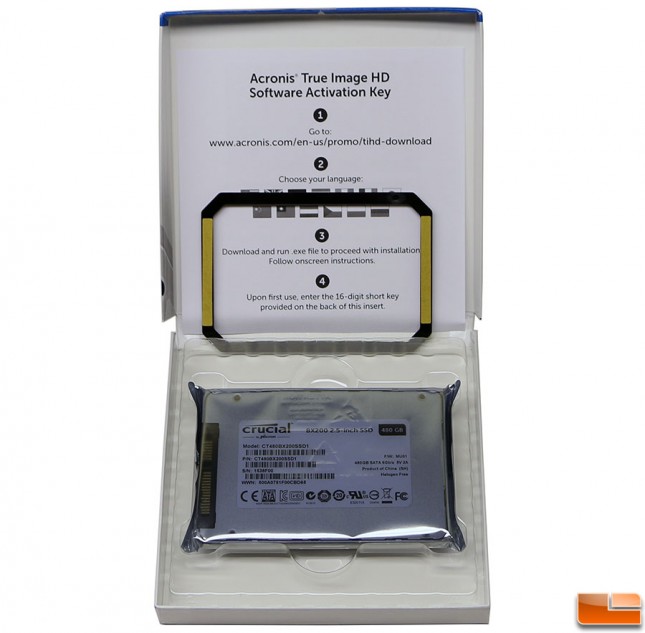 The Crucial BX200 480GB SSD comes with Acronis True Image HD data migration software to help migrate your existing data onto this new storage drive as well as a 7mm to 9.5mm spacer should one be required.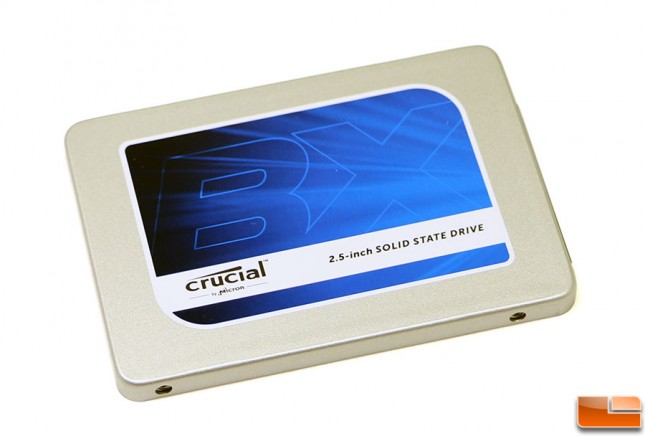 Crucial Storage Executive 3.24 also became available today and it works with the new Crucial BX200 series just fine. The software easily allows you to check on the drives details, S.M.A.R.T. values, update the firmware, sanitize the drive (Secure Erase), enable Momentum Cache and even change the over-provisioning of the drive. This is an amazing assortment of knobs to turn on an entry-level drive, which is great as not too many SSDs in this category give you the ability to do all this.
Here is the official Crucial BX200 SSD overview video that was released today if you'd like to watch a quick overview of the new drive by Crucial.
Let's take a look at the test system and then look at our performance test results!